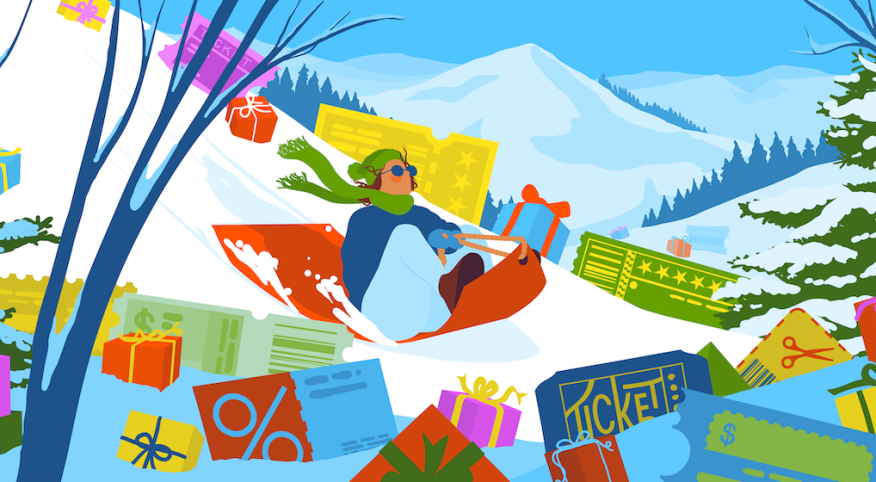 No need to slip off your gloves and open your wallet this winter, as we've come up with a long list of freebies to enjoy in early 2023. You can enjoy deals throughout the country — and abroad if you happen to be traveling. Make note of these freebies!

L'Irland de Martin Parr Free Photo Exposition, Paris

Through Jan. 8

Discover Martin Parr's Ireland at the Irish Cultural Center in Paris. Known for capturing daily Irish life, the British photographer's work is displayed in a free exposition in this humoristic look at the Emerald Isle.

Winterland at Gallagher Way, Chicago

Through Jan. 8

Gallagher Ice Rink and Santa's Workshop offer free family-friendly experiences inside the iconic Wrigley Field. Gallagher Way is the site for the Wrigleyville location of Christkindlmarket, an authentic German-style outdoor market.

Bank of America Winter Village in Bryant Park, New York City

Through March 5

Manhattan's winter village opens in Bryant Park with New York City's only free ice-skating rink, holiday shops, and food and drink vendors at the Lodge. You can reserve skate rentals here, or if you have your own skates, free tickets will be released one week in advance for 55-minute skate sessions.

Outdoor Ice Skating in Millennium Park, Chicago

Through March, weather permitting

One of the best ways to enjoy Chicago winters is to go ice skating at the McCormick Tribune Ice Rink in Millennium Park right in front of The Bean. Admission is free, but ticket reservations can be made online and are required. Dates are released two weeks in advance.

Wintersköl, Aspen, Colorado

Jan. 12–15

When in winter, look for a wonderland. Aspen's annual "toast to winter" dates back to January 1951 when locals decided to celebrate the town's Nordic lifestyle. This four-day festival of winter features on-mountain activities, film screenings, a winterfest, broomball and fat-biking competitions among its freezing freebies.

National Bagel Day

Jan.15

MyPanera members get a free bagel with any purchase. If you join Einstein Bros.Bagels' Shmear Society, you can also earn a free bagel with cream cheese.

Free Entrance Day to National Parks

Martin Luther King Jr. Day (Jan. 16)

All national parks that charge an entrance fee have free admittance on MLK's birthday holiday.

National Popcorn Day

Jan. 19

Participating Doc Popcorn locations hand out a free bag of their Better Butter, and AMC Theatres will offer a free refill on buckets of popcorn.

UllrGrass Bluegrass and Beer Festival, Golden, Colorado

Jan. 27–29

While you're in Colorado, don a faux fur and Viking horns for a family-friendly winter music and beer festival at the foothills of the Rocky Mountains in the town of Golden. These freebies include the UllrGrass Park Parade, music from local and national bluegrass musicians and a bevy of local food, drink and craft vendors.

Super Museum Sunday, State of Georgia

Feb. 5

The Georgia History Festival's statewide celebration offers a day of free admission to discover museums and historic sites from noon to 4 p.m.

Winter Carnival, Steamboat Springs, Colorado

Feb. 8–12

The town has held a community celebration of winter athleticism since 1914 that includes a carnival of ski-jumping competition, dog-sled pulls and cross country obstacle races across the wintry tundra. The carnival ends with spectacular night show featuring a fireworks display and the Lighted Man in a pyrotechnic suit!

National Pizza Day

Feb. 9

Look for free deals and specials on pizza at major pizza parlors and chains throughout the country and at your local pizzeria.

Free Fishing Winter Weekend, State of Michigan

Feb. 18–19

Fishing is free in the state each year on the Saturday and Sunday before President's Day. All fishing license fees will be waived for these two days. Residents and out-of-state visitors may fish on both inland and Great Lakes' waters.

National Pancake Day

Feb. 21

Look for free pancakes and special offers at national chain pancake houses and breakfast spots everywhere.

International Pi Day

March 14

It's Pi Day around the world for the ratio of a circle's circumference to its diameter, or approximately 3.14. Restaurants celebrate mathematics with slices of free pie — both dessert and pizza, so look to local establishments for sweet or saucy pies.

Every Kid Outdoors

All year

Created so fourth-grade (or home-schooled equivalent) students and their families can discover the great outdoors, the program allows free access to over 2,000 federal lands and waters. To obtain a pass, fourth graders can go to the bilingual Every Kid Outdoors website, participate in a short educational activity, and then download a paper voucher to print and bring with them to visit public lands and waters across the country. Every Kid Outdoors begins each year on Sept. 1 and ends Aug. 31.

How are you feeling now that it's January 2023? Let us know in the comments below.