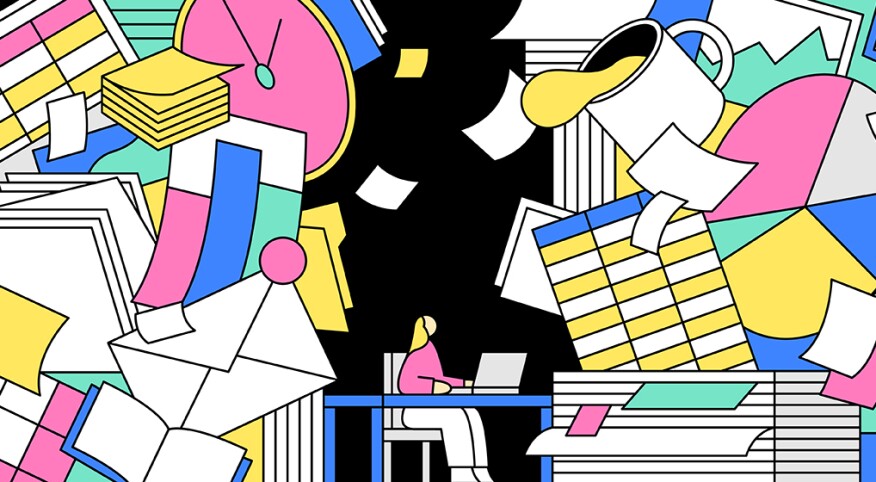 Today is another day in the life of an administrative assistant: I check voicemail, answer emails, enter data into Excel spreadsheets. I make coffee and order water. I water plants and shred confidential files. I smile and say, "How was your weekend?" or "Have a great day" or "I think there is more rain on the way." I do it all well, too. But … I loathe it. Not only is it unfulfilling, it's outright draining — and not because it is exhausting or challenging, but for me, it's painfully boring and unstimulating. I have been doing it for eight years and I so badly want to throw my sticky notes in the air and scream, "I quit!"

But I don't have another job. And the only other jobs I can secure are the exact same song and dance, different location.

I have a bachelor's degree — and close to $100,000 in student-loan debt to prove it. I didn't plan this career and haven't always worked as an admin, but life happened — and here I am. People say, "Well, at least it pays the bills." But it doesn't (not even close). I rob Peter to pay Paul. I alternate which bills I skip each month so as not to fall too far behind. I borrow from family, too, so that when payday finally arrives I am doling out a couple hundred to those who helped me survive the final week between pay periods.

When you are working a job that is not fulfilling and doesn't pay the bills, it is quite the challenge. I want more. I want fulfilling and challenging. I want something that utilizes my unique strengths, like writing and multitasking, and meets my desire to stay busy, busy, busy. I have been trying to get out of the admin role for years, but to no avail. So, I have hopped from admin job to admin job for as long as I can remember, and at 43 years old I feel so grossly stuck and don't know what to do next. All I know is that something needs to change soon — even if it's just my own attitude.

For guidance I reached out to Sally Anne Carroll, a life, career and reinvention coach at Whole Life Strategies Coaching, and her first response was oh-so validating: "If you're feeling stuck in a job that is not what you want to be doing or not providing for your financial needs, that's a clear sign that something needs to change. Ignoring those signs can often result in burnout and stress." That sounds right — burnout and stress. So, what's a stuck 40-something to do? Here are five tips that Carroll suggests.

Assess your needs

First things first: "Figure out what you need from a job at this time in your life. [Make a list] with the nonnegotiables and the nice-to-haves and get creative about how and where you can find that." Once you have a clear idea of what an ideal job looks like, you can take action to make it a reality.

Challenge your assumptions

Don't necessarily assume that the only solution to your career dilemma is an entirely new career. It is important to remain open-minded and think creatively. "Changing careers is only one of many potential solutions … you can [also] switch roles within the same career or seek out a better-fitting employer," Carroll says. Or, she says, "You may be able to move into a different type of work without formal or expensive training."

Believe it's possible

Identify the thoughts that contribute to your stuck-ness and then challenge them one by one. For example, a big part of being stuck is not believing there is a way out. Challenge this belief. Then meditate, visualize and manifest. Make a vision board with items that represent your dream job. "It's not true that you need time or financial resources to move out of a dead-end job," Carroll says. "What's needed is a decision, a commitment and creative thinking — and a willingness to make a change." Unstick your thinking and believe in the possibilities.

Make a plan

Now it's time to "start doing your research [to] find jobs and employers that match your needs-criteria," says Carroll. If you feel overwhelmed by next steps, "consult a career coach to help you explore all of your options and develop a [plan to attract the right fit for you.]" And never forget the power of networking. Talk to everyone you know in your desired career field, join and be active on LinkedIn, tweet about your career goals. Put yourself in the path of opportunity.

Prioritize self-care

Carroll points out the role of self-care: "Although it may sound unrelated, nearly every woman who comes to me for [career coaching] needs to ramp-up her self-care — whether that's prioritizing better sleep or nutrition, moving her body more, taking pockets of rest (however small), or being willing to invest in herself and her happiness."

If you struggle with this, take baby steps and schedule in one thing per day — and do it 100 percent guilt-free! I'm pretty sure that self-care is at the center of all happiness. Ideally, it will become a nonnegotiable habit, helping you to achieve your career goals. "Good self-care doesn't need to take much time or cost anything — and it will go a long way to opening up how you see your work, the possibilities and options on the table and how you feel on the job every day."

Self-care, needs assessment and challenging your thinking are also great strategies for shifting your attitude in a current job situation, one in which you feel stuck. For example, I should focus more on the amazing work-life balance that my job offers me or the plethora of vacation days I get each year, both of which I need and allow space for self-care. It sure makes the mundane tasks a bit sweeter and helps me feel less stuck!