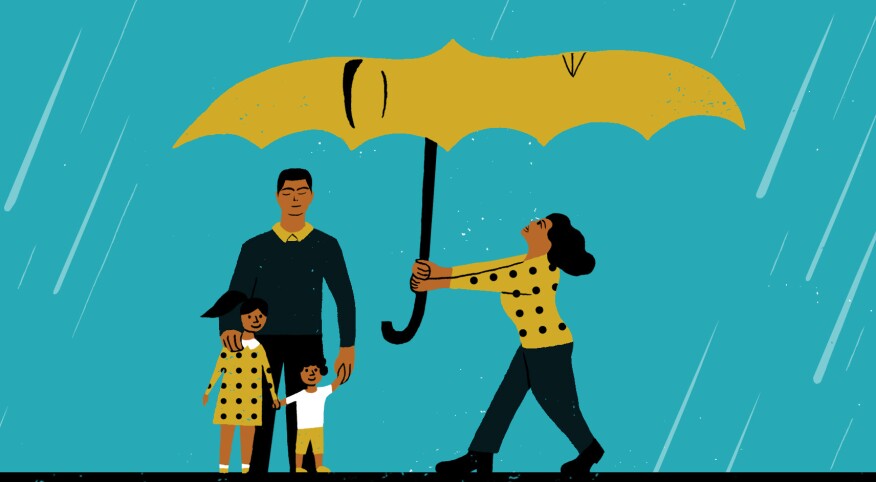 Twenty minutes before my dad died in October, he called my mom to tell her he was on his way home from the doctor's office. "Love you," he said, ending the call. Minutes later, pain and panic shot through his chest, urging him to turn the car's steering wheel toward a fire station. The team there was no match for the heart attack that claimed his life, at age 59.

My dad had a lengthy list of lovable qualities — he was inquisitive and funny, encouraging and proud — but being great with money wasn't one of them. If my dad groused about getting old, my mom would chide that he had to live forever; she couldn't afford their modest apartment and car payments without him. So I wasn't surprised to learn that he had no will in place, and that he left behind no real savings for his wife to stretch into retirement. But I was shocked to find he'd kept current on a 30-year term life insurance policy.

"Mailing the utilities bill late didn't bother him much, but he paid this bill like clockwork," my mom said, handing me a stack of mail from the insurance company. Filling out the paperwork took less than 20 minutes, and within a month my mom had a cushion in her account that would take her into retirement. I shudder to think what her options would have been without that insurance policy, trying to stretch half the usual income across the same set of living expenses.

And so I moved "get life insurance" from the tail end of my own to-do list to the top. I imagine when my dad set out to get a policy, it might have involved visiting an actual insurance office, making multiple phone calls to compare premium quotes. Today, there's a bumper crop of online options that make the process faster and frictionless, such as Ladder, Haven Life, Fabric, and TruStage.

There are two main types of life insurance, says Benjamin Sullivan, a financial planner at Palisades Hudson Financial Group in Austin, Texas. Whole life insurance covers you for, well, your whole life and has some sort of investment component. And term life insurance covers you for a set period (typically 20 or 30 years) and tends to be less expensive. Some policies don't require a full medical exam, which makes the application process even speedier, but it means you might pay a higher premium than if you spend 30 minutes letting someone take your measures and draw some blood.

The whole life options felt overwhelming and complicated, so I decided to stick with a 30-year term policy: long enough to get my young kids through college; not long enough to last me into retirement. And because I'm still (somewhat!) young and don't have any health issues, I opted for a policy that required a medical exam. (Bonus: The nurse made a house call, so I could squeeze in the exam while dinner simmered on the stove!)

Once I was approved, the last step was to figure out how much we could afford in premiums each month and how big of a death benefit my family would need, if something happened to me. There are online calculators aplenty, but I leaned heavily on third-party options at Bankrate and NerdWallet. While a $5 million benefit sounded great ("dry your eyes with diamond-studded tissues, wifey!"), the premiums for a sky-high benefit would have choked our budget in the here and now. So, I took a page from my dad's playbook, settling on a premium amount that I knew I could pay, no matter what.

I hope my family never has the need to read through this policy, and that instead these monthly payments are a distant memory by the time I blow out the candles on my 100th birthday cake. But no matter what the future holds, the knowledge that they're covered, just in case, has brought me indescribable comfort — one last, lingering gift from my dad's legacy. Thanks, Dad.