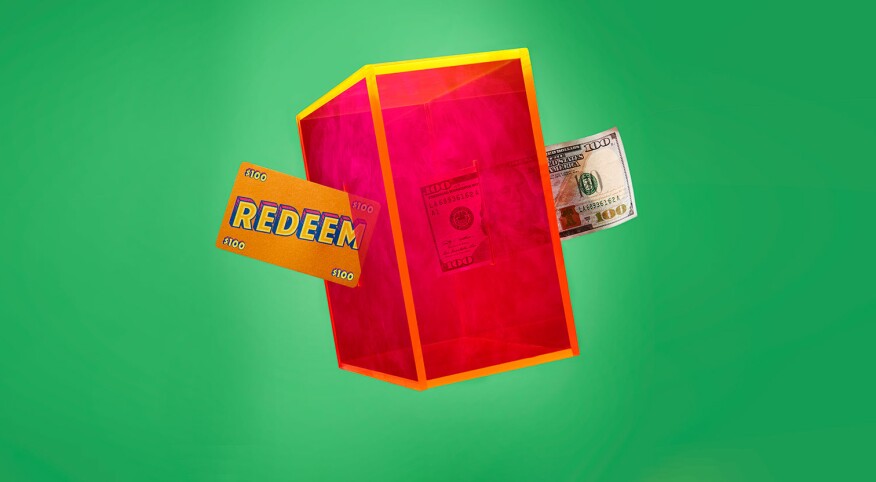 Gift cards have a very sad life. About 6 percent of them are never used, and of those that are taken out of their little envelopes, 10 to 19 percent of their balances are unredeemed, according to a study by the University at Albany, State University of New York. In total, over the past decade, more than $1 trillion in gift cards have been sold, but between 2005 and 2015, there was $45.7 billion in unredeemed balances on those cards.

It's time to stop this nonsense. You're never gonna use that gift card? Get some money back for it. You can usually snag up to about 90 percent of the money remaining on a card by selling it via a designated site. Here's where to sell partially used gift cards online.

If you have a little- or big-brand card

Try CardCash

How it works: Sell any big-brand or rarer, less-known gift card, merchandise card or store credit (they carry more than 1,100 retailers from TJ Maxx to Home Depot to Starbucks) for up to 92 percent of the card value. Payment is typically sent within one to two days, and you can usually transfer the card by entering the card number and pin onto the site. Cards with an expiration date aren't accepted. You will see a $1 authorization charge on your credit card every time you sell anything, just to verify the validity of your credit card — but the charge should be removed within 24 hours. Not sure how much your card is worth, or whether you need to mail it in? Here's what you need to know about your card.

If you want to know how much you'll get before selling

Try Raise

How it works: It's free to list, but Raise takes a 15 percent commission from the selling price. If you're selling the physical card, they charge 1 percent of the value of the card or $2.75 (whichever is more expensive) for shipping. You can set your own selling price or use the auto-populate based off the brand's current or past listings. All payments are processed within three to five business days.

If you have a lot of cards to sell

Try ClipKard

How it works: This site offers rewards based on the number of cards you buy or sell. So, if you buy or sell cards worth $100, you'll get 100 points. After you earn 1,000 points (by buying or selling $1,000 worth of cards), you can cash in your points for a $10 discount on your purchases. ClipKard also has a neat feature: a quote tool to tell you ahead of time what your card is worth — and whether it'll be accepted (they accept about 100 retailers). Once you agree to the amount, you'll get a prepaid USPS shipping label to send in your card.

If you're a gamer

Try Gameflip

How it works: You don't have to be a gamer to use this site, as you can also sell mainstream cards from Starbucks, Target, Amazon — you know, your usual Saturday roundup. But there are tons of game-related gifts and gift cards on here. First, you create a profile, listing your gift card and the asking price (it's recommended that you discount your card between 2 percent and 15 percent). Then, Gameflip takes an 8 percent commission and 2 percent digital fee if you're posting a digital-only listing.

If your card has between $25 and $2,000 on it

Try Giftcash

How it works: Not to be confused with CardCash, this site requires your cards to have a minimum of $25 and a maximum of $2,000. Some specific brands — like iTunes and Petco, for example — require a $100 minimum. Earn up to 92 percent for popular brands like Target, Costco or Starbucks, and earn less for other brands, depending on demand. You'll get a quote from Giftcash before you decide to sell, so don't worry. After selling your card, it can take up to 24 hours to receive payment.

To find out about gift card scams — and there are a lot of them — go here.

Have you ever sold your gift cards online? Let us know in the comments below.