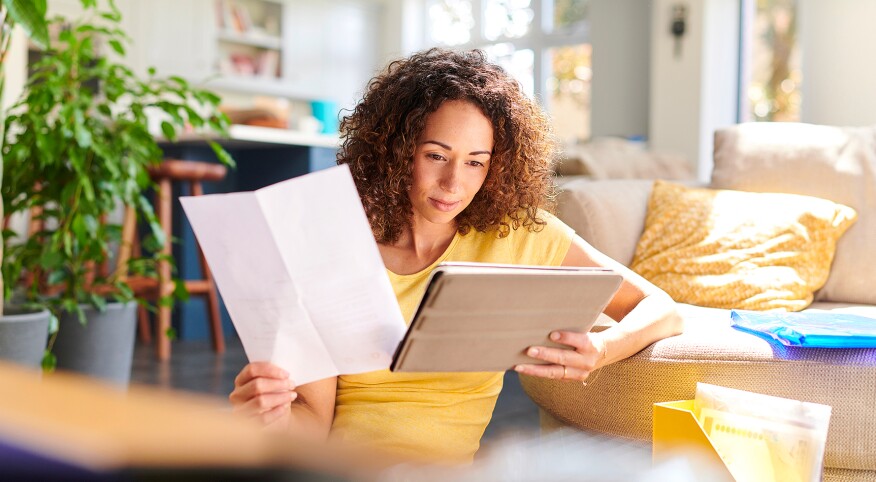 We've all been there. The resolutions we make in January are forgotten by February. This year, try a different approach. Instead of making (and breaking) short-lived, hard-to-achieve New Year's resolutions, opt for smart and manageable financial goals. While some of these goals are reached over time, you can start fulfilling them right away, knowing the outcome is certain. You'll be in a better financial position this time next year than you are today.

Here are three easy steps to a more secure financial future.

Start, or build upon, an emergency fund.
If these last couple of years have taught us anything, it's that we need to be prepared for the unexpected. When it comes to financial emergencies, most of us aren't. In fact, just under 40% of Americans1 could cover an unplanned $1,000 expense like a leaky roof, car repair, or visit to the ER for a family member or pet. Many financial experts recommend an emergency savings fund – one that's liquid so you can withdraw funds fast – that will cover three to six months of living expenses.

Automate your savings.
A weekend away, new pair of shoes, a splurge dinner at the French restaurant that opened down the street – there's always something to spend your money on that offers immediate pleasure. That's why you want to put your savings strategy on autopilot, making the decision to commit to long-term savings only once rather than having to renew that commitment in the face of constant temptation. (Yes, that includes the half-price sale at your favorite boutique!)

The easiest way to do this is by determining the amount of money you're comfortable setting aside regularly. Then, have that amount automatically transferred at a consistent pace (weekly, biweekly, or monthly) from your paycheck or checking account into a savings fund. Set it and forget it!

Save smarter.
You work hard for your money. You deserve a savings vehicle that will work hard for you. In many cases, a money market account is the best choice for a rainy-day fund. A kind of hybrid of a checking and savings account, a money market account earns a higher rate of interest than a traditional savings account. At the same time, it allows easy access to your money, through electronic fund transfers, check writing and ATM withdrawals, with some limitations. And, unlike a mutual fund, a money market account has a declared interest rate as well as FDIC protection.

Begin the year with a big leap forward. Meet your savings goals by opening a CIT Bank money market account. With a 0.45% APY2 (that's more than six times the national average3); quick and easy access to your funds; a minimum opening deposit of just $100; no opening or maintenance fees; and the peace of mind that comes from knowing your money is FDIC insured, a CIT Bank money market account makes saving money effortless.

Click here to learn more about how CIT Bank money market accounts can help you achieve your financial goals.


Sources:

1 https://www.cit.com/cit-bank/learn/articles/emergency-fund

2 APY – Annual Percentage Yield is accurate as of November 15, 2021. Interest Rates for the Money Market account are variable and may change at any time without prior notice. Fees may reduce earnings.

3 Based on comparison to the national average Annual Percentage Yield (APY) on money market accounts as published in the FDIC Monthly National Rates and Rate Caps, accurate as of November 15, 2021.