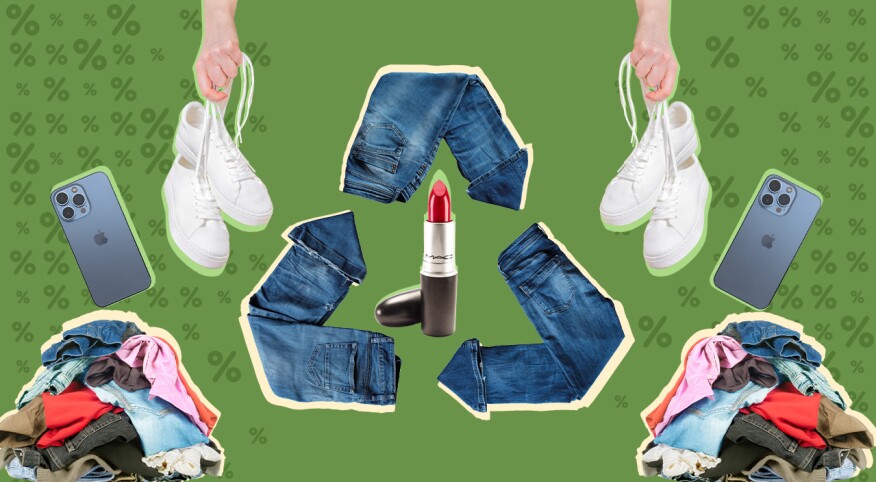 There's nothing better than an additional discount at your favorite store, am I right? Especially if you're saving money and helping the environment. Win-win. All that's required to get a discount on the new goods is to bring in your old items in to be recycled and reused. So, grab your expired makeup, shove your dirty, ripped jeans in a tote bag and get shopping. Here's how to do it.

Madewell

Do this

Bring in pre-loved jeans from any brand, regardless of how old they are.

Get this

$20 off new full-price jeans of your choice at Madewell. They will take your old jeans, and the Cotton's Blue Jeans Go Green program will use them for housing insulation for communities in need. So far, the program has turned more than 1 million pairs of jeans into insulation for nearly 1,500 homes.

M×A×C Cosmetics

Do this

Return six empty M×A×C makeup containers.

Get this

Choose a complimentary standard M×A×C lipstick. If you're a M×A×C Lover loyalist, you can choose between a standard lipstick, lip gloss or eye shadow. M×A×C will clean and reuse your returned makeup containers.

DSW

Do this

Donate your used shoes. Let's face it — you're getting new ones anyway. You are allowed to donate shoes for points on a weekly basis.

Get this

50 DSW points, the equivalent of $2.50 off your shoe purchase. DSW works with Soles4Souls to reduce carbon emissions created by shoe manufacturers and has provided more than 6 million people with new shoes since the program started. Your shoe donation is also tax-deductible.

H&M

Do this

Bring any clothing or textile made by any brand in any condition to any of their store registers.

Get this

A 15-percent- ff coupon to use toward your next purchase. H&M partners with I:CO to sort the clothing into wearable items; clothing and textiles that could be remade into other pieces or cleaning clothes; and those that can be recycled.

Staples

Do this

Bring in your adapters, cables, computers, tablets, monitors, keyboards, printers, scanners, phones, cameras, ink, toner cartridges and rechargeable batteries. You don't need to have purchased these items at Staples.

Get this

$5 recycling credit per customer per month

Lush

Do this

Bring one pot (Lush container) that's 1.5 ounces or larger back to Lush, or return five. The more you return, the better the savings.

Get this

If you bring one, you'll get $1 off your purchase. Bring five pots and receive a free fresh face mask. The returned pots will go through recycling programs via Lush's partners, and they are used by suppliers to make new black pots for Lush products.

Levi's

Do this

Wear your jeans for 10 months or longer, and you'll shrink their carbon footprint by 18 percent and the water footprint by 23 percent, according to Levi's. Or drop off your Levi's jeans or denim jackets at a Levi's store.

Get this

They'll give you a gift card for the value of the trade-in items to be used toward new Levi's merchandise. They will professionally clean the clothing before listing it on SecondHand.levi.com.

GameStop

Do this

Tired of your old video games? Got an old console? Bring in any games, consoles, old phones or most electronic stuff.

Get this

Get up to $750 in credits (but usually much less) for your items, which you can use to trade for new games. The GameStop website they list the current most-wanted trades. Recently, they were looking for Call of Duty Modern Warfare II, Mario Kart 8 Deluxe, the Switch console and more. Most of the desired games will receive $30 to $35 in store credit.

Apple

Do this

Bring in your old phone or computer, any condition. Call to make certain they take the device you want to bring in.

Get this

A trade-in credit, depending on the model and the condition. For example, if you bring in your iPhone 13 Pro Max, you'll get up to $650 in estimated trade-in value. For an iPhone 12, you'll get up to $300. If your electronics don't warrant a trade-in value, Apple will recycle it free of charge.

North Face

Do this

Drop off your clothing and footwear at any North Face retail or outlet store. The clothing can be from any brand in any condition. Drop the items in a designated bin that should be at all licensed North Face stores.

Get this

You will receive a $10 voucher toward your next purchase of $100 or more at North Face stores. North Face has recycled more than 95,000 pounds of clothing and footwear since starting the program.

Which store is your absolute favorite? Let us know in the comments below.