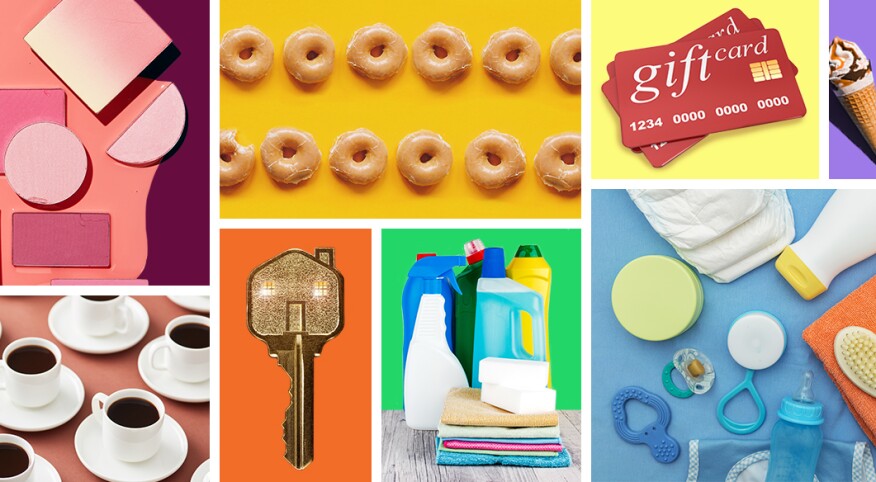 It turns out, there is actually such thing as a free lunch. And free makeup, free donuts and even free housing. The trick is knowing where and how to find all these free items. We searched far and wide for the best free things money can't buy. Leave your pocketbooks at home.


Free makeup

We heart makeup samples because they last forever — and they're the ideal way for us to determine whether the product actually works for our skin/face/hair/insert body part. There are a few ways to get makeup samples. The easiest is to go to Freeflys.com daily; they have links to tons of samples that range from Beautycounter serums to Tom Ford foundation. You typically have to leave your email in exchange for the sample — but you can always create an email account just for samples. Or, try Pinchme.com, a site that will send free samples of anything from nail polish to dog food (choose what you want) in exchange for filling out a feedback survey when you've tried the product.


Free gift cards

Got a little free time? Fill out surveys and rack up points via Swagbucks.com. Redeem gift cards from legit places like Amazon, Starbucks, Target and more (choose from more than 1,500 retailers). You could even get points for shopping online or watching specific videos. They've got an app, so you can answer survey questions on the go. They've given out more than $433 million in gift card rewards already.


Free household items

If you never want to purchase sunscreen again, if you never want to pay for soap, if you don't even want to think about buying cat food, then head to Freesamples.org. They list dozens of companies offering samples daily, and there's a wide range of products (one day, you may find free Breathe Right Nasal Strips; the next, you'll snag free tacos). If you don't want to check every day, sign up to the free mailing list and they'll email you the listings.


Free stuff

At Freeflys.com you can get everything from free Taco Bell to free Sirius XM Radio. It's totally random yet totally legit. Wander around the site to find all different things, from free samples to full-size products to ways to earn money through doing surveys and even selling old devices.


Free food

Pay for food? As if! Obviously, there are tons of places where you can snag gratis grub on your birthday (Denny's, Starbucks and IHOP are great for this), but it doesn't have to be your special day to score. Download the 7-Eleven app for free coffee, donuts and more. If you want another donut, download the Krispy Kreme app and the first one is on them. Other apps that offer free food include Dairy Queen, Chili's, Baskin-Robbins, Quiznos and even McDonald's.


Free baby products

Babies are expensive, so don't plan on paying for every.single.thing. Sign up for a baby registry via Amazon, and they'll send you a free welcome box containing items for your baby — ranging from lotions to bottles — once there is a purchase of $10 from the registry (you must be a Prime member to receive this). Target also offers a welcome kit for those who create baby registries. Bonus: You'll get 15 percent off everything remaining on your registry after you deliver. Finally, register for a free MyGerber account, and they'll send coupons for free full-sized baby food and formula.


Free house

OK, so this one comes with a caveat: You may not be a permanent fixture in this home. But if you're willing to be flexible, you can actually live in a home for free. The easiest way to do this is by house-sitting. And today, there are so many websites facilitating house-sitting that you don't have to sit around and wait for a neighbor to go on vacation. Some people jump from house to house, and they even get paid for it. Check out Trustedhousesitters.com and Housecarers.com to find opportunities.

Photo Credits: Make up, Trunk Archive; Doughnuts, Stocksy; Gift Cards, Getty Images; Ice Cream, Stocksy; Coffee, Stocksy; House Key, Dan Saelinger/Trunk Archive; Household Items, Getty Images; Baby products, Getty Images.