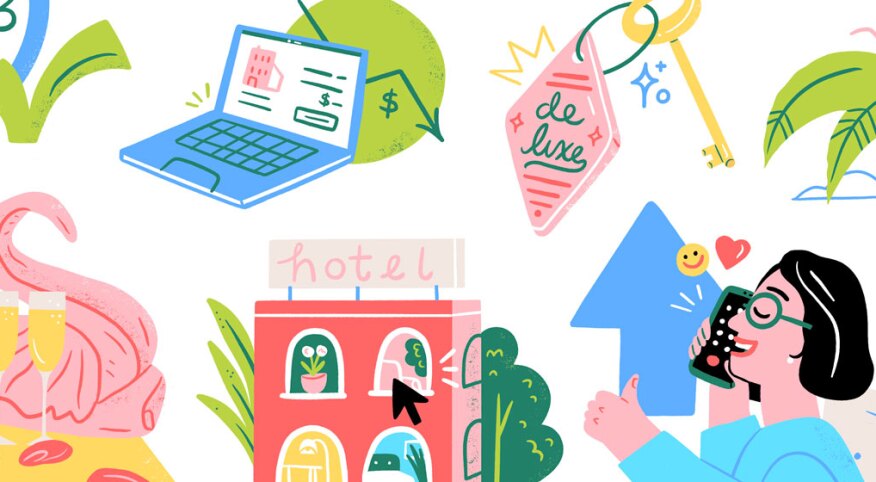 In the Friends episode "The One Where Rachel Tells Ross," Monica and Chandler travel on their honeymoon. Unfortunately, they repeatedly get out-upgraded by another honeymooning couple who are always ahead of them in line and snag all the freebies for mentioning they're honeymooners.

But you don't need to be in a sitcom or on your honeymoon to nab a free hotel upgrade when traveling this spring. We asked a host of travel pros what's the best way to get a yes on your upgrade. Here's what they say.

Request an upgrade when you book

Mirela Letailleur, a content creator on The Travel Bunny, a budget travel blog, says to tell the person on the other end of the line you're interested in an upgrade if you're reserving directly with the hotel. "Be courteous and give a justification for why you believe you deserve one, such as the fact that you are honoring a particular event [hello, second honeymoon] or you're a longtime client."

Monitor rates after booking

Hotel rates change constantly. "One of the best ways to save money or get cheap upgrades for your upcoming trip is to frequently monitor rates after you've already booked your stay," says Jon Stephens, director of operations at  Snowshoe Vacation Rentals. "If you see prices cheaper than when you booked, call the hotel. You can ask them to either honor the cheaper rate or cancel and rebook the new rate. The guest experience is everything to hotels, so they are almost always willing to accommodate things like this to keep you happy," he says.

Turn on the charm

When nabbing an upgrade, the best tip is to be polite and friendly when checking in. "A little charm can go a long way, and if you're extra nice, you might be able to get a better room or a special upgrade," says Luke Xavier, travel expert and founder of USA Rover, a travel website. He says it's also a good idea to check in early in case the hotel has any last-minute upgrades they can offer.

Visit during low season

"Even while you might not wish to travel to the Mediterranean in the winter or the Maldives during the rainy season, doing so has its advantages," says Kyle Kroeger, founder of Via Travelers, a travel advice site. "Hotels are less likely to be fully booked at this time, increasing the likelihood of an upgrade." When reserving a stay in the off-peak (or shoulder) season, ask about the property's upgrade and pricing policy. Hotels often base their upgrading decisions on occupancy.

Avoid booking the cheapest room

It can be hard to resist the most affordable room in a hotel. But this is not your best choice if you're hoping to get an upgrade at a five-star hotel. "Sometimes spending a little bit more for a middle room is worthwhile," says Jenny Ly, a travel blogger and entrepreneur at Wanderly. "If you simply paid for one of the least expensive rooms available, it is unlikely that the hotel will upgrade you to their priciest suite. They might, however, move you from the least expensive accommodation to a middle-priced room," she says. Or you might be able to upgrade from a middle-priced room to a high-priced one. The more you spend, the more likely you will get one of the most luxurious suites.

Check in as late as possible

Contrary to those who think checking in early is the ticket, Ly likes checking in late to nab an upgrade. "Waiting a little bit can help you receive that free upgrade." She says costly suites are typically reserved in advance, and as a result, hotels are aware of their occupancy schedules. "The front desk employees at the hotel will have a better sense of which rooms are available if you check in a little later, ideally after 6 p.m.," says Ly. "This is a wonderful time to make your request because the majority of the visitors have already checked in. But do not come too late; those who have the power to grant you an upgrade might have gone home."

Book directly with the hotel

Booking directly with the hotel can often give you more negotiating power and a better chance of an upgrade than booking through an online travel agent (OTA) or a third-party site. A direct booking shows your commitment to the hotel and can increase your chances of getting an upgrade.

Google is a good travel friend

"Surprisingly, Google is the best site to find the cheapest hotel deals," says Nick Mueller, director of operations at Hawaiian Islands, an online source of information about Hawaii. "If you want to stay in Los Angeles, for example, just type 'Los Angeles hotels' into your Google search. Google does all the legwork for you by scanning all the booking sites and listing the cheapest hotels," says Mueller. Then you scan through your results and pick the right hotel for you. "It's a little-known hack for getting the cheapest hotel rooms easily and quickly."

Book shorter stays

It's much easier to upgrade someone for a night or two than for an entire week, especially if the hotel is busy during spring break season, notes Eva Keller, who used to work the front desk at Hilton and now blogs about travel at Discovering Hidden Gems. "We regularly did this to make adjustments to our room availability, especially as some rooms went out of service due to maintenance repairs or more rooms became available due to completed updates," she says. Giving you a better room is easier for a night or two than for a week's vacation.

Mention your special occasion

Finally, it's OK to mention your special occasion, like Monica and Chandler did. if you're celebrating a birthday, anniversary, honeymoon, graduation or family reunion, Keller says to be sure to indicate this in your booking notes. "This will give the front desk an opportunity to make some magic happen for you and potentially upgrade your room."

A few years ago, Leslie Carbone, who blogs at Sancerres at Sunset, booked a hotel reservation online and noted in the request field that it was for her birthday. "The kindly check-in agent upgraded me to the best suite in the hotel — an enormous showstopper with a huge bathroom, a discrete sitting room and bedroom walls lined with floor-to-ceiling-style bookshelves. And when my companion and I returned from dinner, we found a birthday card with a chocolate torte and a bottle of prosecco on ice."

So what about if you want to nab a QUIET hotel room? Find out how to do so here.

Have any of you ever scored a hotel upgrade? How did you do it? Let us know in the comments below.