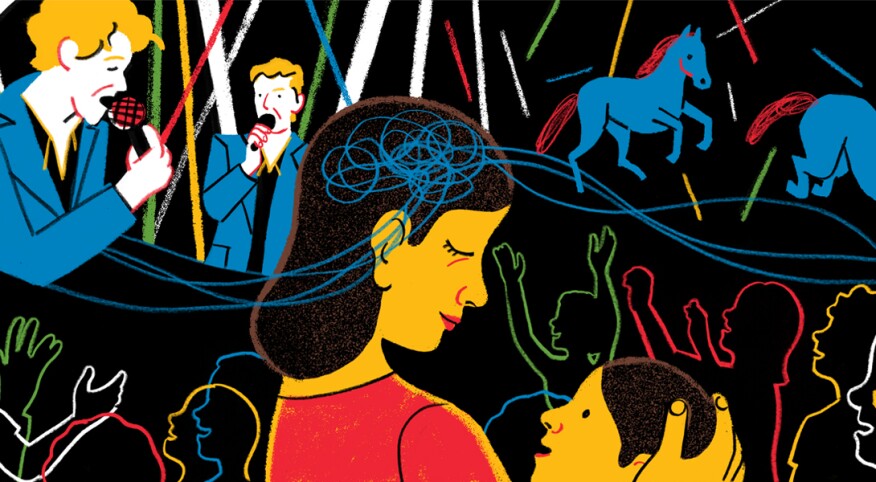 I was that girl. The one who filled notebooks with horse stories, played with plastic horses, and took horseback riding lessons once a week. That was me.

My hometown also happened to be not far from Saratoga, New York — birthplace of American thoroughbred racing and "The August Place to Be!" — and that meant once a year, I'd crane my neck from the hump-seat of the family car to catch a glimpse of my first real horse of the year. This would be no scruffy lesson horse. This would be a horse-horse. A paragon of horsehood, a million feet tall, impeccable, tensed, and built to run — and it would stop my breath. My inner narrator would whisper, "Horses. Real horses, right here. Right in front of you."

Horses were my first true love. I mean, the smells alone: sweat, shampoo, fresh hay, and that very specific scent of warm breath from velvety nostrils. Plus, the sounds: springy hooves, swishing tails, those sharp inhales of attention. Every ounce of it, I can conjure in my senses to this day.

I'm not sure I can truly convey it, except — I don't need to. Surely you have something like it, something that knocks the breath from your body. Or maybe you used to. And then you forgot. When does obsession fade? When do we outgrow the childhood drive — damn near lust — to have and know and touch and feel every single thing about the thing we love? I, for one, didn't know I had lost it — the capacity for heart-cracking obsession — until I saw Harry Styles in concert.

Bear with me.

It all starts predictably. My then 12-year-old came home from camp with a nascent obsession with One Direction. I crinkled my nose about boy-bands. It's what we do, right? Who knows why? Actually, I know why — and you do, too. It's because boy-bands are a girl thing. And girl things = societal eye roll. (Emotions, ew!) But there's another reason, too.

Our generation grew up to the dominoes of our idols falling. We know conclusively that nothing is as good as it seems. So, when our kids come home with some starry-eyed obsession, of course we want to say: whoa there, get real, lower your expectations. Grow up, like we have. But when you're a single parent of an only child — and if you're kind, that is, and if you're paying attention — and, okay, if maybe you're still a little bit of a romantic, despite everything — then your child's nascent obsessions stand a better chance.

So, I asked questions. I watched videos. I let her deejay in the car. She's thoughtful and has a great head/heart for narrative, and she led me down the rabbit-hole of the (fiercely loyal and tender-hearted) 1D fanhood — and I admit: I was in with both feet.

So, there we were. Harry Styles was on tour, and we were going. A couple hundred (!) dollars, a hotel reservation, and a five-hour drive later, we were on the floor. The arena was — how to describe it? — the embodiment of obsession. The arena was … love beyond logic. It was girls in love, boys in love, trans and nonbinary kids in love. Every bright-yellow TREAT PEOPLE WITH KINDNESS t-shirt, every short-short, and every exposed shoulder was radiating hope.

For the over-40s in the room, the air hummed like a stashed-away love letter we still unfold and read now and then, just to remember who we used to be. The place was every first flirtation, every hand we secretly held under a table, every old photo we have of someone we once kissed and now sometimes Google.

At hotel check-out the next morning, I tapped my ears and shook my head, admitting to almost total hearing loss. The hotel clerk couldn't believe I hadn't just dropped off my daughter and gone down to the bar "with all the other parents." I was supposed to be embarrassed. Instead, I had to fight the urge to grab her by the collar and tell her: "These boys, don't you know? They were teenagers, dropped off at an audition, who basically never went home again? Who walked in solo but got stuck together and were told, you're a boy-band now? And suddenly they're touring for five years straight, recording in hotel rooms, and unable to go anywhere without being mobbed by fans?"

I didn't say this to the clerk.

In the movie "This Is Us," there's a scene between Harry and Liam, who are fishing.

Liam: I think, more than anything, it's just nice to be outside. Like, we spend so much time on planes, in hotels…

Harry: Yeah.

Liam: Look how outside we are.

Harry: Look how outside we are.

Liam:

Harry: LOOK HOW OUTSIDE WE ARE!

Liam:

Harry: LIAM!

Liam:

Harry: WE'RE OUTSIDE!

As a kid, I'd been told not to feel sorry for the racehorses — that they lived better lives than any of us. But did they really? Because here's a true thing: I want to apologize to Harry. I'm conscious that to love him is also to hold him captive, and there's nothing I want for him less.

In the arena, the floor is practically vibrating. An animated video loop of Harry's tattooed hands solving a Rubik's cube plays … and plays … and plays. And then, darkness. And then, light. And then the room cracks open, and I swear I actually think the words: Horses. Real horses. Right in front of you.

And now, on top of my sorry, I want to tell him thank you, because I can see it on every face, including my daughter's: the smell of hay; the sound of hooves. It's here. This kind of love. The kind you feel between your ribs. There's nothing else like it. I almost burst.

My daughter, beaming, has let me be here with her for this, and I know she won't always. And I know she'll grow up, and be disappointed, and almost certainly forget what this feels like. But also, one day, she'll remember.