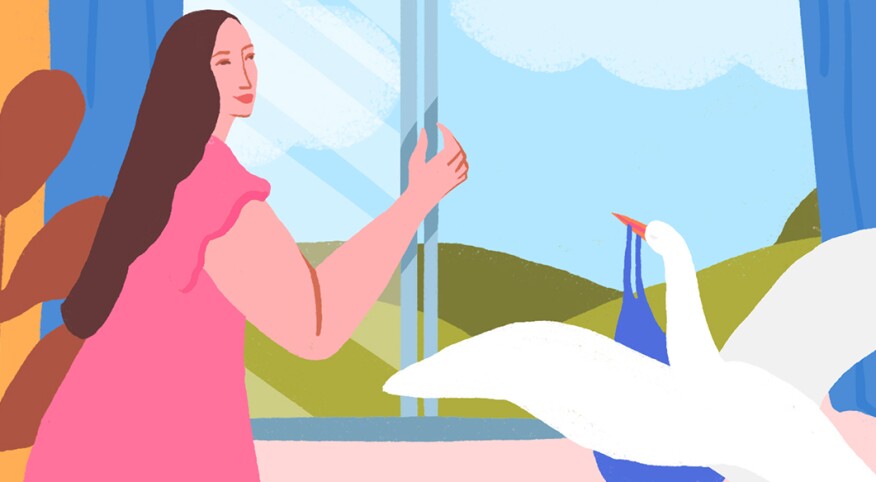 I flipped through the months-old People in my dentist's waiting area. The reporter asked Jennifer Aniston, 51, about her procreation plans. Has she frozen her eggs? She gently told the reporter to f**k off and please stop asking about her uterus, because she's already a complete person. Also, she avoids fast foods to maintain her healthy complexion.

If I had her self-assuredness or girl-next-door good looks, I'd probably tell my dentist to quit asking me about my children. Especially, since I don't have any.

I've visited my dentist every six months for the past 10 years. I hate to waste an insurance benefit. At my first visit, he polished my cuspids, and asked, "Are you and the family going anywhere for break?" I nodded yes as the saliva suction straw did its job. I was headed to Morocco for Christmas, but he misconstrued my nod as a yes to children.

On the way out, he handed me a white paper bag with free floss and said, "Hope you guys have fun." There's no good way to turn a "you guys" into an "it's just me" without getting the pity face. I've been drool-affirming his questions about my make-believe children ever since.

I'm 45 and, most of the time, I'm glad I'm not a mom. Yet, I struggle to explain my choice to not have children, especially to moms who can't imagine life any other way.

I was the only nonparent at a party. A woman, tipsy on White Claw, said, "When I'm old, and the kids move away, and my husband is dead, I just want someone to put a pillow over my face, because really, what's the point?" The moms laughed and agreed that suffocation would be on the table if they had to live a life alone – a life like mine.

One lady repeated the aphorism that makes me nearly burst: "You'll never know what love is until you've been a mom."

I conjured Dolly Parton. She's in my mental card catalog of women I draw on when I'm about to boil.

Dolly doesn't have kids. She belts out "9 to 5" in red sequins at the Opry. She's the Empress of Dollywood. She has 12 siblings and is "Aunt Granny" to dozens of children. At 74, she'd probably be upset if you put a pillow over her face.

In some languages there is a word for a woman who helped raise you but didn't birth you. The problem with our word "godmother" is that there are the fairy kind and the keep-you-safe-from-Satan kind — and I'm neither.

Aidan is the oldest son of my best friends. I call him AD, Potatey, Bananas, and Buddy. I performed a puppet show about Ancient Greece for Potatey when he was 5. I didn't let the Socrates puppet go all the way with the hemlock because there's a time and place for introducing kids to Athenian cruelty. I bought a 2-foot ceramic leprechaun at the Salvation Army and hid it in Banana's bedroom in different spots for months. AD believed Lep was dancing around his room when he slept. He named my blue VW bug Bugsby. Bananas asked Bugsby questions while I slyly pushed the key in my pocket to flick the headlights on and off to blink Bugsby's answers. I took my Buddy to Seattle on one of our "alone trips."

I let him eat a 20-piece McNuggets meal in bed with a ketchup-stained hotel towel strewn on his lap while we watched the documentary Super Size Me on Pay-Per-View and I taught him what the word "irony" means. He has taken after me and fancies himself a politico. I brought Potatey to Trump's impeachment hearings. For three days, we sat in the Senate gallery, geeking out over the strange way Bernie eats his Cheetos and how Mitt Romney looked so sad and tall at his schoolboy's desk. AD is a ninth grader. He FaceTimes me during his homework and tells me he's more "homework productive" if I'm there with him, muted.

My love is made, not born, one muted homework call at a time.