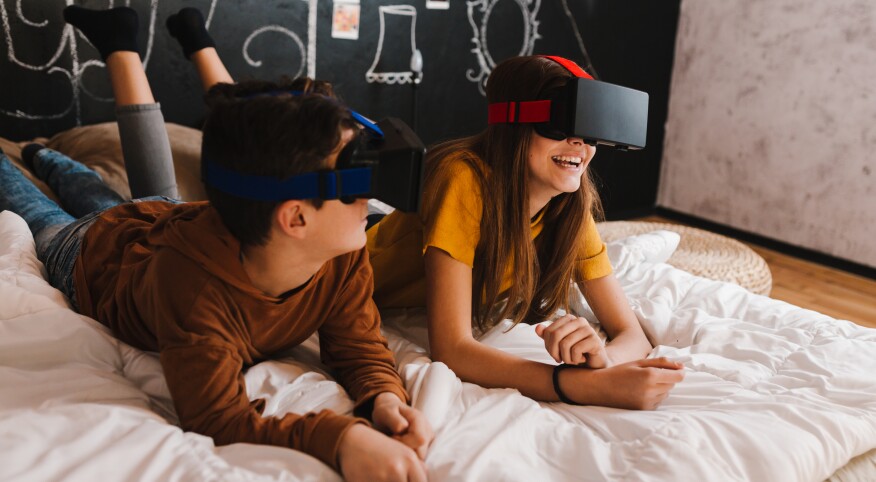 I keep seeing so many goal-oriented graphics and parenting articles from well-intended experts giving advice on how to structure our days at home with our kids, now that we are all living in a new COVID-19 pandemic reality. I continue to read all the detailed information offering the best ways to plan the weeks ahead with regard to schoolwork, free time, meal planning, rest, etc. for our kids and families and it overwhelms me. I'm just not there yet and neither are my kids. My house is a mess and my kids are doing whatever the heck they want to do right now, and I'm perfectly fine with that. We are still in a state of shock and bewilderment, full of fear of the unknown, and unable to fully process everything that is happening.

My family is simply trying to acclimate to this "new normal" and it doesn't look like all those charts and plans and outlines. It doesn't look like a clean and organized home with structured goals and productivity.

Instead, it looks like my son playing hours of video games in the basement, having fun while connecting with his friends the only way he can. I'm grateful for video games right now because it allows him the socialization and outlet he needs. It looks like him grabbing food when he wants and wearing his pajama bottoms and no shirt like he always loves to do on those rare lazy days we used to have when our lives were full and our schedules were busy. It looks like us watching our favorite shows together while playing scrabble on the couch, staying up way too late and sleeping in way too long.

It looks like answering so many of his questions and listening to how he feels about this madness, while he starts thinking about how he is going to space out his schoolwork through the coming months. It looks like him doing nothing about much of anything right now, except settling into accepting that he won't have soccer tournaments or practices, or his eighth grade Washington D.C. trip, or his graduation pool party either. There's a lot to process, and I'm just letting him do it in his own way.

It looks like my daughter and I watching her favorite online sermons on YouTube TV, while she journals her notes and we cling to our faith. It looks like us catching up on her favorite Netflix series and taking breaks to go for a drive, ending up at the Starbucks drive-thru for a caffeinated pick-me-up or DQ for a sweet treat. It looks like her FaceTiming friends and scrolling social media searching for any connection and communication she can find. She feels isolated and lonely, restless and overwhelmed, and we have long talks about it all. She is simply trying to figure out what her life will be like in the coming months and it's been a hard reality for her to face.

She's not there yet, she's not ready to accept this new normal, so I'm letting her work things out as best she can. I'm giving her the space she needs to mourn the loss of her active, busy life that was filled with so many wonderful things. I'm giving her time to tend to her emotions that are so very raw and real.

It's all scary and stressful and I just want to be there, in this, with my family, honoring all our needs and being in this space of uncertainty together. We haven't set goals or schedules, because we are all still in shock and pushing ourselves to do anything more right now just seems futile.

As I was lying in bed while falling asleep last night, I had a surge of anxiety, jolting me to panicked alertness as it always seems to do so brutally and unpredictably. This happens now more than ever. While under this particular siege, I began to berate myself for not having a more organized and clean home. I scolded myself for slacking when it comes to pulling my family together to get some sort of structure in place.

So, I began planning various goals for each of my kids and me while thinking through all the details of how we were going to do this hard thing — living together and working together at home. This rare opportunity must count for something. We have a chance to dive into doing things we never had time to do before. It's up to me to set the structure, create the plans and implement them for my family.

But today, I don't push myself to do anything, not yet. I'm not ready and my family isn't ready either.

I'll just try to keep cooking meals and cleaning up after everyone while throwing in some laundry to wash, too. I'll spend my time checking in on my friends and family, canceling upcoming flights and trips planned, while reading updates on the magnitude of this mess. Hopefully, I muster the strength to shower and concentrate on my work when I can. I'll check in on my kids and let them take the lead on what they are ready and willing to do today.

And we'll all just try to figure things out as best we can one day at a time.