By the end of the school year, I was dreaming of spending a happy summer with my kids.

It's now July and I'm already fantasizing about school starting again.

Between the every-day-is-different camps, swim practices and the maneuvers to fill the kids' days with magic, how could I have ever wanted the predictable rhythm of school days to end?

And I find myself having this delusion every single year, and completely forgetting my previous summer realities.

The first few weeks were not too bad. While I worked my regular schedule, I put my two older children in charge of my eight-year-old. They rode their bikes to the neighborhood pool for swim practices and to meet up with friends. They all made their own breakfasts and lunches. Except for the slammed doors and shouts during sibling conflicts (always during conference calls, of course), things were a little frantic but not too bad.

Then the camps began.

Now I find myself constantly in my car, careening to make it to a morning meeting after drop-off or dashing to make pickup, praying not to be late. I have not worked out much (ok, at all) this summer, and the fridge and cabinets are bare except for hard-as-a-rock chicken I haven't defrosted and potatoes that have sprouted Stranger Things-looking tentacles. The beach towels are stinking up the washing machine after their third wash cycle, and the kids are reduced to taking a few Thanksgiving-themed dish towels with them to swim meets to dry off. My nights are spent hunched over my laptop, wrapping up assignments I should have completed during the day. I'm being stalked by the dentist, pediatrician and orthodontists to reschedule missed appointments.

I remember a few summers ago I was late to pick up my son from archaeology camp. I was rushing directly from a lunch meeting where I had received multiple iced tea refills, and was now stuck in a parking lot level traffic jam on the Capital Beltway. I have never wanted anything more in my life than to pull over on the shoulder and pee. I clearly envisioned myself in a short dress and heels crouching on the side of the road, the urge was so fierce. Only the fear of a fine for late pickup kept me in the car.

I know I'm not alone. Every mother I know has a summer mayhem story.

My friend Stacy is working full time from home while trying to keep her kids busy with chores, dog walking and activities with friends. One day this summer she agreed to drive her 13-year-old daughter and her friend to a movie over Stacy's lunch hour. Their movie choice was a rated-R horror movie, but Stacy was going to purchase the tickets and provide her approval at the ticket counter. She didn't count on the ticket seller denying her request. Stacy said, "I almost had a breakdown at the theater. The other theater in the same chain allows parent approval, but this woman wouldn't budge. Here, I took time out of my work day to make sure my kid had some summer fun, rushing to the theater, and then the whole plan fell apart. It wasn't that big a deal, but I was so upset."

My friend Janine has twin teenage daughters who are old enough to be on their own this summer during the day and they're working as lifeguards! But she is not yet free of the working mom summer suffering. Here's the sign she posted on the fridge when she found out they were spending the bulk of their paychecks on food delivery.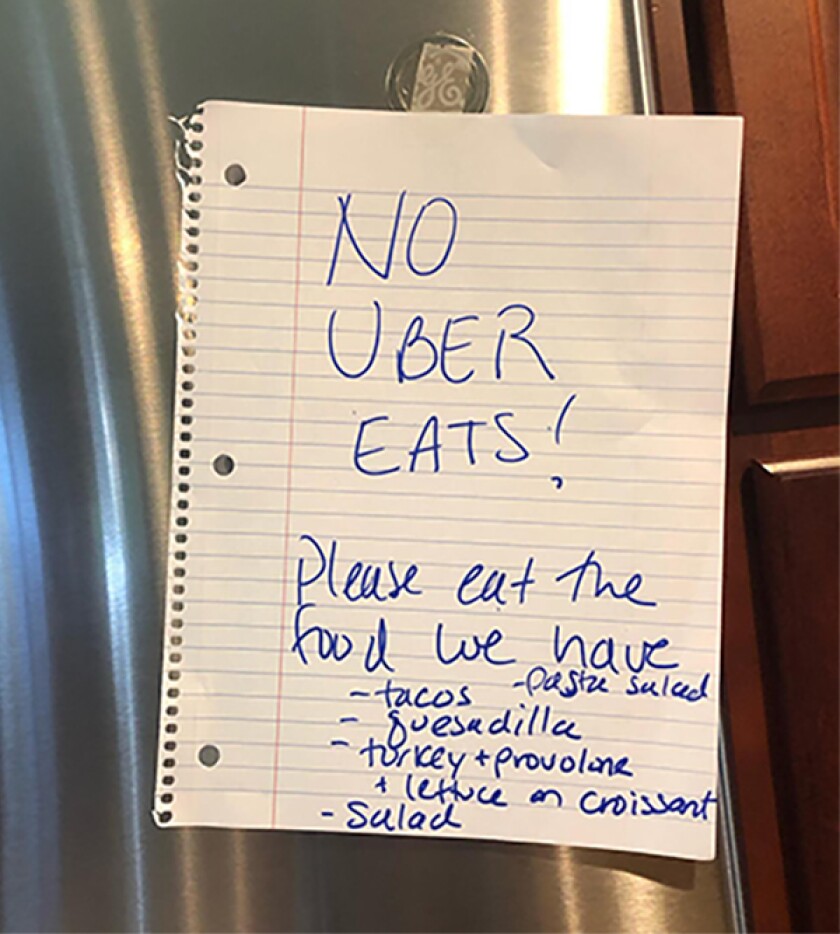 As my friend Jennifer explained, "We all long for those summer days of endless happiness, but in reality summer is just the hotter fall and winter. It's the same or harder, without the routines and rhythm of school. I recently missed my therapy appointment due to camp pickup and work, but I really need my therapy appointment to manage all this summer scheduling stress."

So, fellow parents, you are serious rock stars. You're juggling it all and still providing those summer memories, nourishment and enrichment for your children. I want you to know that for what it's worth, I worship you.

And you know who else I worship? Teachers.

I can't wait for school to start.