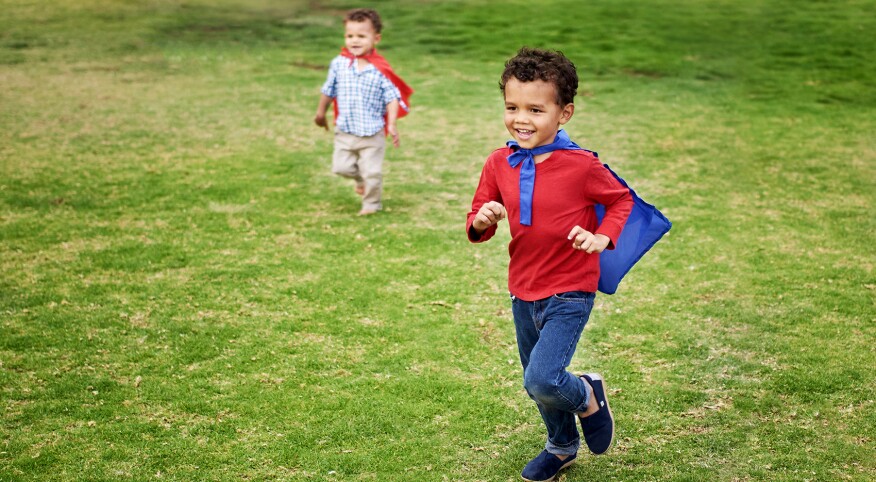 In a lot of ways, I'm your typical midlife woman. I work. I chauffeur my kids around town. I sometimes even make it out for dinner with my girlfriends.

More and more, though, it seems like I live a double life — as a 1980s-era nerd, and a male one at that.

A few years ago, I found myself standing in line in the bitter cold for hours with a bunch of weirdos in space costumes so I could nab a seat during opening weekend of the latest Star Wars movie. I never cared much for the intergalactic band of rebels (my teen crush was on Patrick Swayze, not Mark Hamill), but I grudgingly agreed to spend the weekend before Christmas in a dark theater watching The Force Awakens because my husband — a lifelong, die-hard fan — and our boys (then 8 and 6) had for months been counting down the days until the premiere.

Little did I realize that I would be standing in similar lines the next year, and the year after that, with each new release in the franchise. I've now come to associate the Christmas season as much with peace on earth as with interplanetary genocide.

It's not just Star Wars. Thanks to the Marvel Cinematic Universe, movie night at our house is an assault on the senses: it's all Hulk smashes and Valhallan battle cries. When the boys are up for a comedy, they always nix the rom-coms (no meet-cutes for me) and turn to my husband's '80s nostalgia playlist: Ghostbusters (1984), Gremlins (1984), The Goonies (1985). The list goes on.

When the screens are off, and I've somehow managed to find a quiet moment to myself with a warm cup of tea, a good book, and the soothing sounds of Sarah McLachlan, what cuts through my reverie?

"Alexa! Shuffle songs by 'Weird Al' Yankovic!" the boys shout across the room. Cue "Eat It" (1984), "Like a Surgeon" (1985), and all the rest.

Life in boy world

I'm no girlie girl, but I never thought I'd spend quite this much time in "boyland."

An English major, I imagined raising my kids on the classics of my childhood: Little House on the Prairie, Little Women, The Secret Garden. It never occurred to me that I might wind up reading an entirely different canon — one involving dragons, demigods and monsters. The one book to rule them all? The Lord of the Rings. More like Bored of the Rings. I just spent an entire year listening in at bedtime as my husband slogged through 1,200+ pages of epic battles in Middle-earth. For me, an occasional insomniac, it was the world's most effective soporific.

Parenting boys has been — and continues to be — a gender-bending experience. The biggest shock came a year ago when I found myself sitting at our kitchen table playing the role of a half-elf ranger rolling a 20-sided die to find out whether I would survive an Orc attack. If you had told my Madonna-listening, miniskirt-wearing, teenage self that I would one day spend Sunday afternoons chowing down on Cheetos playing Dungeons & Dragons, I never would have believed you.

But here I am: midlife and knee-deep in '80s geek culture.

Here's the real surprise: It's fun. Turns out, D&D is not only role-playing; it's also interactive storytelling. If you can get past the medieval monsters, embarking on a shared imaginary adventure with family and friends is actually a blast. Better yet? It's all analog. No devices needed.

I'm also a Star Wars convert — thanks in large part to Rey, the franchise's feminist protagonist, a heroine who wears clothing she actually can fight in. I loved Wonder Woman — and my boys did, too. And for Valentine's Day last year, I made an impulse buy for my husband and me: his and hers D&D T-shirts.

Last Halloween, I even dressed up as Galadriel, the Elvin princess in Lord of the Rings. What can I say? We had Bilbo Baggins, Gandalf and Gimli in the family; I couldn't not join in on the costume fun.

As the mom of two boys, I sometimes feel like I'm reliving childhood in the 1980s — not mine, but my husband's. We do get some "girl" time, too. My boys and I rock out to Cindi Lauper on karaoke. We enjoyed the complete Little House box set. And I love to watch those other Disney movies (the ones about princesses) with them.

Still, my secret's out: I'm down with '80s geek culture. Turns out it's cool — and I'm cool with that.



Allison Stevens is a writer and editor in Northern Virginia who provides editorial and communications support to mission-driven organizations.

.