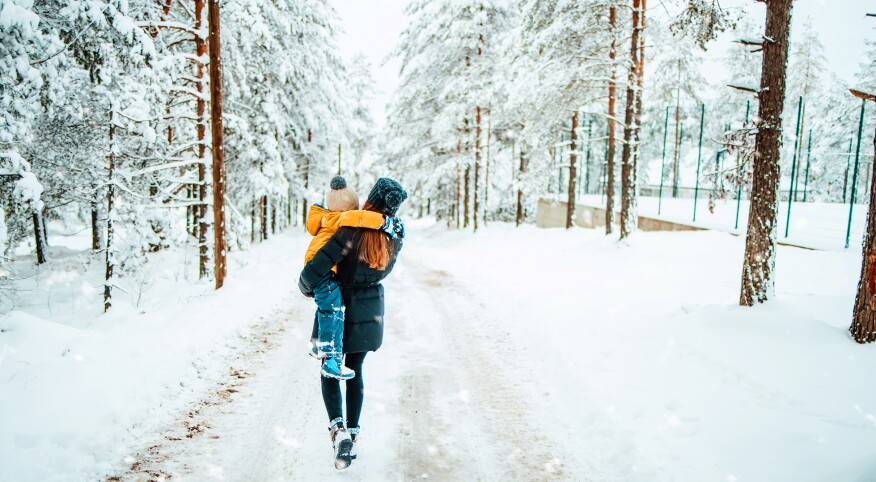 When my ex-husband and I decided to divorce five years ago, it was in the fall. I struggled with the decision for a while and kept coming back to something over and over: What will the holidays be like?

We had three kids who were on the cusp of their teenage years, and that winter we decided to stick it out through the holidays before telling them and separating.

I cried a lot that year, especially on Christmas Eve and Christmas. I now wonder if we had gone our separate ways earlier whether I could have avoided that pain. The guilt sucks me in when I realize how that must have been for the rest of the family. They knew I was struggling and didn't know why.

I can see now that I was so afraid of the unknown. I figured if we could stick it out through the holidays and then go our different ways, I would be healed by the next time Christmas came around. I did this because I know how emotional the holidays can be. They have a way of making us nostalgic and take us through our past — even if we try to avoid looking backward.

I truly believe we decided to take that path for a reason, and I have some things I want to let you know about the holidays if you are going through a divorce — or thinking about a divorce. Old traditions can be painful.

There were certain things I felt I had to do because we'd done them as a family for so long. However, cutting down a tree and taking it home to decorate on a Saturday night like he always did was too hard. The thought of it left me feeling paralyzed. I was worried this would bother my kids and that if we didn't do it, I may miss it — as strange as that sounds.

Instead I ordered a white artificial tree online, and we decorated it on a Friday afternoon when the kids got home from school. They were fine. I was fine. Everything was fine. Was it still subdued and did it feel strange? Yes, but we were all OK. (The following year we did the same thing, and it was wonderful.)

If something feels like it might be too difficult to put yourself through, no matter what it is, you are allowed to skip it. New traditions can be just as great, or even better than the old. Having more time to yourself isn't so bad.

I now get all my wrapping done earlier because my three teens are with their dad a few nights a week. I feel more rested. I am able to spread out the shopping instead of trying to do it in one large trip and get it all hidden before they get home from school. I am also able to do some things — like get a facial and a massage — during this busy time of year, which is new and lovely.

I also have more time to reflect on what this season means to me, slow down, and actually visit with friends and family I used to be too busy to see during the holidays. In short, more time alone does mean you will enjoy it more, and it won't whiz past you if you are intentional about how you want to spend your time.

This one holiday does not define you as a mother. You are allowed to be sad, hurt and tired. You are allowed to miss being partnered when you get invited to parties or you are stuffing the stockings alone. Just please remember this is one day. Kids remember the big picture, and if you are sad over the holidays because your marriage ended, that is OK. If anything, you are giving your children the gift of seeing you are a real human, and it will make them feel safe to be themselves.

Purchasing your own holiday gifts is incredibly fun. This is my favorite part. I no longer wait to see what my partner will gift me. Instead, I go out and buy what I want … because it's the holidays and I deserve it. There are times I order something in advance, and there are times I do something in the fall (this year I invested a lot in skin treatments). I always appreciate the gifts I give myself. I don't have to justify the cost or reason to anyone. Merry Christmas to me!

You will get better at this. I want to tell you each year gets easier (just like everyone told me), but I don't think that's true for everyone. There are women who love their first holiday season without their ex. There are also women who still grieve their old relationship during the holidays decades after divorce. What I can promise is that you will get better at handling yourself and realizing what you need to make this time of year special for you, too, because you are so deserving. The best advice I can give a divorced woman this time of year: Do what feels right to you, regardless of what that is.