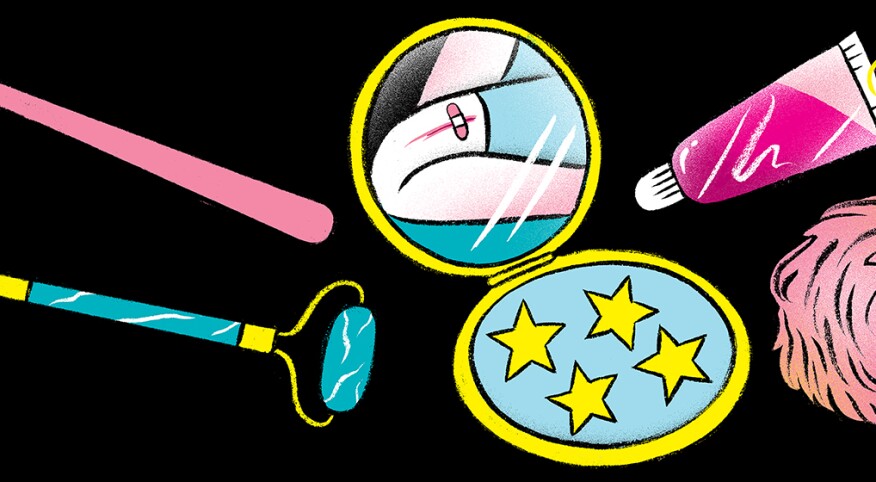 (Names have been changed to protect the family's privacy.)

I found out that Mia was cutting herself when she came to my bedroom one winter night, crying and pointing to her thighs. There were three open wounds, each about an inch long. Surrounding them were dozens of other slashes, like she'd been repeatedly attacked. It took me a while to process that Mia herself was the attacker. She said she'd been doing it for months, which was evident by the assorted shades of pink that gave a timeline of which cuts were older and which had been made in the last few days. Some went so deep, the scars would likely be there for life.

I resisted my urge to freak out and went into triage mode instead. In a surreal fog but somehow focused, I gave myself orders: Address the immediate wounds first. Then help her feel safe and loved so she sleeps. Do not ask questions. Not tonight. I can wait until tomorrow to learn the reasons behind this horrific canvas that my 14-year-old has created of her soft pale skin.

Mia usually shoos me away when I try to be affectionate, but she let me wipe her tears and tell her it was going to be OK. I sat her on my bed and tended to her wounds, just like I did after playground tumbles when she was little. I gently blew the cuts dry, dabbed them with Neosporin, and applied a Hello Kitty Band-Aid on each. "These were all I could find," I apologized. I knew where the bland beige ones were, but the nostalgia of those leftover bandages from her little-kid days gave me a naive hope that maybe this would all feel better by morning.

She started self-harming in the fall, using a small paring knife from the kitchen. But now her primary weapon was a Japanese dermaplaning tool I bought her as a stocking stuffer. I never imagined that the tiny blade at the end of the pink handle could be used for anything sinister. It was one of many trendy beauty items on Mia's Christmas list, along with star-shaped pimple patches, a jade roller and a sold-out lip gloss she saw on TikTok. That afternoon, while my son assembled a Marvel LEGO and my husband rolled out sugar cookie dough, Mia showed me in the mirror how she could remove her upper lip hair — an unwanted gift of puberty — and shape her eyebrows. I said I needed one myself for the perimenopausal peach fuzz on my jawline.

Mia telling me she was hurting herself was a positive sign, my therapist told me when I called her for help the next afternoon. "It means she wants to stop." By the time we hung up, I was able to breathe a little. I had the names of three adolescent therapists, as well as an Erin Brockovich determination to fix whatever was going on with my little girl. I'd get the help she needed. No matter what.

My voicemails weren't returned, so I followed up by emailing the therapists days later. Two wrote back to say they were unable to take new patients. I felt a wave of relief when the third called to say we could meet the following week. Then he asked Mia's age and apologized because as of 2020 he wasn't treating anyone under 16.

The torment caused by social media and the residual harm from COVID isolation has made finding adolescent mental health providers a difficult task. Even therapists who don't take insurance and charge upward of $400 an hour have waiting lists. Add terms like "self-harm" and "suicidal ideation" to your query and forget it. I heard myself say things like, "I'm pretty sure she doesn't really want to kill herself …" and "She could be cutting just because it's sort of a fad right now … right?" in the hopes of hearing anything in return besides, "Let me give you some other numbers to call." Because I'd probably already called them. Twice.

I had the easy kid for so long. Mia's friends always seemed so needy and emotionally immature compared to my own affable, unflappable daughter. Mia hardly ever complained, wasn't scared of much, and was the only member of our family not sobbing at the end of My Dog Skip. ("It's not like it's real," she said.)

I've learned a lot about NSSI (nonsuicidal self-injury) during the five months that I've been consulting with clinicians and psychologists and earning my Google PhD on the topic. Mia not crying at much didn't mean she was never in pain. She just didn't want to express it. It reminded me of something she said when she was 10. We were driving home from a friend's, where Mia had eaten some very spicy buffalo wings. I said she had such a high pain tolerance that even the hottest of hot sauces didn't faze her. "It's not that I don't feel it burning my tongue," Mia corrected me. "I just don't let myself react to it." If I weren't so impressed by her mind-over-matter skills, I might have told her that showing one's feelings is healthier than hiding them.

It has taken me some time to acknowledge my own emotional needs. Mia was my only focus to the point where doing anything that made me happy — like listening to music instead of psychology podcasts — felt selfish. But it led to self-pity and resentment. I even got angry at Mia for refusing to use the silicone gel I bought her to help her skin heal. She said she liked the scars, which baffled me. I became bitter about the whole situation. One night I got so frustrated trying to cut a carrot with a dull knife that I abandoned dinner and stomped to bed with a package of Oreos.

I feel a little more grounded now that I'm reading novels again, writing more and exercising. My obsessive googling was helping no one, nor was my habit of asking Mia 20 times a day how she was feeling.

Through a friend of a friend, I finally found a good therapist. She is 40 minutes away and out-of-network, but she's smart and attentive — and Mia likes and trusts her. She's teaching Mia how to love herself more and express her emotions in safer ways. Mia also has a psychiatrist now, who prescribed medication for her anxiety and depression, and to reduce the impulsivity that leads to her being self-destructive. That has made a huge difference. I've seen so much positive change in her daily moods and outlook.

I wish I could say that Mia hasn't cut again. But on bad days, her instinct is still to cope by hurting herself. Even with the knives hidden, she finds ways — like scratching herself with her fingernails or the end of a paperclip. At the beginning of the summer, she was dealt a terrible blow when her now-former friend group stopped asking her to hang out. With a blade she unscrewed from a small pencil sharpener, she carved a small heart on her chest. It broke my own heart to see it. But she didn't try to hide it from me. We talked and she cried, and that's progress. I'm scared every day and sad knowing that Mia's journey toward healing may take years. But she's on her way. We both are.


This month AARP is launching an initiative, "Our Kids in Crisis," with a special report in AARP Bulletin, stories throughout aarp.org, The Ethel, The Girlfriend, Sisters From AARP, and The Arrow e-newsletters. Plus, there's a virtual summit with experts and teens on September 20. For more stories, advice and insights, and to register for this important informational event, please join us at aarp.org/teensincrisis.