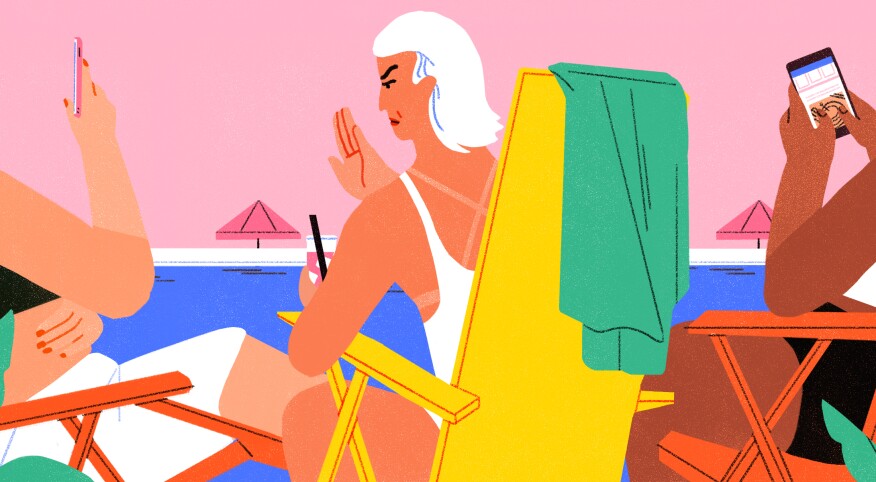 You and your three childhood besties head to New Orleans for old-school good times. You all cut loose in the French Quarter, live it up in a hotel suite, sing along at a Mariah Carey concert, share a few secrets in the sunshine. By the time you're back at the airport, the bonds have been strengthened, yay! This is the plot for the hit comedy Girls Trip. An actual girls' trip can be infinitely more stressful. Best intentions be damned, everything from a flight delay to an offhand snarky comment by the pool can spoil the fun. And unlike the movies, a happy ending is no guarantee. (Neither is jackpot weather.) Here's how to troubleshoot the problems and enjoy your much-deserved BFF QT.

Stay even Stephen

Despite the age listed on our passports, we're all still capable of being gossipy high schoolers at heart. The best way to combat petty Mean Girls Syndrome is to travel in even numbers. Seriously. In a group of three or five, you're more likely to pair up and "talk" — that is, whine and vent — about a friend when she's not around. (I've personally witnessed two women snipe about a pal's breakfast order while she was in the bathroom.) On the flip side, there's a natural tendency for the odd friend out to feel ganged-up on and excluded. An even number of participants is also easier for procuring dinner reservations, show tickets and hotel rooms.

Talk money

The trickiest of all conversation topics needs to take top priority. Be upfront about your budget for the trip and casually discuss how you'd like to divvy up expenses — such as the accommodations and meals. Perhaps you spring for lunch one day and your pal picks up the check the next. If you haven't done so already, download a pay app such as Venmo or Point of Sale or Cash to instantly transfer money with a few simple clicks. You can even split Uber fares during the ride. (Long-term IOUs are headaches in the making.) Just prep yourself for the realization that unless you're traveling with a CPA, you may come out a bit in the red. No biggie.

Get off your phone

Come on, you badger your kids about being on their phones during inopportune times and now you're aimlessly scrolling Twitter before the main course is served? If you're going to kick (or scale down) your technology habit, you may as well do it for this special occasion. Stay in the moment and engage with your company; all the celebrity dirt and breathless political updates will still be there when you get home. For that matter, skip the desire to give your Facebook and Instagram friends FOMO by constantly posting about your trip and monitoring likes and comments. All the above is just rude. When you look back on the trip, your golden memories should not involve looking down at a screen.

Leave baggage at home

To put it gently … please stop blabbing about your husband's goofy office politics or your daughter's heartbreak over not getting the lead in the school play. We all want our friends' families to be happy and healthy, that's a given. But part of the joy of a trip is escapism. That means keeping personal life details to a minimum, or at least selectively choosing the anecdotes. The need to go all TMI is the quickest way to work a nerve. Plus, you never know which detail may trigger a negative reaction with someone else — a single pal dealing with dating issues may be resentful about your description of marital bliss while another friend struggling with infertility may not be thrilled to hear about a surprise Mother's Day breakfast in bed. Not oversharing is caring.

Be flexible

The air-conditioning is wonky. The waitress screwed up your order. It's raining. You forgot your flip-flops. The store is closed. You have PMS. Whatever. If you're walking out the door, you're going to encounter a hassle somewhere along your journey. The key is to check the Type-A behavior and let the annoyances roll off your back (along with the beads of sweat). You're on vacay to take advantage of precious time with your girlfriends — don't waste it by fixating on fixable issues that mean nothing in the big picture. Deep breath and relax. Besides, a jaw-dropping inconvenience now will make for a fantastic story on your next girls' trip.