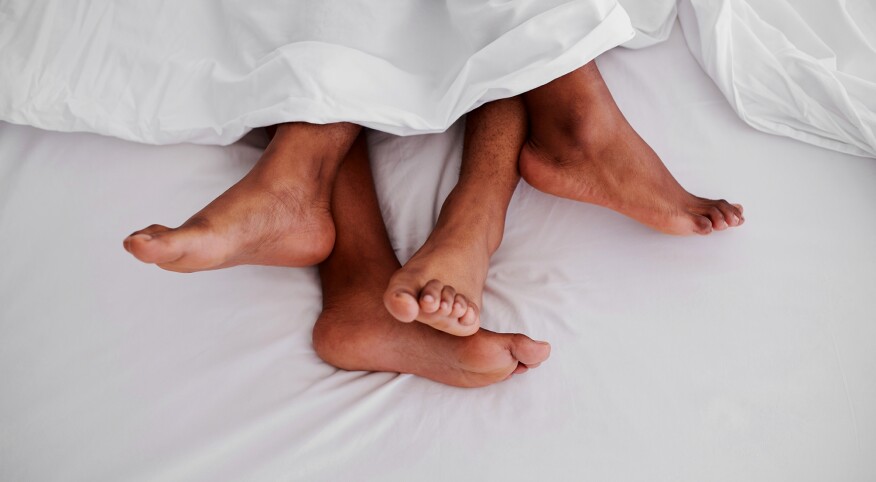 There is nothing like going through perimenopause and menopause. Your body changes as fast as your emotions. One minute you feel great and happy, the next you are sweating in places you've never sweat before and you can't handle the sound of anyone's voice.

Sex is either the only thing on my mind or the last thing — there is no in between. I realize this is due to my hormones taking over, but — honestly — that doesn't make it any better. I want solutions and tips on how to enjoy sex during this time in my life because I'm still a sexual creature and sex is really enjoyable.

It seems like during perimenopause and menopause there are a lot more roadblocks when it comes to getting it on and feeling like your normal sexual self.

Sarah de la Torre, M.D., ob-gyn with Joylux, a suite of life-changing products for improved intimate health for menopausal women, gave us some great tips on how to enjoy sex during these years.

Get some lubrication

Don't overthink it, just grab the lube. "Your vagina doesn't self-lubricate on cue despite what we are led to believe," says de la Torre. "As you move into menopause, your natural vaginal moisture decreases due to hormonal shifts. Plus, sex toys and condoms require lubrication to avoid painful play and uncomfortable intercourse. Many options exist but look for lubes with clean, natural ingredients and avoid nasty chemicals, as the vulva tissue is some of the most absorptive on the body."

Speak up

Talking about what you want in bed is so important. It can be different all the time, and there's nothing wrong with having some dialogue around that. It doesn't have to be a step-by-step instruction manual on what to do, says de la Torre. "Instead of thinking of it as a how-to guide, focus on sharing your feelings and desires. Tell your partner when something feels good, and also share how you like to be touched and where. Your partner will appreciate the feedback."

Be open

When you go through menopause you feel different and need different things to feel healthy. Sex is no different. "Talk with your partner about any changes you've experienced, so you can navigate new ways to explore sex together," says de la Torre. This may mean extended foreplay, where you spend extra time warming your body (and mind) up for sexual intimacy. It may also mean slowing things down, exploring sex outside of intercourse, or even getting more adventurous in bed. "Menopause is a fantastic time to revisit your sexual desires and revamp your sex life," she says. "Many women find it fun to not worry about pregnancy, and it gives them the freedom to explore their sexual pleasure in new ways."

Strengthen your pelvic floor

This can have huge benefits. A healthy, functioning pelvic floor is key to better intimate health. "The vagina and other supportive muscles in the pelvic floor may weaken over time, which can increase pain and decrease pleasure during sex," says de la Torre. "You can improve your pelvic floor function and strength with a solid pelvic floor and core workout routine. Before you start your morning Kegels, it's essential to understand how your pelvic floor works."

Keep your doctor in the loop

This is your opportunity to talk with a medical professional about what's going on with you. They are there to help, and nothing should be off limits. De la Torre adds, "Many solutions now exist to address your changing body that will help put you back on track for a healthy, pain-free sex life."

If you feel like menopause is getting in your way from having the sex life you want, you aren't alone. These five tips will (hopefully) get you back on the saddle.