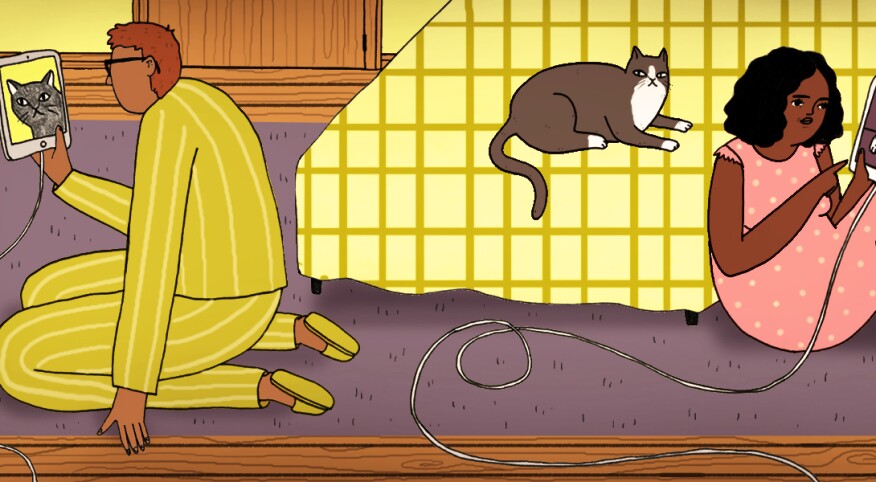 Nobody's cheating. Your evenings aren't punctuated by knock-down drag-out screaming arguments. But even if you don't spot any glaringly obvious signs of trouble, your relationship could still be drifting into a bad patch. Here, six subtle signs that it's time to get some help from the pros.

You feel like ships passing in the night.
He's got school board meetings three nights a week. You're training for a half-marathon with your running buddies every morning. You're both super tied up at work. "Sometimes being 'busy' is really a way to avoid conflict or avoid moments of intimacy that might reveal difficulties in your relationship," says Jefferson Singer, professor of psychology at Connecticut College and the coauthor of Positive Couple Therapy. "It's easy to rationalize: I need to volunteer, I need to work out, I need to finish this project. But the result is that you're living parallel lives instead of connected ones."

You spend more time looking at your screens than each other.
When you both plop down on the couch after a long day, are you talking to each other or are you binge-watching The Crown on Netflix while he checks basketball scores on his phone? Sometimes screen time can also be a method of avoiding the other person, says Singer — a way to be together without actually being together. "It's that subtle way in which there ceases to be a sense of 'we-ness,' " he says.

You can't remember the last time you had a date night.
When was the last time you did something fun together? The last time you carved time out of your week to connect? "It's about more than just the activity, it's the extra acknowledgement that this is something important and special to you," says Singer. When those moments stop happening, or they become very few and far between, it's a sign that maintaining the relationship has slipped in importance — you're no longer making each other a priority.

You pour 100 percent of your energy into your kids.
In your 40s, kids can command a lot of your time and attention. But you need to ask yourself if you're using your children — especially older children, who can handle a little more independence from mom and dad — as an excuse to create more distance.

"As a psychologist, when you ask a couple 'When was the last time you slept in bed together without being interrupted by your child?' and they say 'Oh, seven years,' that's not a recipe for a thriving relationship," says Singer. Remember, he says, it's affirming and healthy for kids see you engaged with each other. "If they never see you connecting as partners, then later on they can question: 'Do people really love each other when they're together for a long time? Do they really want to spend time with each other?' You're doing your children a service by taking some of the focus off of them and putting it back on each other."

You have same argument over and over.
If every argument starts to make you feel like Bill Murray in Groundhog Day — even if you don't fight constantly — that's a problem. "Unresolved conflict can create a pebble of resentment in your pocket," says Singer. "And that pebble builds and builds until you're carrying a boulder around." Issues are easier to resolve while your resentment is still pebble-sized, before your annoyance starts to cloud every interaction with your partner.

Or you can't remember the last time you had a fight.
No relationship is perfect, so it's not realistic to expect that you'll never have an argument. Often when couples stop fighting, says Singer, it's because they've given up on expecting any meaningful change. Or they've become afraid of tripping an emotional wire by bringing up a simmering problem. Or worst of all, they've become disengaged from each other and just stopped caring.