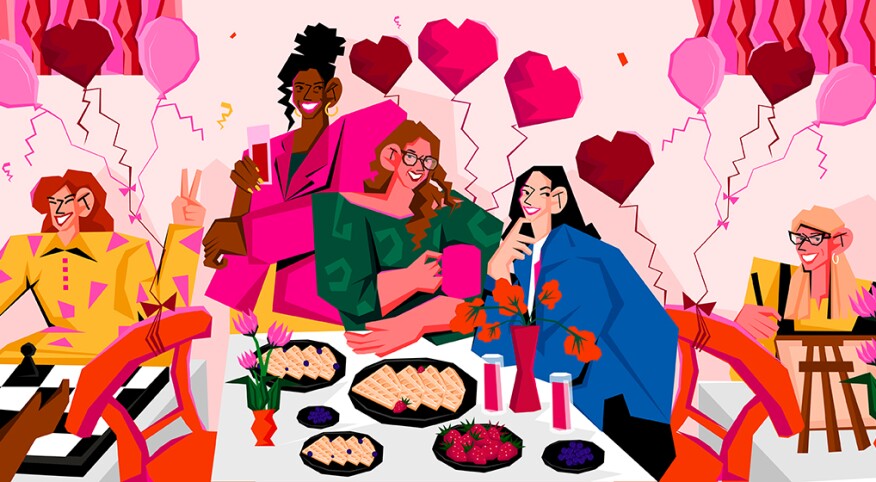 In 2010, a television character named Leslie Knope (played by Amy Poehler) founded a holiday. It was during the second season of Parks and Recreation that Knope gathered her closest confidants together for a waffle-filled brunch.

She called the event Galentine's Day, describing it as "the best day of the year." What exactly is Galentine's Day? Knope explains: "Every Feb. 13, my lady friends and I leave our husbands and our boyfriends at home, and we just come and kick it, breakfast style. Ladies celebrating ladies."

While Galentine's Day was created on a fictional sitcom, for many women it has become an actual holiday. It's hard to believe that there had never been a day specifically designated to celebrate the special bonds of female friendship.

Choosing the day before Valentine's Day makes perfect sense. After all, a true friendship's platonic love and bonds can be as strong and meaningful as the love between romantic partners.

Personally, I am so grateful for my girlfriends. Some of my girlfriends have been a part of my life longer than my husband of 30 years. Others I have met more recently, but it's like I have known them forever. While we have never specifically said vows to one another, we are there for each other in sickness and health, good times and bad.

Knope understood that strong female friends enhance our lives as much as romantic partners and that those relationships deserve some recognition, too.

Here are some ideal ways to celebrate your friends this Galentine's Day.

Brunch

In true Leslie Knope fashion, invite your friends to a brunch. Whether you choose to break bread at a restaurant or in someone's home, make sure to serve mimosas, frittatas and, of course, waffles.

Get creative

Knope gifted her friends with a mosaic portrait that she created of each of them from the crushed bottles of their favorite diet soda. That may be too ambitious for most of us, but we can take inspiration and do something creative with our gal pals. One idea is a paint-and-sip class. Look into a painting class in town or try one online (they send the supplies, and all you need to provide is the refreshments). Even if you aren't artistic, the prompts from the instructor make it simple and fun.

Girls trip

So often, friends will say, "We should take a trip." But the conversation ends there. We wind up putting off getting together until things are "less hectic" for everyone. But what if this year, you don't put off that getaway? Pick a date, pack a bag and escape with your besties overnight. It doesn't have to be far away or overly extravagant; it just has to happen. Years ago, I enjoyed an overnight stay with friends at a hotel just a few miles from home. We didn't go anywhere, but for 24 hours we felt far removed from our daily lives.

Phone call

Many of us think we talk to our girlfriends all the time. But do we really take the time to speak and listen to one another? With work commitments, kids, spouses and various other responsibilities, many of us wind up communicating with our friends mostly through texts. When we do talk on the phone, it's usually a brief chat that ends midsentence because one of us needs to do something. Use Galentine's Day as a nudge to really connect with your girlfriends. Instead of multitasking or calling on the run, block out some uninterrupted time for some real girl talk.

Girls' night in

The only thing better than a night out on the town is a night in — especially in February, when it's cold out and dark by 5 p.m. Invite your friends over for a good old slumber party (but they get to go home to sleep in their own beds). Keep it cozy and casual. Have each person bring a different board (charcuterie, dessert, fruit and fondue, or even chicken nuggets with fries), or set up a taco bar. Play board games, watch a movie or just hang out. It will be just like a Saturday night in middle school. But it'll be even better because you don't have to sneak that terrible-tasting peach schnapps out of your parent's liquor cabinet.

A written letter

One of the gifts that the fictional Knope gives to each of her girlfriends is a personalized 5,000-word essay on why they are so awesome. While that might be a little arduous for a real-life person to write, a scaled-down version is the ideal way to let friends know how you feel about them. Send a card (stores do sell Galentine's Day greeting cards) or an old-fashioned handwritten letter. Let them know how much the friendship means to you.

Do any of you celebrate Galentine's Day? What do you do? Let us know in the comments below.