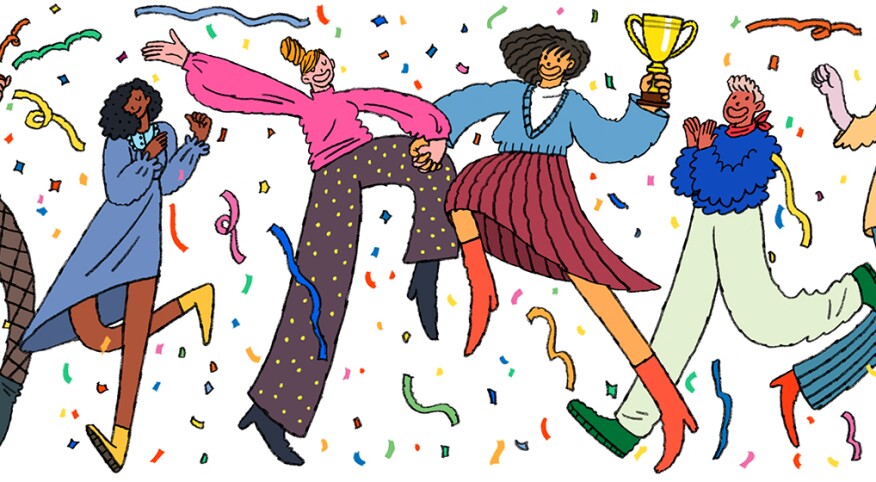 Technically, I have nearly 2,000 friends on Facebook. In reality, I have maybe only a handful of super close friends on whom I can truly rely. And after living through something of an extended state of emergency since March 2020, it has become even more clear to me — and to many — who's in my ride-or-die crew. Although my close friends are all very different, every one of them is extraordinary.

I wouldn't be where I am today without these people in my life. But even though I know that, I often forget to say thank you. And maybe you have, too.

And that's why The Girlfriend is launching a Gratitude Contest. We would like you to write and submit an essay of no more than 300 words about how the power of friendship, whether with one friend or a circle of friends, has transformed your life since March 2020. Email your essay to thegirlfriend@aarp.org between Nov. 25 and Dec. 20, and make sure to put "gratitude contest" in the subject line. Feel free to upload a royalty-free photo of you with your friend or friends that The Girlfriend and AARP have permission to republish. On approximately Jan. 10, 2022, three winning essays will be chosen.

The Grand Prize winner will receive a Visa Gift Card in the amount of $1,000. The First Prize winner will receive a Visa Gift Card in the amount of $500. The Second Prize winner will receive a Visa Gift Card in the amount of $250.

So, write and tell us about that friend or group of friends that has stuck by you since March 2020. For instance, did a friend help you to …

— Get through a divorce or a death in the family?

— Recover from or manage an illness?

— Survive a tragedy or tragic situation?

— Start a business?

— Reach a health or fitness goal?

— Navigate a financial crisis?

— Boost your mental health during quarantine?

— Accomplish a personal or professional goal?

The Girlfriend has always been all about the power of female friendship. In my opinion, the single most important thing a friend can do is to show up. When she's going through a divorce, show up. When her father dies, show up at the funeral, even if it's a four-hour drive away. When she has her first art exhibit, show up. When she calls you in the middle of the night, panicked, take the time to listen … to show up.

Finally, as we celebrate Thanksgiving and plunge into the holiday season, I want to say thank you to all of you for reading and supporting The Girlfriend newsletter and its related social channels since 2017. You've definitely shown up for us, time and again. And I thank you.

All the best,

Shelley Emling, editor in chief

P.S. You can read the official Gratitude Contest rules here.