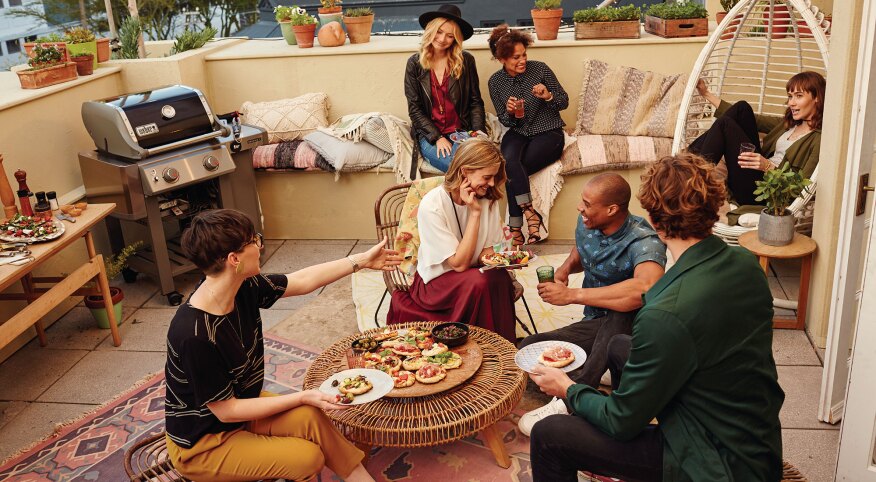 My husband and I are blessed with some friends who extend invitations to us as much as we do to them. There are others, however, who accept our invites and enjoy spending time with us but whom we're certain we'd never hear from again if we stopped reaching out.

People tend to naturally fall into one role or the other when it comes to being the "doer" or the "drafter" in a relationship. Often, one person tends to do most of the work (at least in some regard) while the other happily drafts behind them, reaping the benefits. Some people are gifted at hospitality and bringing people together but that doesn't mean the role doesn't get tiresome —especially if they feel taken for granted.

The common predicament of realizing you're typically the inviter but rarely the invited among your friends can feel tedious. Ultimately, it can breed resentment in a friendship. But it doesn't have to be this way. Here are some ways to combat this situation and/or change your mindset to turn it into a scenario you can live with.

Limit the number of invites you extend

A colleague, writer Jillian Benfield, recently wrote about how she uses a two-invite rule when it comes to extending invitations to friends. The gist is she and her husband will extend two invites in a row to friends, but not a third. After two invites they wait for friends to reciprocate. They make exceptions for challenging life events and mitigating circumstances, but in general they set this boundary to help them identify friends who truly want to connect with them.

Remember pain is a given, but suffering is not

Whatever our problem at hand may be, the problem isn't usually the problem. The way we think about our problem is what causes suffering — and while pain isn't avoidable in this life, suffering is often optional. Try changing the way you think about typically being the one who formulates plans and invites others along for the ride. For though they may not always express it, your friends may prize you for your tendency to dream up ways to stay in touch.

It has been said that the kind things we say about each other at funerals should be said at birthdays instead, because we simply don't express our warm and fuzzy feelings toward each other often enough. Some of my friends regularly express their heartfelt gratitude when I organize and invite them to an event, and I've noticed that these are friends I'm drawn to spend more time with. These are the friends I want to remember to emulate when I'm on the receiving end of an invitation.

Let practicality override emotionality

I once heard a pastor explain how friends are like Lego bricks: We each have only a few main connecting points available before we're fully connected with a solid group of friends. Once we're fully connected, we simply don't have as much time and energy to spend on other acquaintances.

Instead of focusing on the pain point of those who don't reciprocate with you, avoid suffering by shifting your focus to those who do. Tell these folks how lovely it is when they reach out, how valued it makes you feel. Use your allotted energy to celebrate and love on these friends a little extra rather than to stew over those who tend to draft while you do the work.

If you're intent on fostering more reciprocation with a friend and you think the relationship can take real talk — and if you don't, ask yourself why you're nurturing that kind of friendship —then tenderly explain to your friend you'd enjoy it if they took the wheel occasionally. Explain how warm and cozy it feels when they reach out asking to spend time with you. It's possible they may think you thoroughly enjoy your role as organizer and just don't want to step on your toes.

Play, 'would you rather ...?'

If you can't stomach the thought of a potentially awkward conversation and the possible fallout, then ask yourself what's worse: Being continually cast in the role of inviter or possibly having less interactions with your friends if you were to take a step back and wait for others to pick up your slack.

Susan Cain, an author and lecturer whose TED talks have been viewed by millions, recently explained in an interview on the Ed Mylett podcast how the joys and sorrows of this life always go hand in hand. She coins this perpetual state "bittersweetness," and says the more recognition we give this state of being, the more connected we'll feel to human communion.

So, while it may rub that it seems like it's on you to extend the invitations needed to keep a friendship in motion, maybe it's a small price to pay to be in community with people as much as you'd like to be. We aren't promised another day here, or another second with a treasured friend. With the time you do have left, be the kind of friend you want to be. Call out your gratitude with jubilation when a friend returns the favor. And let the others find open Lego spots elsewhere.