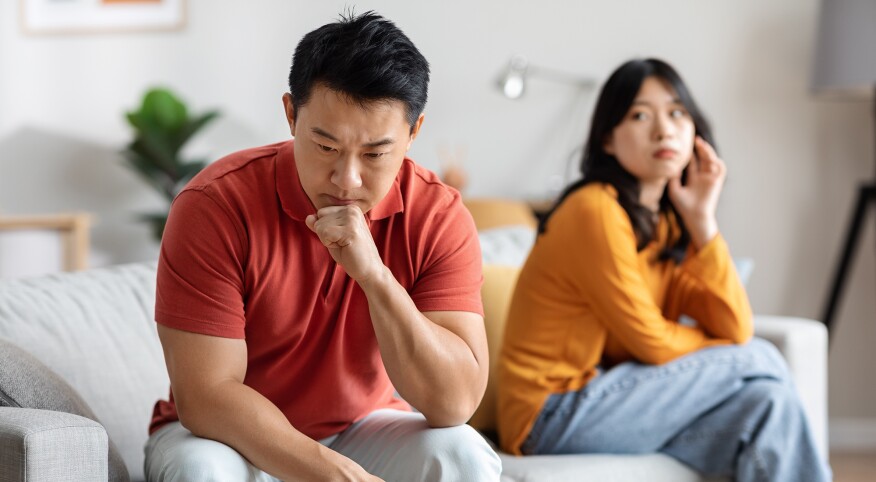 Twenty years into our marriage, my husband and I had our first public argument. We'd just landed at an airport, to visit my mother, and disagreed about whether to take the escalator or elevator. I was surprised and embarrassed that we'd turned into one of those couples — bickering over nothing.

Bickering isn't about what's truly bothering you. Beneath the surface, spats concern more than how your partner drives, leaves dirty dishes in the sink or forgets to bring home groceries. Small disagreements are often caused by stress, feeling time crunched, and fatigue. Bickering is rooted in our hesitation to share the real underlying issue with our partner.

Years later, most of us can't remember what set us off — or even recall the outburst. It could have been triggered by the legendary toothpaste cap, who's monopolizing the TV remote or how much money to spend on a minor purchase.

Bickering can become habitual, but you can control and even eliminate it. Most of the time what's going on is a lack of communication.

Why do couples bicker?

"Couples fight about nothing," claim John and Julie Gottman, clinical psychologists and leading marriage researchers who created the Gottman Method of couples counseling. The longer you live with another person, the more you'll find yourself arguing, including over trivial matters.

"People are annoying," says clinical psychologist Kathy McMahon, president of Couples Therapy Inc. and a certified Gottman therapist. "Yet we expect them not to be annoying. As we age and our marriages grow older, most of us grow impatient with our partner in certain ways."

Bickering has to do with underlying aggravation with each other that you haven't figured out how to resolve. "Little irritating things can build up a wall between you," McMahon notes.

All you did was criticize the way your husband was driving, and he reacted defensively. It escalates from there and accumulates. McMahon likens this to the pipe below a house that extends from the septic tank to the sewer. "If you have a way of complaining effectively, it's like flushing the toilet. Otherwise, your complaints will build up, back up, and any little thing between you will end up flooding."

Women make 80 percent of the complaints in a marriage, and a whopping 69 percent of the differences between couples are perpetual. Bad habits tend to stick with us as we age. "Learn to live with them like with a trick knee," McMahon advises, suggesting you and your partner approach these issues with a soft manner and a sense of humor.

Once you recognize the underlying issue, talk about it so you can move on.

The goal is to say to each other, "Fine. If that's what I have to do, I'm glad to do it."

Six steps to stop the bickering habit

A common complaint is that your partner didn't buy you the birthday gift you truly wanted. McMahon suggests these six steps for resolution.

1. Rather than starting a fight or creating chaos, say, "Honey, I know you love and care about making me happy on my birthday."

2. Say, "I feel …" and complete the sentence with an emotion such as "hurt." Avoid "I feel that you're a jerk."

3. Express why you're hurt.

4. Instead of "I want you to be more considerate," say what you specifically want. Example: "I'd like it if you and I could go away for a weekend and I get to pick where." Partners don't always know what their counterparts want and are grateful to be informed about how to please.

5. Tell your partner it would make you feel more loved and less hurt.

6. Change your complaint from an order to a conversation. The magic four words are "What do you think?" Dialogue moves the irritation out of your system.

Is bickering ever beneficial?

According to the Arkansas Relationship Counseling Center, "When we argue, we communicate things that make us unhappy." This can lead to a deeper understanding of each other and even strengthen a marriage.

Yet growing research has found that too much bickering is risky for our health. Michael Bailey, coauthor of a study from the Ohio State University's Institute for Behavioral Medicine Research, found that repeated bickering can increase our risk for chronic inflammation, digestive issues such as a leaky gut and severe illnesses like heart disease and diabetes.

During minor spats, stop and take a few breaths. Calm down rather than resorting to insults or blame. Ask your partner if you can talk about it — perhaps not right now, but when you're both less agitated and emotional.

If you identify danger signs of deeper problems, or if your relationship is defined more by bickering than by the enjoyment of each other's company, don't let this continue without an end in sight. If most of your communication with your partner is negative, you might need professional advice.

Once is not always enough

You may have to make your needs heard again or even a few times. It took numerous requests for me to stop my husband's habit of bringing me wilted flowers from the corner bodega every birthday or Mother's Day. I wanted him to go out of his way for me rather than pick up whatever was most convenient. Year after year the sagging bouquets sadly reminded me of how my late mother disliked receiving flowers, because she knew they'd die. Now my husband knows I prefer chocolates, and I happily share them with him.

Do you find yourself bickering with your partner more and more? Let us know in the comments below.