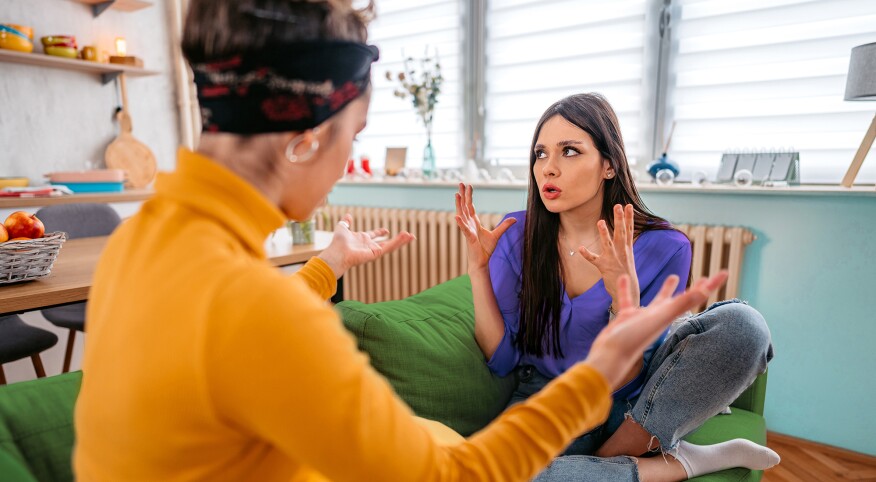 The day before I pitched this story, I received an email from a disgruntled friend.

I had recently bailed on a weekend getaway at the last minute — admittedly awful timing on my part, and did I mention the expenses were nonrefundable? — and now my friend felt the urge to unleash years of pent-up anger in my direction. Here are some choice excerpts: "You're indignant" . . . "You never express the slightest bit of regret" . . . "You see the world as working against you" . . . "You play the victim."

The words seared straight through my soul. I had legitimate reasons for canceling, so I couldn't believe somebody in my close circle could turn on me this way. But I did wonder, deep-down, whether the note was inevitable.

Said friend, you see, is a guy. We're legit platonic former coworkers. Yet you remember that '90s book, Men Are from Mars, Women Are from Venus. Each sex is bound by a complicated set of codes and rules, tinged with polarizing communication methods. Fights ensue. Surely, two tight female friends would never speak to each other like this, let alone cause so much despair. Right?

Reflecting on my highs and lows with my closest confidantes, I realized I was wrong. If anything, disagreements and fights and misunderstandings with a girlfriend can be more hurtful because the bond is so special. We cultivate it with time and care. When it goes sour, it's a harsh shock to the system. Besides, let's face it: Deep inside, every woman is an insecure Mean Girl still capable of cutting to the bone — as well as a Good Girl ready to forgive and forget. Sometimes.

To underscore my point, I asked several friends and acquaintances to detail their most meaningful and memorable BFF fights and their takeaways from the experience. I'll reveal that several of them struggled in reliving the blow-the-blows; others found it therapeutic. And I'm happy to report that they all moved on in some form. In turn, I gleaned fresh insight about my own relationships with my girlfriends. (I need them now more than ever, obviously).

Here's what I learned:

Accept her, warts and all

"All my fights with Nicole are the same derivation: She never wants to plan anything and likes to be 100 percent spontaneous. She won't even commit to a dinner reservation! The worst was when we went to London a few years ago. It was like she wanted to magically fly there and have everything worked out. We were late for tours because of her indecisiveness. It's so frustrating because I need an exact itinerary and advanced bookings. I've told her as much, but she just replies, 'I can't change.' But she is such a good friend in every other aspect, so I've just accepted that this trait is ingrained in her. She's worth it. And next time I go on vacation with her, I know I'm going to have to get on the bus by myself." — Arianna, 46

Never offer unsolicited advice

"I spent the weekend with Wendy and her husband at their summer house. Now, her husband is a great guy on many levels, but he can also be a bit moody and self-centered. We were talking in the kitchen, and I said something like, 'I don't want you to get lost in your marriage and don't forget you're important, too.' I swear I had the best intentions; I was thinking about my own parents' dynamic. But she got really upset, and the friendship was never the same. It's been years, but I still deeply regret offering advice that was not asked for. I will never do it again — especially when it comes to a significant other. Nobody knows what goes on behind the scenes of a relationship." — Meghan, 52

Reconsider the confrontation option

"This goes back to college, but I still think about it a lot. I had started dating someone, and my roommate felt threatened. She wrote me a letter about how she felt phased out, which only made me feel hurt and upset. How could she not have faith in me? But I truly hate confrontation in every regard — maybe because I'm an only child? — so I never talked to her about it or even acknowledged it. Instead, I wanted to show that actions speak louder than words. I made more plans for us, and we spent a lot of quality time together. Honestly, I probably overcompensated beyond what was necessary! But you know what? Twenty years later, she remains one of my closest friends." — Rebekah, 38

Admit your mistakes

"I met Kelly when we were in the same apartment complex. Our husbands became friends too, so the four of us would do everything together. We even took cross-country trips. But she and I were probably too much alike in that we both have very volatile personalities. Things came to a head in Boston when we were just, like, vocally arguing with each other. After that trip, she totally cut off communication. A few years later, she reached out and I was so happy about it. I knew that I had been petulant and was probably criticizing her too much. I saw it as a second chance. Now we've picked up where we left off, only in a better way." — Jenn, 44

It's OK if you two don't go the distance

"Michelle and I never had a fight, but I could tell that she was just blowing me off. I finally called her and asked what was going on, and she explained that she was in a different place in her life and wanted to focus on her new marriage. She also said that she had decided to surround herself with more positive people. Oh, God, I felt horrible. It was the worst breakup of my life with anyone. And I will say that a few years later, she apologized for how she handled things. But when I look back on it, I realized we were in different places. Some friendships, particularly intense ones, are only meant to exist for a certain period. Sort of like chapters in a book." — Jane, 50

When in doubt, believe in her

"I've been best friends with Beth since kindergarten, and she's pretty much the only friend from high school that I still feel deeply connected to. Our 30th reunion was coming up, and I was surprisingly nervous about it. But knowing Beth would be by my side made me feel like I was coming in with a security blanket. Now imagine my shock when, four days before the event, she called me and said, 'You know I'm not going, right?' I was so angry and crushed. All my teen insecurities bubbled to the surface. Then a few nights later, Beth decided to go. No influence from me; she just did it. But I kind of knew she would. Your truest friends will always come through." — Cora, 49

What's the worst fight you've ever had with a bestie? Let us know in the comments below.