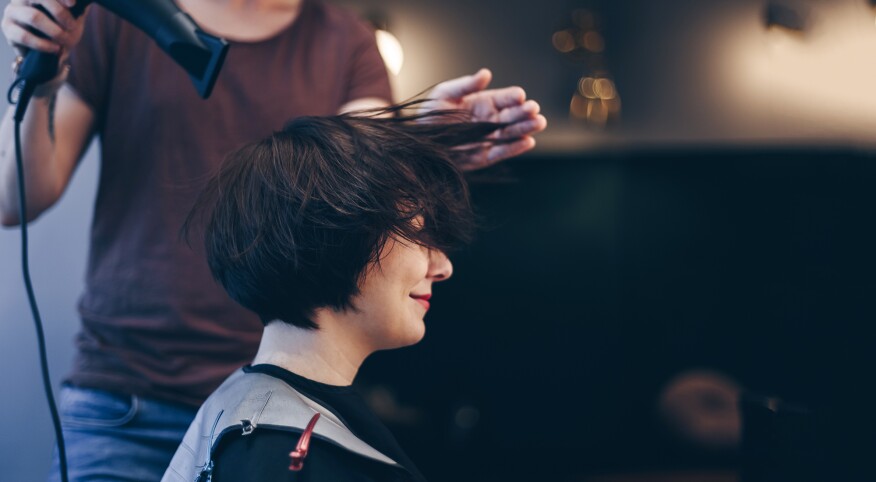 He was always there for me — always, and I up and vanished without so much as goodbye. No letter. No call. Not even a Post-it (I still miss Sex and the City.) Just poof from the longest relationship I've ever had with a man outside my dad and sibs.

He is not my husband or my therapist. He is … was … my hairdresser. My very, very talented hairdresser. The best I've ever had. And the one person I confided in about everything, including my husband and therapist. I know what you're thinking.

When you find that special someone — that someone you can trust with your secrets and your hair — why would you leave? I'll get to that. My question is, "What's the protocol for breaking up with that special someone?" Back to why I walked? It wasn't him. It was me. OK, it was a little him.

I started seeing him in my 20s when I was single and self-involved. He came recommended by a friend after a stylist at another salon who was having a particularly bad day took it out on my head. My new man redeemed my hair, with a darling textured fringe bob as I recall, and I was all in till death or a job relocation do us part. Back then, I didn't mind that his salon lacked a sense of urgency. Women in foils with live-in nannies milled about sipping wine and dishing while afternoon appointments stretched into early evening appointments. I didn't mind because he was worth the wait. He was my shoulder when my first engagement broke off. He gave me a messy bun fit for a royal when I got married — and on the house, too!

When I wound up on bed rest with twins, he brought his magic scissors to my house. (I know, right!?) Then the babies came and the trouble followed. A full-time working mom, I became an efficiency expert to maximize my time with the kids. Meanwhile, I began to resent how long it took, he took, to show me the love. I began to resent the women with the nannies and the wine, especially if their appointment was before mine.

One day, already having been shampooed, I sat waiting, waiting and waiting when it finally hit me. I had to end it. Not that I haven't thought of going back in the years since, many times, especially on the bad hair days. I've been playing the field and there's a lot of hair malpractice being committed out there. I miss his magic scissors. I miss him. I sometimes drive by his salon (I'm going to the bank, not stalking) and see him in the front picture window cutting someone else's hair. They are laughing. I want to stop, but I don't. What would I say? What would he? Has he even missed me?

I recently started seeing someone new. Her one-person salon runs like clockwork. She has other clients, but I never see them. I keep the conversation superficial: "What are you doing this weekend?" "What's your new favorite restaurant?" It's just better this way in case I decide to cut and run again. One day, I decided to go deeper. I asked how she feels when clients disappear into thin air. "It's very hurtful," she said. "You wonder, 'Was it them? If it was me, how can I change?' "

Then she told me about the postcard she once received from a long-time client thanking her for service but letting her know that the client was making a change. The client also happened to be a psychologist and respected that their years together constituted a genuine relationship that required closure. "I was so grateful," this new stylist said. "At least I knew." Seems like, at the very least, I owe someone a postcard.