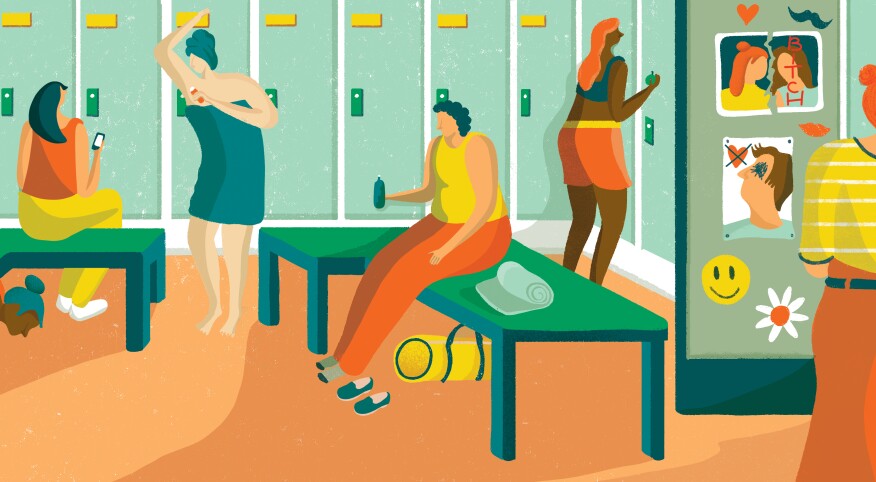 I remember every detail, obviously. Jenny, a pretty, lithe brunette, sat next to me in Algebra junior year. We had run in the same social circle, often hanging out in a big group on Friday nights at the local coffee shop. We may or may not have helped each other cheat on tests. I thought she had my back. That is, until I confided in her that I had a hard-core crush on a mutual friend at a neighboring school, a lanky tennis player named Matt. I was too shy to act on it, though. She seemed aloof to the confession, which I interpreted as loose support. Cut to the upstairs lockers a few months later, when Jenny boasted that Matt was taking her to his prom.

Amid all my blood-curdling rage, I never told Jenny that I felt hurt and betrayed. We stayed in touch only peripherally. I knew she had married her college sweetheart and stayed in town. Per my well-placed local sources, she's a loving, well-adjusted woman that still looks like she could pass for a teenager. So when Jenny friended me on Facebook, I did the natural thing: Accept the request and then immediately block her posts.

I wish I had a logical explanation as to why I remain bitter over an incident that went down in 1993. It's not like Prom-gate had any direct effect on the rest of my life. And as a journalist living in New York City for 20 years, I must withstand personal letdowns and disappointments with alarming regularity. But thinking about Jenny's behavior makes me want to sit alone in my room and turn up the volume on a Pearl Jam CD. It's, like, totally not fair she got the guy! The girl is a traitor! My feelings might as well be frozen in time.

That's what it comes down to, right? You can pay bills and make lunches and sew buttons like a bona fide grownup — and it doesn't matter to your inner 16-year-old. High school is akin to the Hotel California — you can check out anytime but you can never leave the angst. These were our messy hormonal years, and we all had to spend them in a confined brick building with the same people every day. No wonder our experiences are seared into our brains, along with the names of all our favorite crusty teachers. It's not so easy to turn the textbook page.

I take small comfort in knowing that grudges have universal appeal and do not discriminate based on gender or class. One of my close friends is a happily married attorney with two kids. My living room could fit in her closet. And yet she still texts me on the regular with catty comments about her ex-BFF. They both went out for class vice president and the same boy — and guess who won on both counts. I just had lunch with my brother, and I witnessed him refuse to acknowledge a former jerk classmate that gave him crap in seventh grade. And, hey, it's no coincidence that the recent Karate Kid reboot, Cobra Kai, received raves and a massive audience. Sweeping the leg in the All Valley tournament takes a toll, too.

Are we all emotionally stunted forever, destined to regress each time our memories are triggered? I don't think so. Well, I hope not. There's a reason adolescence isn't pretty — and an increasingly number of people, myself included, are simply experiencing its final pangs in middle age. But the upside of maturity is that we know what truly matters and can stack our priorities accordingly. A dated grudge is just a blip in the grand scheme of life. For me, I know that if I ever ran into Jenny, I'd sincerely try to be warm and chatty. Despite what happened in the past, I can always pledge to make things better, or at least civil, in the present.