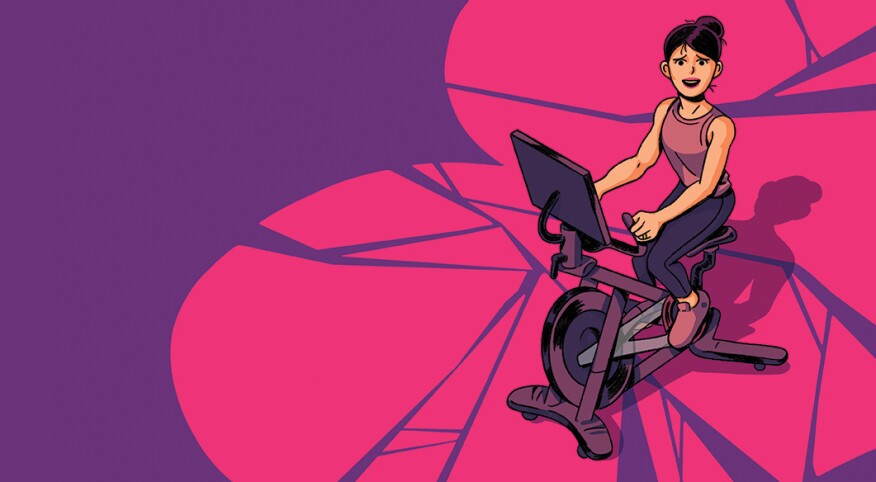 With the state of the world these days, a lot of married or committed couples are spending even more time together in tight quarters. It tends to bring out the best and worst in relationships, which got me thinking about that Peloton wife in her all-white house.

Last Christmas there was a roar of disapproval over the Peloton stationary bike ad. A slender wisp of a woman with desperate eyes receives a $2,000 bike for Christmas so she can work out in her eerie, all-white house. The implication from most viewers was that her husband was a total jerk, and this poor woman shouldn't have to pedal frantically and film her progress so he can see just how much Peloton has, er … terrified her?

Those doelike brown eyes seemed to telegraph her desperation. Save me from this all-white house! Save me from having to document my exercise regimen for my husband!

I hated the Peloton husband. Seriously, mister, if you were my husband and surprised me with a $2,000 bike for Christmas, implying that I should exercise more, I would've kicked you in the soft parts. I can make those decisions all by myself.

As I watched her brown eyes and anxious eyebrows beg me to rescue her, I wanted to take the Peloton wife aside and tell her a few things about marriage.

I've been happily married for more than two decades. I wanted to tell her what real love looks like. It's not the veiled implication that you had better maintain those 110 pounds, missy, and you'd damn well better document your workouts so I know you're complying.

No. Real love is when you have a stomach bug for three days. I'm not talking "Gosh, my tummy's upset." I'm talking full-body sweats, violent emissions from both ends, near fainting from dehydration and stomach cramps. Oh, yes. Because you will feel that way, Mrs. Peloton, and your partner's job is to come into the bathroom with you and yes, hold you on the toilet when you tip over from dehydration.

Real love is when he stands by you in times of sorrow. When you have a miscarriage, when your parent dies, or when you lose a friend; he stands with you, clears his schedule and leaves you notes about how much he loves you. He watches TV with you, buys you the soft tissues to wipe your eyes, goes on a walk with you — understanding that you're not quite yourself.

Real love is honoring your body in any size. Whether it's post-delivery when your stomach is soft and jiggly, the 20 pounds you gained in menopause or the weight you lost when you were sick, he loves that body. He doesn't tell you how much you should weigh or how many hours you need to spend on that bike, honey. He loves your body because it holds you.

Your happiness is his. When you're laughing hysterically on a carnival ride or you've got the giggles, he loves it. He laughs at your jokes, because he thinks you're delightful. His favorite thing to do? Be with you.

He sees you. When you've tried to look your best but can't deny that your face and body are aging, or when you're secretly admiring another woman's looks, figure and clothes, your partner whispers in your ear, "You're the most beautiful woman here." And he means it.

Real love is appreciating you. When you're shoveling snow because he's at work — and you're cold and miserable and your nose is running and your hands are freezing and your back is aching — he comes home and says, "Wow! Great job on the driveway, honey! You're such a badass." That miserable chore becomes a sign of your strength, and you feel damn proud of yourself.

He supports you. When you get an award, raise or promotion at work, he's thrilled for you … and completely unsurprised. He's your biggest fan, after all, and knows how hard you work. He believes with all his heart that you deserve this.

Here's what he doesn't do. He doesn't think about all the ways you're not perfect. He doesn't give you orders. He doesn't lecture you. He doesn't compare you to other women and find you lacking. He doesn't isolate you. He doesn't lie to you. He doesn't insult you. He doesn't hit you.

Peloton wife, you deserve better. Don't settle for less.

Kristan Higgins is a New York Times best-selling author of 20 novels, which have been translated into more than two dozen languages and have sold millions of copies worldwide. Her newest novel, Always the Last to Know, is an insightful, funny and poignant story about a longtime marriage and the relationship's impact on the couple and their children.

Kristan is also a cohost of the Crappy Friends podcast, which discusses the often complex dynamics of female friendships, with her friend and fellow writer, Joss Dey. Higgins lives in Connecticut with her family. Connect with Kristan online at KristanHiggins.com, twitter.com/Kristan_Higgins, and facebook.com/KristanHigginsBooks.