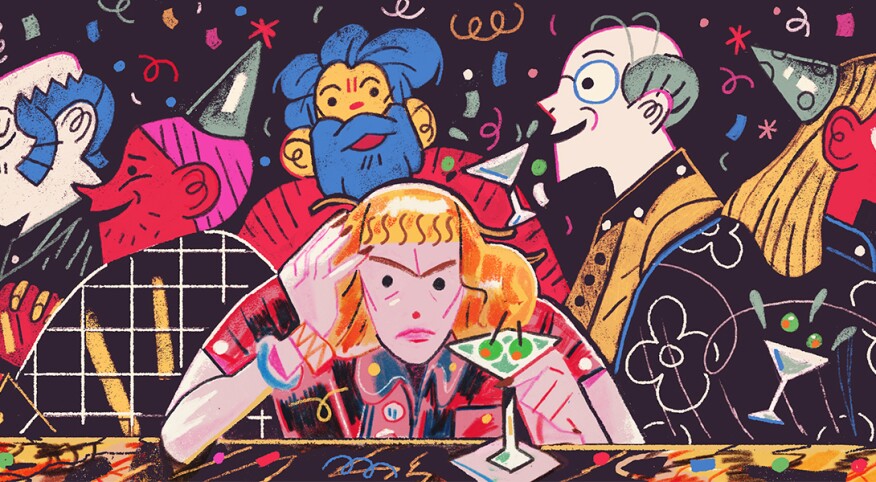 On New Year's Eve, 2014, I learned the hard way that real-life is not a sparkling rom-com. Evan, my boyfriend of five months, didn't propose or kiss me or even give me a high-five. He dumped me. In an email.

I know.

I blame "When Harry Met Sally." I had seen the movie so many times that when I moved to New York City, I was convinced my soulmate would find me and profess his love for me at midnight at a fancy New Year's Eve party. Notsomuch.

In hindsight, I may have been better served by the movie "He's Just Not That Into You." I adored Evan. In the beginning, we volleyed conversation like tennis pros and had oodles in common. But I ignored the telltale signs. Our initial heated make-out sessions started to simmer. I had to move things forward — so I targeted New Year's Eve. I pitched him in mid-December as I loaded my dishwasher and he sat on the couch:

"So … what are you doing for New Year's?"

"I don't know?"

"Wanna do something together?"

"I guess."

Yessss. After spending decades of NYE's counting down in a random bar with drunken idiots, I was excited for that magical midnight kiss.

What did I get? D-U-M-P-E-D. Just before sundown on New Year's Eve.

The email was long and heartfelt, I'll give him that. He confessed that my feelings for him weren't mutual. Oof! Evan didn't want to be with me. Not on New Year's, not ever.

He apologized for any hurt he caused me and asked if we could be friends. Friends?! No thanks. My friends have way better timing.

At first, I seethed with anger. Evan had endless opportunities to hit the brakes, but he took the cowardly route. Screw you, buddy! But as I scrutinized each and every painful word, I began to wail.

Too sad to care about the optics of being alone on a social holiday, I sobbed on the phone to any friends who would pick up. Then I turned down the window shades, threw the covers over my head and fell asleep before Ryan Seacrest came on the air. The next morning, I dragged myself to a spin class, where I bawled into my towel for an hour in a dark room.

Eventually, I was able to move past that nightmare. And I'm the better for it. I've stopped putting pressure on myself — and on others — to have the BEST NIGHT EVER! just because the calendar changes. As New Year's Eves approach, I'm content spending midnight with friends. If I count down alone, that's OK, too. As for relationships? I'm optimistic for 2018.