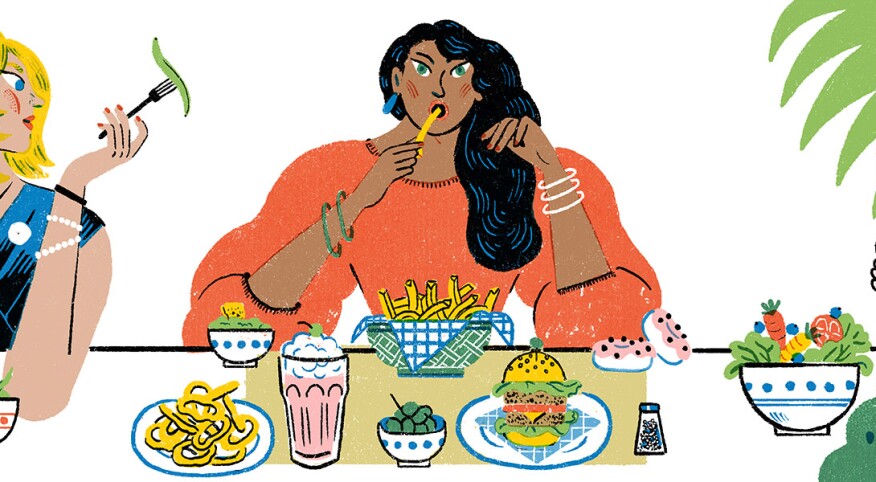 "Oh, do you mind if we skip the bread basket?" This is how it begins. Not a problem, I tell my friend Annie at our regular lunch haunt. Bread always fills me up before the main course as well. But Annie isn't worried about saving room for her entree. She's on a special meal plan. And she's not allowed to eat beige carbohydrates for 18 more days.

Welp, my friends' crazy diets are driving me crazy. I'm not talking about a sensible Oprah Winfrey-approved weight management program. I applaud and respect anyone who wants to change bad habits or lose a vast amount of weight or just get healthy. Nah, I'm referring to harsh Paleo-protein-all-greens-all-the-time and a restraining order against the dessert menu in a laser-focused quest to whittle down to a lean size 4. Way too recently, half the female staffers in my office adhered to various home-delivery juice cleanses. I couldn't split a cookie with a coworker because solid food was no-no No. 1.

I'm not sure what to make of my friends' newfound dietary restrictions, except that I'm convinced these trendy regimens have restricted the way we communicate. There's a reason why the phrase "breaking bread" is part of our vernacular. Sharing casual meals — like, say, splitting an edamame appetizer —affirms trust, comfort and confidence with one another. A censored menu adds a silent barrier to what should be an open conversation. As a friend picks at a kale salad with oil and vinegar dressing (on the side, obviously), I feel guilty for digging into my hummus plate. I may be downloading my disastrous last date in that restaurant, but on the inside, I'm ruminating on whether I should have passed on that baked potato.

And if I'm truly being honest (pretend that we're metaphorically breaking bread right now), I think deep down I'm jealous. These women have a serious goal, as well as the hard-core discipline to stick to it. This type of self-masochistic control confounds me. Meanwhile, I have the palate of a 10-year-old boy — I crave chicken fingers, french fries and plain pasta. My idea of limiting myself is eschewing cookies and milk as a post-breakfast snack.

My unnaturally high metabolism and SoulCycle obsession are the only reasons I can button my jeans. As I get older (and grapple with stomachaches, shocker!), I'm increasingly conscious that I need to be smarter about what I put into my body. That's how it goes in my head. I still have to take action.

I'm not prepared to flip the switch and go to punishing levels of dieting. I treasure solid food too much — and I'm not convinced a one-size-fits-all plan exists. My goal is to try to let my friends' healthful eating habits inspire me to make incremental personal changes. I should be eating more lean proteins and healthy fats. A few veggies on my dinner plate won't turn me into the Hulk. Maybe I can discuss this epiphany with Annie over some bruschetta. We'll live on the edge.