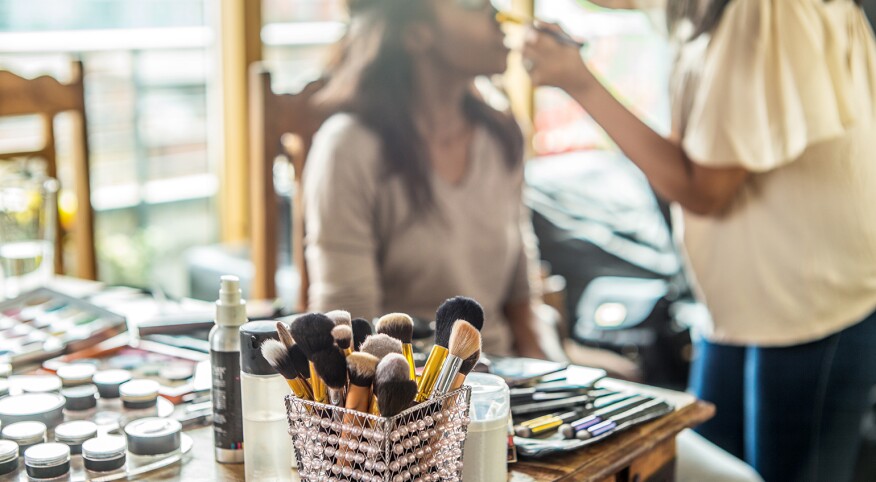 Six weeks after Lana*, a 39-year-old accountant from Milwaukee, delivered her second son, her sister-in-law invited her to the gym. An avid exerciser, Lana was psyched to tackle her first post-partum workout. As they lunged and ellipticized, her SIL — let's call her Kelly — started telling her about Beachbody's series of streaming workouts and encouraging her to sign up. Lana knew Kelly was a Beachbody rep, but "this was the first time she'd ever brought it up with me." Lana had a trainer, "but I wanted to support her, so I signed up for $100 a year."

Then Kelly started sending texts about Shakeology. "Now I was annoyed," Lana remembers. "I'd already committed a chunk of money, and now she was asking for more."

Most of us have had eyelash serum from Rodan + Fields, nail wraps from Jamberry, "butter leggings" from LuLaRoe or earrings from Stella & Dot pushed on us at least once by a friend, family member or acquaintance. Multi-level marketing (MLM), which involves selling products like these person to person, is a $36 billion industry with nearly 19 million Americans — mostly women — hawking stuff every year, according to the Direct Selling Association.

This presents a tricky quandary: Your inner feminist wants to support the budding businesswoman, who may be enjoying newfound income and independence through her job (or "journey," as many call it). But the rest of you is annoyed AF and resentful that she's introduced a transactional dynamic to your relationship.

"It can feel manipulative," says Ramani Durvasula, a psychology professor at California State University, Los Angeles who recalls being invited to a "health and wellness event" by a friend a few years ago, only to discover it was a ploy to sell environmentally friendly cleaning products. "I went there to meet cool people and drink some wine, so I felt duped," he recalls.

Often, no real relationship even exists, but that doesn't stop the MLM madness. "I'm about to unfriend people I've known since grade school if they don't stop badgering me," says Stacia*, a 40-year-old mom of three from Atlanta. "They'll ping me on social media and since we haven't spoken in 20 years, I'm curious to see what they have to say. Then I'll click open the message and it basically says, 'Hi! So great to see your kids on Facebook — they're so big! Listen, I know what it's like to be a busy mom, this organic makeup is really helping me!'" Stacia moderates a 6,000-member mom's page on Facebook, and they recently banned MLM posts due to a flood of complaints.

As Rebecca Regnier, 49, a newspaper columnist and author from Toledo, Ohio, puts it, "If I get added to one more Younique Eyelash group, I'm going to throat punch someone."

If you have a friend or family member who's drunk the Kool-Aid from this 21st-century version of the Tupperware party, you have a few options, Durvasula says. If the friendship truly matters to you, use a direct but empathic message that conveys your support for her new gig but makes it clear that you're not interested — something like, "I get it, this sounds like an interesting opportunity for you, but I don't have the need/space/money for it." Hopefully she'll back off, and you can continue hanging out without a Pampered Chef-shaped elephant in the room.

If Penny from kindergarten comes e-knocking on your door, attempting to entice you into trying her knock-your-socks-off age spot serum, try replying, "So lovely of you to reach out. I hope this venture succeeds for you. Good luck."

Also: The Hide and Unfollow buttons are your friends.

Not all friendships are doomed by MLM, though. Independent Scentsy Director Phyllis Gray, 40, of South Carolina, has been selling since 2015, after she left her Emergency Medical Technician job seeking more flexibility to care for her three kids, who have various learning and emotional disorders. Gray keeps her personal and business Facebook pages separate, never reaches out to long-lost "friends," and refuses to bombard people about bath bombs or act like a room spray infomercial.

"People know what I do and that I'm passionate about it, but I let them come to me," she says. "I'm a believer in permission marketing. I listen more than I talk." When Gray finds herself on the receiving end of cold calls from other MLM-ers telling her she'd be a rock star if she also started selling their lipstick/body wraps/vibrators, she thinks, Oh, hi there, person I don't know! Nice script. How about...no.

*Some identifying details have been changed to protect the Beachbody-free.