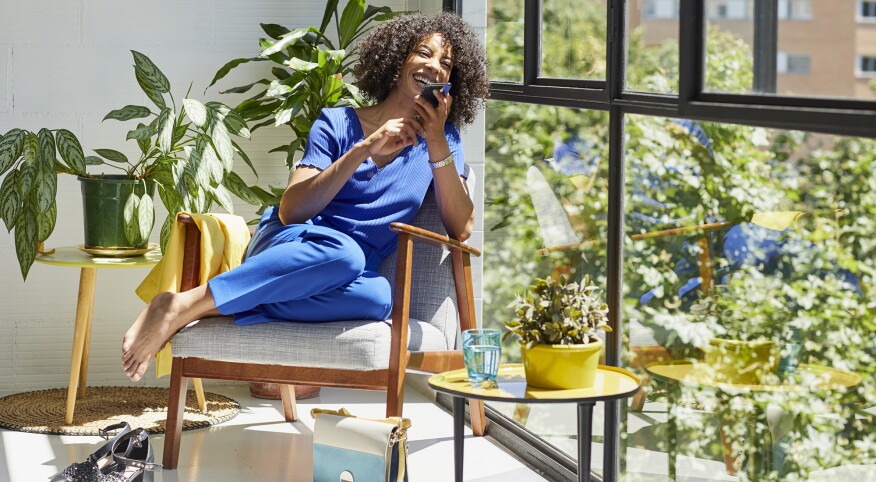 I hope that one day, in the not-too-distant future, we'll look back and be able to tell our kids, grandkids and others about how we survived the great coronavirus pandemic of 2020, in part by using ingenuity, creativity and the power of our collective humanity.

They say that necessity is the mother of invention, and in this time of social distancing and isolation, people are rising up with inventive ways of staying social while staying safe. Since we've been forced to take our social life online and to forego precious in-person human interaction, a wave of online socializing is emerging. An extrovert at heart, I quickly embraced this brave new world and hosted my first virtual wine and cheese party — the Social (Distancing) Wine & Cheese Club — with friends across the country.

There were 12 of us, including friends from Florida and Portland. Most of these people had never met; they just knew me and my husband. And yet over the course of an hour, we enjoyed lively banter, commiseration, shared fears, and even laughter at the absurdity of the situation (and my husband's ridiculous Genesis T-shirt).

While many of us would rather be hanging out with friends IRL (in real life), this will have to do for now. And if you think about it, the possibilities for socializing and engaging online are almost endless. Teachers are going online to read stories to kids who are stuck at home (https://youtu.be/nParaQzX8iE); friends are gathering for FaceTime live and Zoom wine parties; cooking clubs are springing up on Facebook; and virtual dance parties, like the one that Ben Platt and friends hosted, are popping up on Instagram. Even performing arts legend Debbie Allen taught a free dance class on Instagram live recently.

Start off simple

Life is overwhelming and complicated enough right now, so if you're looking for something low tech, I'd recommend starting with FaceTime if you have an iPhone or one of these apps for Android. Texting is fine during normal circumstances, but these days are anything but normal. FaceTiming with your friends and family adds another layer of connection and intimacy that texting and phone calls lack. FaceTime is generally better for private chats with your BFF, parents or siblings. My brother and I usually talk by phone once a week, but the other evening I really needed to see his face. Even though he was walking around his apartment and the video was shaky, it felt (almost) like I was there with him. Plus, I got to see what he was making for dinner.

Have Zoom, won't travel

Taking your social life online is actually remarkably easy, assuming you have a computer or iPhone (or the like). One of the easiest places to start is with Zoom, a videoconferencing app that is free to use for up to 40 minutes and up to 100 attendees. There are also fee-based options. The Zoom help center is filled with tutorials and videos to assist even the biggest Luddites among us. I downloaded the app to my MacBook and clicked on the "schedule" button to set up my wine happy hour. Once it was scheduled in Zoom, I had the option to link it to my Google calendar to make inviting my friends super easy. You can also launch a Zoom meeting in real time by clicking the orange "new meeting" button in the app.

A few tips for starting or joining your first Zoom gathering:

· Find a good, well-lit spot to set up your computer or other device. If you don't want to look like you've been hunkered down for weeks (even if you have), avoid direct overhead lighting as well as back lighting coming in from windows. Opt instead for indirect, ambient lighting and maybe even a little bright lipstick to elevate your mood.

· Use the "touch up my appearance" box in Zoom's video settings menu. It works like a light airbrushing filter to smooth out wrinkles and hide imperfections. Priceless!

· Launch the app with the video and audio options off until you've had time to settle in and get situated, then fire up the video and audio buttons at the bottom left corner of your screen.

· Mute participants by default until they turn on their sound using the profile settings.

· Use the mute button (bottom left of the screen) when you're not talking so the rest of your group won't be distracted by background noise.

· Hosts can mute individual participants by hitting "Manage Participants." This is handy when someone you've invited doesn't realize that the dog barking in the background is distracting everyone else.

· The "chat" button at the bottom of the screen opens up a chat box to the right of the screen so that attendees can chat with the group or privately with each other during the get-together.

· The "share" button at the bottom of the screen lets you share your desktop with your pals, so you can share fun things like photos of your cats or the latest Gen X meme.

· If you're hosting, you may want to pick a theme or a couple of discussion topics (as lighthearted or heavy as you want). You may also need to play moderator until people get the hang of the flow in what amounts to a videoconference in a social setting.

· Have fun. We all have enough stress and anxiety these days, so use this time to relax and have fun. If the technology goes awry, so what? Give yourself permission to make mistakes and ask for help if you need it.

In addition to Zoom, there are plenty of other communications tools for online socializing depending on your comfort level with technology, the kind of device you are used to, and what kind of social gathering you are having. Here are a few others to explore:

· Facebook Watch Party: Gather the gang and watch something fun together on Facebook.

· Google Hangouts: Similar to Zoom — but with different features and pricing.

· Skype: Lets you host a gathering with up to 50 people.

· Netflix Party: This Google Chrome extension is a new way to watch a movie with your friends. Popcorn not included.

Keeping your social connections active and staying in touch is more important than ever as we struggle through this very uncertain and scary time. If there's one silver lining in all of this, it might be that we will think of new ways to foster human connection, even if it's from a distance.