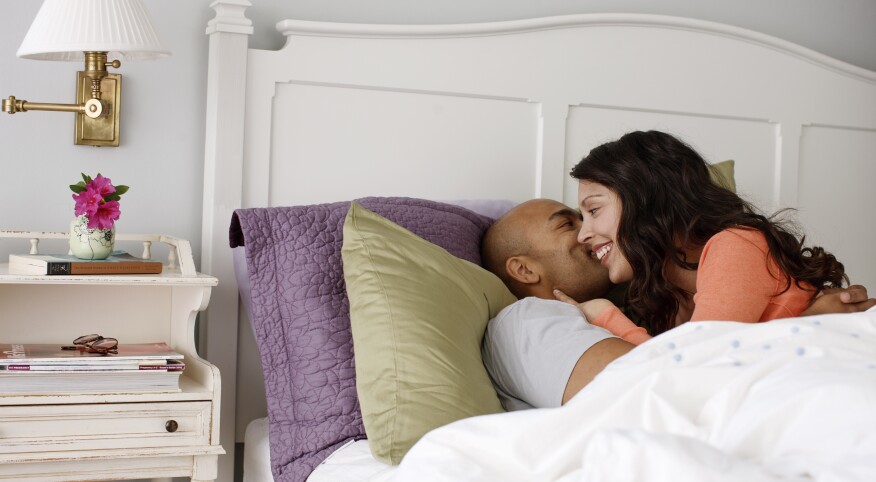 You can tell your partner everything, right? Well, except for exactly what you want sexually.

For some reason, we're afraid of being judged. Are we too perverted? Are we weird? And so our deepest sexual fantasies go untouched (literally) forever. "Sex, for most people, is the most vulnerable, intimate thing they do with other people," says Nancy Martin, a confidence coach with Nancy Martin Coaching. "In addition, many people have a difficult time embracing and loving their own bodies exactly like they are, so asking someone else to do something that they, themselves can't do — is a huge ask."

Then, there's the cultural taboo that still exists around sex, which creates the perfect storm of shame, Martin says.

We're here to burst that shame bubble. Here's how to do it.

Keep the context about yourself

You don't have to tell your partner that your sex life is too vanilla, or that you're missing out. Instead, explain what you'd like to try, Martin says. You've been thinking about a certain celebrity, and it would be fun for him to dress or act like him. Or you heard that (fill in) position feels really nice — should we try it? Perhaps: I think I'd like it if you talk dirty to me tonight. This will minimize hurt feelings.

Involve your partner in the process

For example, let's say you want to add a sex toy to your sex life. Involve your partner in the selection process so he doesn't feel like you're replacing him with something more exciting, says Cay Crow, a licensed sex therapist. Go to the store together (or go online to Pinkcherry.com or LoveHoney.com). Even Amazon sells sex toys now. Chances are, he'll have just as much fun choosing that toy as you. But if he's not up to certain explorations, don't guilt or manipulate him into participating — or this will create resentment.

Play the "May I, Will You" game

Both partners make requests of each other, starting with simple requests such as "May I turn on the fan?" and "Will you show me your belly button?" — building toward more intimate requests over a series of sessions, says Erika Davian, a life and intimacy coach. During the first round, partner A asks "May I? Will you?" questions for two minutes. Partner B responds with "No" and doesn't act. Then, switch. "This helps each partner get comfortable with giving and receiving a 'No,' " Davian says. During the second round, partner A asks "May I? Will you?" questions for two minutes. This time, partner B responds, "Yes," regardless of what they actually want. Notice how it feels to say "Yes" to something that's not true. "This helps partners identify what it feels like when they're being inauthentic," Davian says. During the third round, partner A makes a request of B, and this time, B gets to respond with "Yes," "No," or "No and I am willing to (fill in) instead." You can act on a request once an agreement has been made.

Look at yourself in the mirror

Make this into a practice. Go through every body part, expressing gratitude and appreciation for each one. "This can be the first, extremely impactful step in loving yourself unconditionally," Martin says. "And when that happens, you want your body to feel pleasure, as you appreciate how worthy it is of it." You become the spokesperson for giving your body the respect and pleasure it deserves. Once you enter that realm, shame melts away and courage is easy.

Redirect positively

Let's say your partner is touching your breast too firmly, and it's uncomfortable. Take his hand and redirect it so that it's lightly tickling your breast (or however you'd prefer it), saying how good this feels, says Wyatt Fisher, a licensed psychologist specializing in marriage counseling in Boulder, Colorado. "This approach trains your partner on how to touch you while also keeping the interaction positive," Fisher says.

Make a counteroffer if you're uncomfortable

Everything in the bedroom needs to center around mutual consent, Fisher says. If your partner makes a request that you feel uncomfortable with, consider a counter suggestion. "For example, your partner may request to ejaculate on your face because they find it erotic; however, you find it disgusting, but you would be open to them ejaculating on your chest," Fisher says. Explain that you're open to the latter option.

Talk about the experience

It's important to talk about new things after they're performed to make sure the partners are still on the same page, or to examine what did and didn't work, Martin says. "This may sound clinical to those that think sex should be spontaneous and mutual, but I assure you, these conversations only make the experiences hotter, and help both partners grow in confidence in what they are doing moving forward," she says.