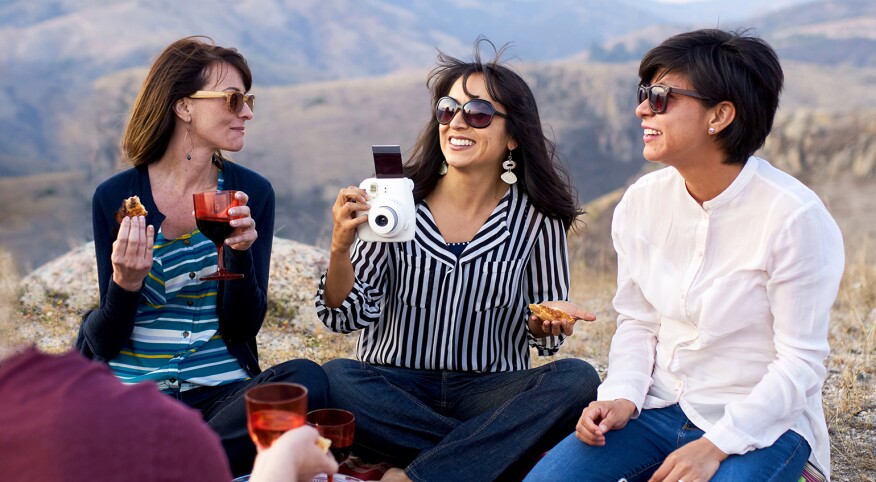 By the time you hit middle age, it's safe to assume you've had hundreds of friends come in and out of your life and, depending on the stage of life you're in, a handful of those friends grew to become close friends — even lifelong ones. During the raising-babies years you had your new-mom friends, the ones who deeply understood your sleepless-night and potty-training woes, and
who became precious confidants (and your sole support system) through toddler tantrums and morning sickness.

Then you had your school-mom friends — those you made through your child's extracurricular activities and those who carried you through the teen years, where once again you struggled through sleepless nights (except for very different reasons). And if you're lucky, somehow as you navigated all those seasons of motherhood commiserating with the women who were friends by happenstance, you also nurtured your friendships from college and your single-girl years.

But all those friendship webs you've spent decades weaving eventually find themselves being spun away, and really nobody is to blame. We simply enter different seasons of life, and those seasons carry with (or let loose) a particular set of friends each time.

This becomes achingly clear when our children finally leave home, and we no longer have the luxury of built-in parent-to-parent connections available to make new friends. So we contentedly settle down in our empty nests with a handful of the close ones we've managed to keep, and we lament that we're too tired, too old, too uninspired or just too disinterested to go and try to make new friends, and why would we need to, anyway?

Here's the thing about friends you've had for 20 years: Sometimes all you really share is a history, and not much else. As wonderful and admirable as 20-plus-year friendships are, it doesn't mean — as you start your journey into the second half of your life — that those friendships hold exclusivity on you. And, just like you nervously had to make an attempt to do in your early 20s and 30s, when you hit middle-age empty-nesting time, you're going to have to reluctantly ignite your friendship flame and hope to attract some new allies. That's right, ladies: You're going to have to get back out there in friend-land and find yourself some new BFFs.

The most difficult part about making friends at this age is finding and participating in new outlets where those potential friends may be. Because all the normal mom-friend places (think PTA meetings and ballet class) are no longer part of your days, it may take a new hobby, class or other situational outlet for friend-connection options. Don't let this discourage you, or make you feel like signing up for a pottery class is really just speed dating for friends with clay involved. Be prepared to open yourself up to the possibility that maybe your lifelong best friend is someone you haven't even met yet, is out there and is meant to spend the second half of your life with you.

Lisa Gormont, 51, of Clearfield, Pa., didn't let her age deter her from making new friends. She wasn't worried about not having anything to offer or add to a budding new friendship. She says, "Now that I'm older I've definitely found it easier to make friends, and it's for two reasons. First, I'm far more secure in myself than when I was younger. It took me years to grasp the idea that we should just be ourselves. I no longer pressure myself to show pretenses, to feel like I have to impress people. Second, I've learned that most people just want to be treated with respect and kindness. Once I was self-assured and saw every person as someone to whom I could be kind, it makes meeting people, and making friends, easy."

She goes on to reflect on how friendships at this stage in life can be more enriching, less judgmental, and more of a blessing to our emotional well-being as we age. "Every interaction is an opportunity to learn a new skill or maybe to see a different perspective," Gormont says. "It's also an opportunity to be a blessing to someone with just a few thoughtful, encouraging words or by looking for a way to be a helping hand."

Just like we're never too old to learn something new, we're also never too old to maybe enter someone's life as a new friend when they (and we) probably need it the most — gray hair and life baggage and all. You never know, but at age 80, you just may be able to say you've had a 30-year friendship with someone.