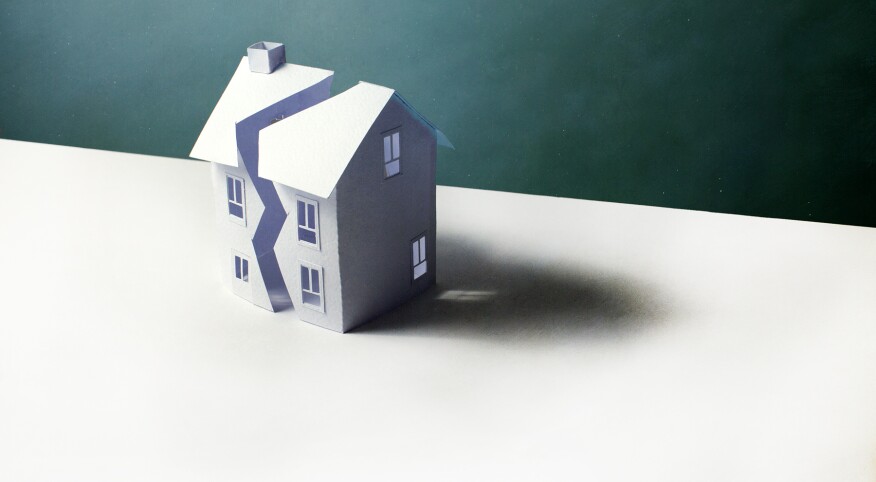 Lots of us say things like, "When this is all over, I'm going on vacation!" or "When this is all over, I'm going to make more of an effort to see friends!" Well, my "when this is all over" is likely going to be to pursue divorce proceedings against my husband of 11 years, who decided that during quarantine the rules don't apply.

My husband had an affair while we were in quarantine.

No, he didn't let someone into the house. And no, he didn't sneak out, exposing himself and potentially all of us to the virus. I caught him Zoom-sexting with a coworker. He was Zexting.

It was late at night and I was having trouble sleeping, something that has recently been happening a lot. I hear many people have trouble sleeping while in quarantine or isolation. The problem for women in their late 40s is that there's no way to tell if it's menopause-induced insomnia or coronavirus anxiety. I'm going to assume for now that it's pandemic stress, because learning that today is the day I have to start dealing with menopause symptoms would be a very unwelcome cherry on the cake of my disaster of a week.

I decided to do the worst thing you can do when you have insomnia: Go online and check out Facebook, the news app, Netflix, etc. Exactly the opposite of the advice the sleep experts give, which is to stay away from screens and light. I left the bedroom without even noticing that my maybe-almost-ex-husband wasn't in the bed. (That should tell you how things have been going at home.)

It was a complete surprise to me when I walked into the living room and saw him sitting in front of the computer, sans apparel. (That's fancy for naked.) At first, I thought he was watching pornography. I wasn't thrilled about that, but you know, it's quarantine. "You do you" (literally).

The bottom line was, I wasn't going to humiliate the guy. And he hadn't noticed me yet, so I started to sneak out of the room unseen. I was going to tiptoe back into bed and never mention it to him.

That's when the woman on the screen called him by his name and he replied. I turned back around and took a closer look. I knew that woman! I definitely recognized her from office Christmas parties and the "About Us" section of his company's website. This wasn't a pornography site. This was an X-rated Zoom conference with a coworker. And in my book, that's cheating.

As difficult as the past weeks at home have been, with the many challenges we've faced and the horrifying reports on the news, I can honestly say that I have never felt so devastated. My marriage has not been perfect, and quarantine has shed a big spotlight on our flaws. Never in a million years, though, did I expect such a betrayal.

Apparently, this workplace flirtation had been going on for a while. The two of them had been pushing the envelope at the office for months. When the office closed and everyone switched to working from home, they saw each other only online. So this woman texted my possibly-not-my-husband-forever and said, "I miss seeing you in person.

I'll take a brief pause to point out that everyone misses seeing everyone else in person right now. It's hard for all of us. If we are lucky enough to be healthy and to have a home to quarantine in, most of us are using the time to connect with our families. Or at least to yell at our kids more. But these two nitwits decided that during a pandemic all bets are off, and the normal code of ethics — or vows of marriage — are no longer relevant.

The part that I really don't understand is how getting naked together on Zoom is even appealing. Everyone looks terrible on Zoom. It's the opposite of beer goggles.

I'm certainly tempted to let it go. Parts of me even want to pretend it didn't happen! I want to bury the hurt and wipe the image out of my mind, or excuse his behavior as a temporary lapse because of the strain we've all experienced. But at the end of the day I have to remember that we've been through plenty of stressful moments in our marriage, and I never thought that was an excuse to cheat on my husband. Nor did I want to.

I even wrestled with whether or not this behavior qualifies as cheating. After all, this was completely online, and more similar to talking dirty over text than in-person adultery.

But in my book, sexting is cheating. And that means Zexting is, too. When this is all over I'm going to tell my blockhead of an almost-ex that he can zoom on over to a hotel, because he's not staying here. For now, he can enjoy the pleasures of quarantining on the couch.