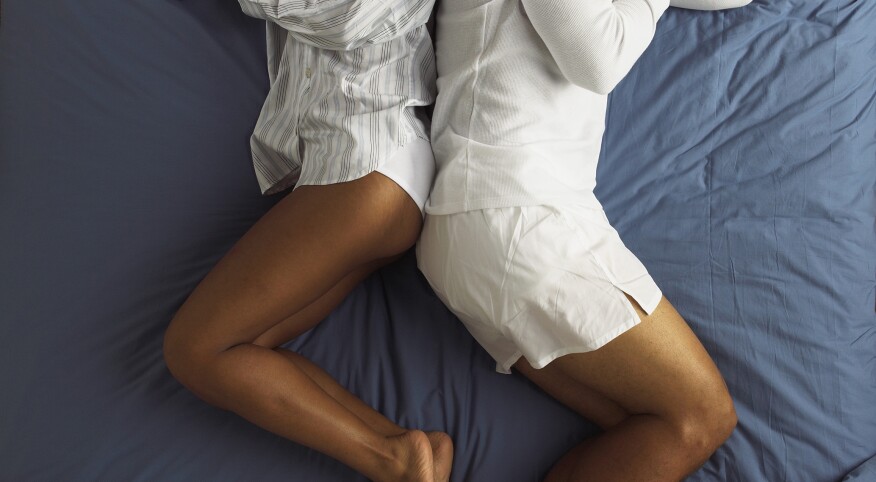 Quick! When was the last time you and your spouse/partner were naked together? If you had to check your calendar, read on, my sex-starved friend. You are not alone!

Women in their 40s, 50s and beyond have a lot to offer in bed. Years of experience have made most of us in our middle years quite gifted when it comes to satisfying our partner and finding satisfaction for ourselves. But as we age, there are some fairly common obstacles that often get in the way of having enough sex.

A 2008 study from the Journal of Sex and Marital Therapy found that women who are sexually satisfied report higher levels of overall well-being. Sex is good for you AND it feels good. So why aren't we having enough of it?

I'm too busy to get busy

You both work full time, you've still got a kid or two at home, and your social calendar is full. Who has time for sex? "You have to set aside time for intimacy," says Ellen Jacobs, an adult, adolescent and child psychotherapist and parent guidance consultant in New York City. We tend to be at our best when we are having sex on a regular basis, so in a way, carving out bedroom time can end up being a time saver! Think about how much more efficient you can be when operating at max capacity. One way to work sex into a busy lifestyle? Take turns. Seriously! One night, focus on one partner's needs, and the next time, focus on the other. Not only does it make for an easy indicator that you're in the mood (Just say, "Honey, it's my turn"), swapping out the sexual spotlight can mean all the pleasure without the pressure of a time limit.

I gotta love me before I can love you

Most of us pine for our 20s when we could drink like a fish and eat like a pig and still have the body of a giraffe. "As women get into their 40s metabolism slows," says Sanam Hafeez, a New York-based neuropsychologist and faculty member at Columbia University. "Society is wrongfully rigid on women as they age," she says. "Some women in their 40s and 50s might simply feel more insecure about their desirability and their allure."

So, what's to be done? One way to battle a belittled body image is exercise. "Don't do it for the sake of losing weight to please a partner," says Hafeez. "When you move your body and become stronger and more limber, and feel more energetic, you start to feel better about what your body is capable of — even if that does not mean you look like a model."

I love U, not my UTI

We've all had the unpleasant experience of having to "feel the burn." Unfortunately, lower estrogen levels during midlife and beyond make it harder for our bodies to combat the "bad" bacteria that can cause frequent, recurrent urinary tract infections. Recurrent UTIs are defined as either three infections in a year or two infections in six months. (Ouch.) And yes, sex can often be the trigger. But that's no reason to pack up your black lacey thong! You just might have to be a little proactive about prevention.

Emptying your bladder after intercourse can help wash away any bacteria that may have been introduced during sex. Some studies suggest that cranberry extract also can be beneficial, and if you don't feel like drinking cranberry juice you can ask your doctor about cranberry extract supplements, which may contain the beneficial parts of the fruit without the sugar and calories of juice.

The most important thing is to see your ob-gyn or a urologist if you are suffering from recurrent UTIs. Whatever you do, don't let a little bacteria get in the way of enjoying sex!

Keep your paws off during menopause

Along with the night sweats, weight gain and vaginal dryness (my personal fave), women going through menopause can find that their emotions are all over the place. "Perimenopause and menopause can lead to lower estrogen levels, hormone changes and moodiness, which can cause anxiety or depression," says Jacobs. These feelings are completely contrary to feeling sexy.

Hafeez agrees. "When you combine menopausal anxiety with hot flashes, possible weight gain and sleep problems, it's easy to understand why a woman might not be in the mood for sex." This is when it's time to talk to your ob-gyn about treatment options like estrogen patches, hormone therapy and psychopharmacology for depression and anxiety. "Women should not feel shy about asking their doctors about medication, lubricants, hormones, diet and other treatment options," says Hafeez.

My lust has turned to rust

So, your sex drive has shifted into low gear. It happens to most of us, especially when we've been with the same person for a decade or three. "For women in a long-term relationship, there can be a dip in their interest in sex," says Jacobs. "Familiarity with their partner can cause the mystique to diminish." Menopausal symptoms, major life events and low self-esteem can also be major contributors to your inability to get in the mood. As hard as it might seem to motivate when having sex seems like the least interesting thing on your agenda, it's important to try.

We owe it to ourselves to allow our bodies to experience pleasure during all stages of life! "Sometimes it requires effort and creativity to keep the passion or excitement activated," says Jacobs. It's equally important to address other factors that might be curbing your desire. Anxiety and depression should be addressed with a mental health professional. Tension or disinterest in your committed relationship deserves the communication and maybe even therapeutic intervention needed to keep the connection healthy. This is not to say it's all in your head, but it is important to be self-aware enough to recognize when your state of mind is affecting the state of your love life.