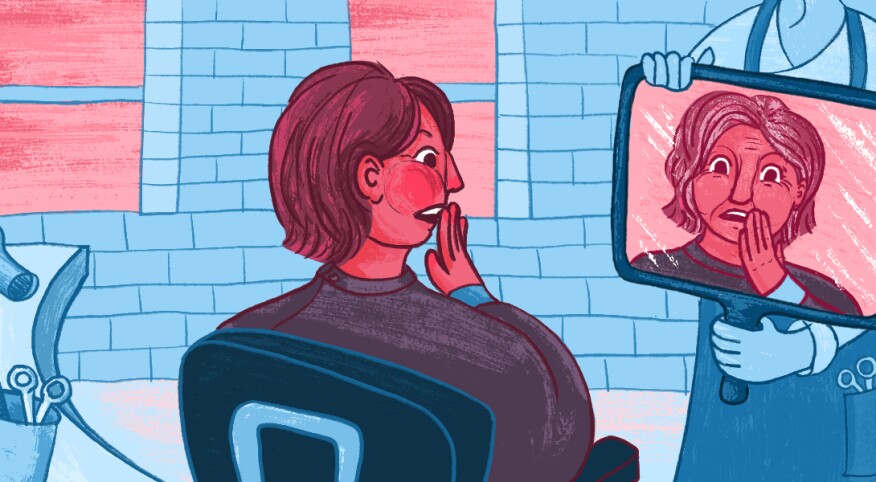 The signs were subtle at first. I started using expressions like "It's not a hill to die on" and "I'm more amused than amazed." Then I started covering my forehead with the back of my arm while in bed watching TV. I became a stage-five copycat the day I stopped by a hair salon back home for a quick trim and the stylist admitted — in a cat-ate-the-canary tone of voice — that I had requested the same kind of cut as Mom. No muss, no fuss.

OMG. I have officially turned into my mother. I can't believe I just wrote that sentence. She may have given birth to me, but I long thought I'd be more likely to inherit mom jeans than mom genes. Hello? She's always lived in suburban Detroit, and she settled down with my dad at age 24. Want to know what I was doing at age 24? Using a pull-out sofa as a bed in a tiny New York City studio and crushing on a gay coworker. By age 33, she was a devoted mom of three. I'm into my 40s and still don't get the appeal of nursing babies. She taught high school government for 38 years; I write about pop culture in the cocoon-like confines of my apartment.

I didn't consciously make these lifestyle decisions as a means of rebellion or resentment. I love my mom and want to bow down at her feet for holding down a full-time job while raising three kids (four, if you count my dad). I simply delighted in carving a path that felt right to me. Even if that meant bucking the family trend — my grandma married and gave birth as a teenager! — and living a slightly more conservative, less designer-shoe-obsessed version of a Carrie Bradshaw big-city fantasy.

Yet the older I get, the more I'm cognizant of the morphing. I think it's because, yikes, I remember what she was like when she was my age. At 42, my mom seemed over the hill. Pretty sure that was the birthday card I got her. And here I am, using reading glasses and going to the chiropractor. There are positives, too. Maybe I don't have a husband or kids, but I'm reliably there for my girlfriends the way she's been there for me. If I say I'll be at the restaurant at 7 p.m., I will not be there at 7:02. We both dispense rational advice. We both release tension with a cutting joke. We both throw killer theme parties because anything worth doing is worth doing to the extreme. And we're both multitasker errand masters.

What's shocking is that I'm comforted by our likeness. Though we live 500 miles from each other, I feel that I'm constantly with her because we share our sensibilities. During tougher moments, I wonder, What Would Mom Do? and try to find the right answer. So it's time to embrace the similarities. That said, please slap me if I ever start watching reruns of Matlock.