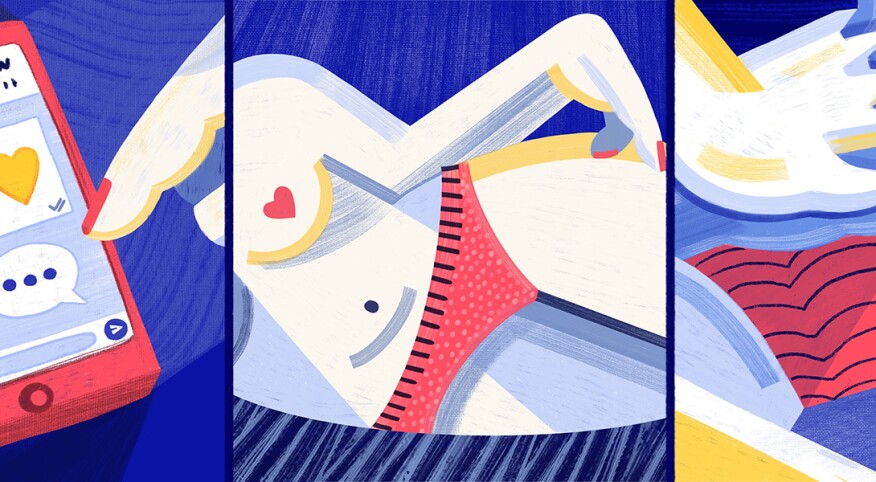 Here's the deal, I'm a 40-year-old mom of two with a full-time job and a few side hustles and somehow I had sex for five whole days in a row. I know, I know, that may not seem like an amazing feat at first glance but let me explain. I'm also recently divorced and I haven't had sex with another soul in well over a decade. This was my first single mom swerve session and the initial thought of being intimate with someone else was terrifying but also a bit of a challenge. And I like a challenge.

After nine years of marriage in which our sex life was lackluster and took a backseat to everything else, I had sort of settled into a reluctant mindset that this was all there was and that it was as good as it would get. I was wrong. Oh boy, was I wrong. It wasn't and it isn't. There's more and it got better.

I was settling into my stride being single and wasn't sure I really wanted to add anyone else's energy into my healing space. But I was also curious.

Being on my own and fully able to re-explore my freak factor solo, I had to wonder, "Could I really manage being both a sexual being and a mom? Did I even want to?" Quite honestly, that's something I have struggled with. For years I've put being a mom above being a woman and I lost a lot of myself within the confines of marriage. My therapist and I are still digging into that one.

I was once a very lascivious being that somehow morphed into a sitcom caricature of "the wife".

I admit, the thought of being single again is quite daunting even if the break-up was consensual.

Divorce can be very isolating and stressful and navigating this new normal has been a lesson of epic proportions. Feelings of inadequacy and insecurity abound while I work to regain my footing on a new path. There are so many questions to be answered and feelings to dive into!

I've made missteps along the way but therapy has helped me to delve deeper into the why behind some of my intimacy issues and has encouraged me to explore that latent side of myself both solo and with a partner.

After one particularly eye-opening session, I gave myself a challenge of sorts.

Could I make sex a priority in the midst of working a full-time job as well as overseeing several side hustles and raising two kids? I had no idea but was willing to try.

I mean really, what did I have to lose? Certainly not my husband. And my custody schedule affords me an inordinate amount of time to myself. And so, after months of talking and flirting with someone who was determined to make my toes curl, I caved and gave myself permission to fully let go. And, over the course of several days, I did.

Sexting played a huge role in making me feel like something other than a mom.

I was reminded that I was sexy. I was actively pursued. And I liked that.

Now, let me just say, the first time you have sex with someone after you have been in a relationship for over a decade can be terrifying. You start thinking about all your "flaws" that you never worried about in your previous comfortable marriage. Do I need to be doing more squats? Is my underwear decent? Do I have time for a wax? Are my moves still good?

I was a mess of nerves and anxiety leading up to the initial act but five minutes in, all that was forgotten and I was heading up the stairway to heaven. For several days in a row, I managed to be an attentive mother, a productive employee, an engaged friend, and then someone who swings from the chandeliers in the evening. It was a wild dichotomy and it took me a few days to recover and then revel in the fact that I did that. On purpose.

I had no idea a large part of my post-divorce healing would have to do with reclaiming my sexuality because I had put so much energy into being Supermom all the time while married.

But with hitting a milestone birthday last year, the subsequent implosion of my marriage, and my oldest getting ready to graduate and leave the nest, it's time for me to step out and reclaim who I am as a woman and not just a mother. It's been so long since I've had the time to really focus on me and I'm kind of excited about that.

Maybe that sounds selfish. Growing up, mothers were just that — caregivers, carpoolers and dinner preparers. And as a mother I thought I had to be a selfless martyr while never complaining.

But I'll be damned if I'm going down that route. I'm going to keep swinging from the chandeliers for as long as I can.