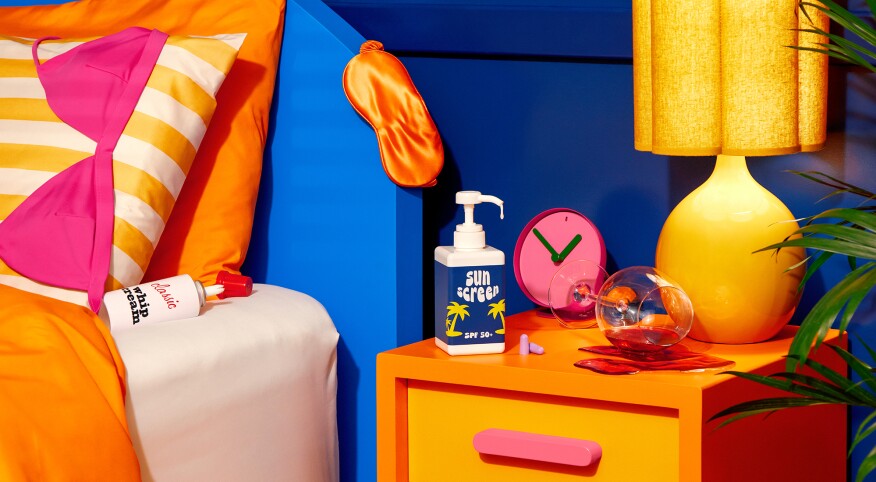 Who could forget the lyrics to the classic "Summer Nights" from the movie Grease?

The song narrates the different views of the two characters' courtship. While Sweet Sandy (Olivia Newton-John) recalls their time together with demure details, Devilish Danny's version is more risqué. But both agree that their summertime romance was hot!

Summer love between two teenagers makes total sense. School is out, and there are no exams or piles of homework to keep you busy. Instead, you're spending time poolside or at the beach. The warm weather means you wear way less clothing than during the cooler months. It's a recipe for romance.

But what about mid-lifers? Can summer still be that season?

The answer is yes! Nikki Coleman, a licensed psychologist and sex self-confidence coach, says, "Summer is a time when everyone gets to feel alive. Single or partnered, you can feel extra frisky in the summer months. This society has become way too ageist — whether you are 30, 50 or 70, you can have a hot-girl summer."

More to do

"Summer can be an ideal time to recharge your relationship with your spouse or partner when you're an older adult, for several reasons," says Devishi Mittal, a clinical psychologist and sexual-wellness therapist at Allo Health. "The warmer weather and longer days in summer provide more opportunities to spend time outdoors and engage in activities you may not be able to do during other seasons."

Even though most adults don't have the whole summer off from work, these months are often more relaxed, with many companies offering half days on Fridays or people taking their vacation time. "During the summer, people generally have a more carefree attitude. This can reduce stress levels, making it easier to focus on your relationship," Mittal notes.

Summer vacation means a change of scenery and an escape from work, home and family responsibilities. The new vantage point can help couples to reignite their passions. "Summer offers a variety of activities, events and destinations that may not be available during other times of the year. It's an opportunity to try new things," she says.

Even if you can't get away, you can still step out of your comfort zone by creating a staycation, a vacation in your home. Laura Louis, a licensed psychologist at Atlanta Couple Therapy, suggests that couples make a list of around 10 activities they want to do together during the warmer months. "Designate consistent time each week to be together, rotating who is in charge of planning the date so it doesn't feel like one partner is doing all the work," she says.

Dates don't need to be elaborate to be intimate. Holding hands on an evening stroll, a picnic or an evening swim (maybe skinny-dipping if the kids are out of the house) can all connect couples.

Less clothing

Warm summer weather means ditching your big fluffy sweaters and long pants for lighter fabrics and less clothing in general. "Wearing less clothing can lead to more physical intimacy between couples," Mittal explains. "The feeling of skin-on-skin contact can be heightened when less clothing is involved. Additionally, wearing less clothing can help couples feel more comfortable and relaxed with each other, which can also increase intimacy."

On the other hand, less clothing can make people feel self-conscious, especially if they have body image issues. How many of us think we can't get out of the pool or off our beach chair without grabbing a towel or sarong to wrap around our waist?

Relaxing and staying in the moment can be more challenging if you're uncomfortable with your appearance. But remember, everyone at every age has insecurities. The reality is, many of us didn't give our bodies the love they deserved when we were in our so-called "prime."

"We need to get out of our own way," Coleman says. "We have to take control of the negative voices in our head and switch to a feeling of empowerment."

Forget those old-fashioned views on what is "appropriate" for women of a certain age to wear. Getting older can increase self-confidence, and that feeling is sexy. If you feel comfortable in a bikini or a revealing one-piece, wear one. (Martha Stewart, age 82, did just that on the cover of the 2023 Sports Illustrated swimsuit edition.) And if you prefer to be more covered up, that's fine too. "Don't worry about trends or sizes. Instead, focus on clothes that make you feel comfortable," Coleman advises.

Also, physical intimacy doesn't solely rest on outward appearance. Chances are your partner isn't less attracted to you because you have cellulite or a few more pounds than you had last summer. Rather than worrying about literally baring it all, focus on getting emotionally naked with your partner. Be honest about what turns you on and what doesn't.

Risqué business

Most important, don't let getting older be an excuse for not getting it on. "Reimagine what sexy can feel like for you," Coleman recommends. "The more we disengage from seeing sex solely as being about intercourse and penetration, the more we can embrace other forms of intimacy. The key to creating intimacy in the bedroom is connecting outside of it."

While men may get in the mood just from a look, most women are more like ovens, says Louis: "They need to be preheated before they get hot." This is true for longtime couples as well as for those who are just in the beginning stage of getting to know each other. "I tell my couples to engage in 'all-day foreplay' " she adds. "Give your partner a compliment, offer them a massage, be playful. Make deposits in the relationship throughout the day, not just in the bedroom, so when you do get into bed, you feel connected."

Do you think the summer season is the best time for romance? Let us know in the comments below.