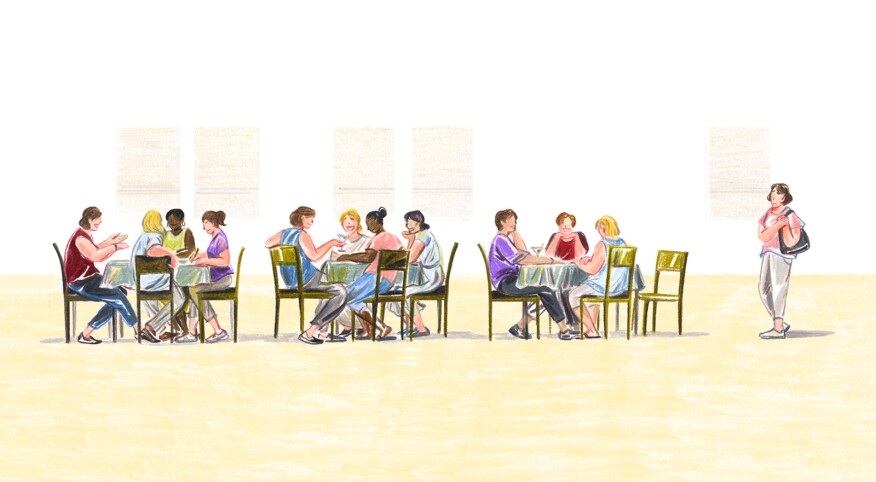 After more than 20 years of marriage, I'm on the prowl again. Nope, I'm not freshly divorced looking for a new mate. But I am dating again. Well, not exactly dating. It just feels that way. I'm in the market for a new wingwoman.

Over the years, I've watched my posse of tight-knit high school girlfriends go off to college, launch careers, get married, and start a family — now with hundreds of miles between us.

While I've met new friends since I moved to Florida and became a stay-at-home-mom-turned-homeschooler, I've watched my social circle shrink like American Idol ratings. The final nail in my social coffin? I jumpstarted my freelance writing career — a mostly solo endeavor.

I didn't realize my DOA social life needed resuscitation until I looked at our family calendar. My boys' activities (in red and green) filled every day of next month. Sadly, just one lonely blue entry (my color) appeared — my annual teeth cleaning.

I almost cried into my glass of wine when I realized my social engagements revolved around a vigorous flossing.

What's a socially starved woman to do when she wants to make new friends? She takes an adult approach and plans the hell out of it. (You can sense the spontaneous fun erupting already in the following four-step plan.)

Step 1: Search for the right opportunity.
I couldn't just post a Tinder profile stating, "Recovering stay-at-home mom seeks adult companionship to grab drinks and engage in conversations that stimulate new brain cell growth after years of mind-numbing, kids-only nag-fests about chores and homework."

Should I join a club? Volunteer? Hang out on a street corner holding a sign that says, "Will work for friends"?

With some research, I found a group meeting up to play bunco, a fun group dice game. With the promise of appetizers and cocktails, I could make this work.

With my big blue marker, I put "MOM'S NIGHT OUT" on our family calendar, written a little too desperately in 32-point ALL CAPS.

Step 2: Get psyched!
I mentally prepped for my first date. As an introvert, this slightly terrified me. I wouldn't know a single person! (My usual social M.O.? Cling to the host like a fresh-out-of-the-dryer sock.) Like it or not, I'm flying solo.

I reminded myself that I'd already committed — after all, it's in BIG BLUE LETTERS on my calendar. Like the Little Engine That Could, I mentally chanted, "I think I can. I think I can."

Step 3: Get ready.
I cycled through the what-to-wear dilemma, ping-ponging between what still fits and what boosts my self-esteem. I peered into my closet, looking for something that doesn't scream "I-haven't-been-out-since-the-Seinfeld-finale." Did I own nothing fun and trendy? Apparently not. I chose a few pieces from my no-couture collection, hoping that my first impression didn't do me in.

Step 4: Jump in!
Walking into the "bunco lair," I quickly scanned the group. No one looked like a serial killer. In fact, most of the women looked friendly. (Of course, two wines later, everybody looked friendly.)

Throughout the night, I met about a dozen women as we took turns switching bunco partners, munching on appetizers and sipping drinks. We exchanged the CliffsNotes version of our lives, sharing stories of marriage, divorce, motherhood, strayed career paths and health issues. Not wanting to get too intimate yet, we talked with a bit of a filter. But mostly, we laughed — a lot — as we enjoyed a fun night out.

As my first date drew to a close, I silently eliminated a few women, like Complaining Cathy and Somber Sienna. By the end of the night, a few of us remained, still chatting like schoolgirls. The best part? I scored two phone numbers. I'm going on a second date!