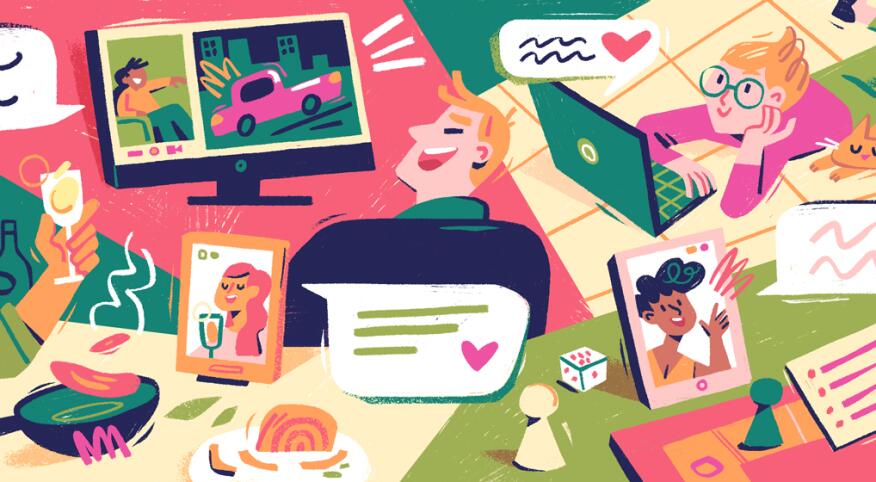 Yes, the dating scene is alive and well, even during the pandemic. In fact, online matches have increased by 10 percent, and online dating conversations increased by 20 percent (bored much?), according to OkCupid.

So, we dug into the online dating scene to see how the sites are handling dating during the pandemic.

OkCupid

This has been an online dating staple for ages now, and it continues to shine even throughout COVID. In fact, it appears that singles are loving OkCupid (and their matches) even more at the moment. Women on the site are sending 40 percent more intro messages than they did before March, and many of them have expanded their preferred location to anywhere. Those who have no location boundaries have 5 percent more conversations than those who restricted it, according to an OkCupid study. Sure, some people on the site are venturing out on in-person dates, but 6 percent of users say they're waiting until the pandemic is over. Instead, about half are sticking with messaging and texting, a quarter are video chatting and about 15 percent are just talking on the phone.

Bumble

This Austin-based dating app pivoted quickly and successfully as soon as the pandemic hit. In a letter to its users, CEO and founder Whitney Wolfe Herd encouraged everyone to date only virtually — but gave them ample options to do so. While users could already chat, call and talk via videos through its app, Bumble added virtual dating badges to the app so you could let others know that you're open to virtual video dating. And while you used to have to live within 50 miles of other users to interact, Bumble changed this rule and now allows anyone to talk as long as they live in the United States. Bumble partnered with Airbnb to highlight fun virtual dating options, ranging from online cooking classes to magic shows.

Match

There has been no recession for dating on this app. Match went at full throttle with its video features, developing games, icebreakers and more to help users interact online rather than in-person. This appeared to be a success: Before the pandemic there were few people who took advantage of the video options, but after March it appeared that most of its users were using the video.

Tinder

There was a whopping 15 percent spike in direct revenue for first-time subscribers to Tinder from late April through the end of July. Average subscribers grew 3 percent. Why? Once known for a quick hookup, Tinder is now a place where singles can safely mingle. The app launched new features during the pandemic. Our fave is Face to Face, which allows users to video chat without exchanging phone numbers (this has been rolled out in a handful of states, and if it's successful it will be available everywhere). The reason why we heart this so much is because it's a split screen, so you can see yourself exactly like the other person sees you (as opposed to Zoom, where you generally see a tiny version of yourself). There are other cool features, too, like live trivia.

Plenty of Fish

Owned by the Match group, this app set itself apart during the pandemic by releasing livestreams. The Canadian-based dating service (it's also super popular in the United States and around the world) tries to focus on meaningful relationships — as opposed to casual encounters. The new Live! Feature lets you stream yourself so you can connect in new ways (and entertain yourself by watching others try to go live). It's similar to the livestreams available on other social media devices, but what's great about this one is that you can see a list of everyone viewing your stream. You can add the viewers to your "favorites" and start talking to them.

Coffee Meets Bagel

This app had to change a few things to be functional in a pandemic world. It normally has a seven-day chat expiration so that users are forced to actually meet. Not gonna happen now, obviously. So it made sure that chats can stay open indefinitely for the moment. Coffee Meets Bagel is also testing video chat virtual meetups, and this may be extended to more users if it's popular. Like Bumble, Coffee Meets Bagel is offering inspiration for at-home date ideas. It is suggesting these virtual rendezvous on its Instagram page, and these range from workout dates to painting nights.