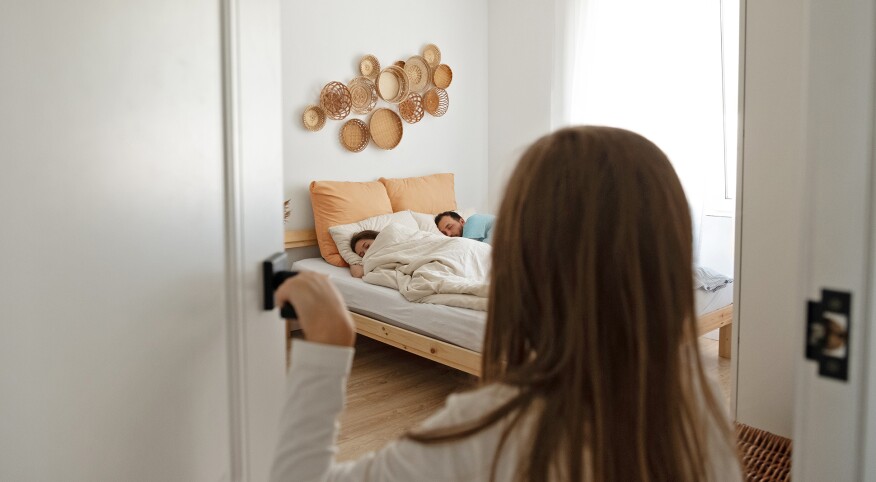 Is there someone from your past whom you think about with pleasure and imagine with delight? A love you lost but never forgot?

Perhaps your first boyfriend — or your college sweetheart who went off to live in India when he was 23?

There was someone like that for my mother, Glynne, and his name was Maurice. But she didn't just meet him on memory lane. Over 30 years, she saw him again and again — in Paris, where they first met. And because my mother and I were very close, I knew all about it.

At first the reunions were clandestine, quietly tacked onto journalistic ventures or family visits. Later, with her secure and tolerant third husband, they were openly acknowledged. Now that all three of her husbands have died, Maurice is as much a part of our family lore as they are. My mother has enshrined this enduring romantic affair in her 2018 memoir Passport to Paris, an account of two formative years in Paris, circa 1950, when she was 26 and I was a little girl of 3.

Going to Paris was my father Joe's idea: We would all learn French and he would study at the Sorbonne on the GI Bill. In addition, perhaps life in Paris would save their foundering marriage. It did not. After a year, Glynne realized she didn't love Joe (she asked herself if she'd ever been in love). She chose to leave him and become her own woman, creating a marvelous (though impoverished) life for herself and me on the Left Bank.

Her memoir chronicles her last year with my father (mutually lustful until the day he moved out) and several months with Ned, her American boyfriend, who returned to the family farm when his mother got sick. She was seated at a café when a man with green eyes asked if he could join her. This was Maurice. It was a coup de foudre — or thunderbolt — for her. Now, at last, she knew what it was to fall in love.

The story of Glynne and Maurice evokes a lost world: of communication and miscommunication by pneus (the messages that coursed underneath the streets of Paris via tubes of pressurized air); of earnest café discussions about existentialism; and of making do on just one dress, one skirt and two sweaters. A few months after meeting Maurice, Glynne had to move back to New York so my father could see me. Yet although she and Maurice were separated in their 20s, they remained forever connected. Every few years my mother finessed a trip to Paris, and Maurice — who never married — was always there for her. He would explain himself to his current girlfriend and devote a few days entirely to my mother. In later years, Glynne arranged to sleep in a hotel before meeting Maurice so she would look fresh and lovely for him.

Maurice died young, at 56, of a heart attack. My mother was devastated. In the following months when I'd visit her, she'd be playing Yves Montand records and reading old letters. Sometimes she wondered if she should have returned to Paris to be with Maurice permanently. Deep down, though, she knew that their magic would not have withstood domesticity.

Years passed, and in her 80s Glynne began writing her memoir. She would occasionally regale family members by reading a few pages, for she had a deft and lively style and a great ear for dialogue, but we never knew if we'd ever see the finished product. Finally, I persuaded her to finish the book and let me find her a publisher.

Now that Passport to Paris has come out, I feel we have officially welcomed Maurice into our family and validated his and my mother's unconventional love. But their love, while unconventional, is far from unique. Every few years, my cousin visits her English boyfriend, whom she met during her junior year abroad. They wander around London and go to museums. My friend Katya returns to the Midwest for every high school reunion just to keep seeing her first love again. They kiss a little in the car (or that's all she admits to). A new friend, Ana, just told me that when she was in college she, too, met a man in Paris whom she continued to visit for decades. Her "Maurice" always wore white. Incidentally, all three of these women are in happy marriages.

My mother died in January, and I often think about her and Maurice. Perhaps many people have a Maurice in their lives — a person they will always cherish, though they will mainly be apart. Probably if they were together full time the pixie dust would vanish, but what lovely daydreams Maurice inspires! We imagine being with him in bed, but not doing the dishes. We think of country picnics with him, but no ants and no rain. A relationship with Maurice is always idealized. Maurice never has bad breath or bad moods, and Maurice is enchanted by everything we do.

So, we will always return to him — perhaps literally, perhaps just in our mind. For we were young together, and Maurice is a passport to the past.