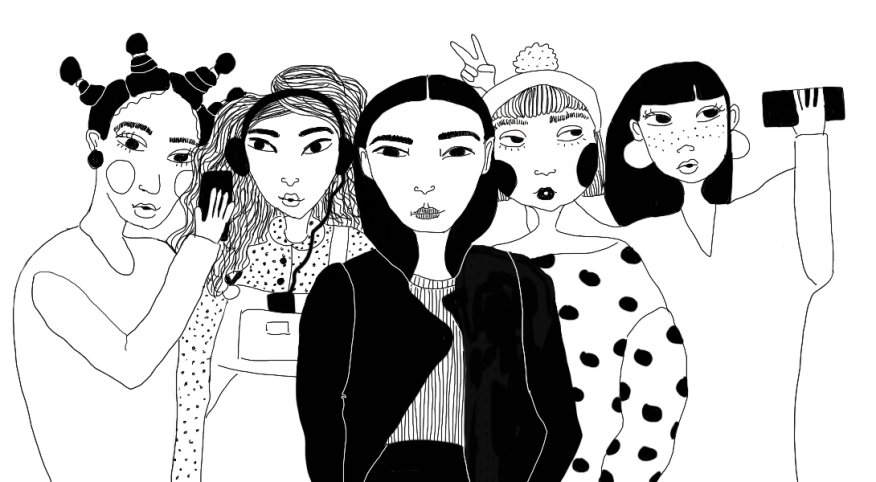 Two girlfriends walk into a bar. The 41-year-old mentions that she must head out early because she's leaving for a trip in the morning. The 26-year-old responds with the enthusiasm of a JV cheerleader. "Omigod, you have to do an Insta-story while you're away!!!!" A what-what? She grabs her smartphone, clicks on the Instagram app and proceeds to give an in-depth tutorial. Something about doodles? The confused 41-year-old promises to give it a try. And she does. Her young friend is the first person to "like" the photos. Or heart them. Whatever.

Hi, my name is Mara, and I hang out with millennials. Sorry not sorry. In the past few years, I've been gravitating toward girls who were born right around the time I bought my first bra. When I worked at a magazine, I constantly made a beeline from my office to the editorial assistants' area to unload about a celebrity interview gone awry or the creepy cashier at the corner drugstore. We made each other laugh. I unleashed my silly side.

Beyond the superficialities, I now share more in common with these girls — I can still call them girls, right? — than some of my closest friends. I'm single and sans children, which means I have a low tolerance for hearing about little Madison's kindergarten exploits. When I ask my millennial pals if they want see a movie with me, they don't have to clear it first with their husbands. There's a thrill to living in the here-and-now with them. My childhood besties and I tend to default into our mutual past. We're not above gossiping about how that jerk in high school is now thinner on top and rounder in the middle. The other good thing about millennials: they're still wide-eyed about their lives and the world. Their words aren't tinged with Gen X-esque cynicism that drag me down.

It's not all smiley-face emojis and LOLs. Our cultural reference points are shockingly, frustratingly divergent. These girls never bought a Janet Jackson cassette or know what it's like to record a new Seinfeld episode on the VCR. Years ago, I had to explain to my young friend Ali why I was so sad after Nora Ephron died. And that worn-in reputation about millennials' entitlement and attention span issues? Yeah. Sometimes I agree. It makes me crazy that at least a few of them can't have a conversation without looking at their phones. Heck, they don't know what it's like to go through high school and college without a cell or Google at their fingertips. Millennials may be better techies but they're not always the most resourceful bunch, IMHO.

I don't care. In fact, dare I say more of my peers should take the generational plunge. I've learned to open myself up to new experiences — I go out on Friday nights now and everything. In turn, I hope the young ones have learned from me. I consider myself not just a friend, but a de facto, nonjudgmental big sister. I will dispense no-nonsense relationship and career advice because I've been there. I teach them about the importance of Janet Jackson and Nora Ephron. And together, we make it work. But I draw the line at learning about Snapchat.