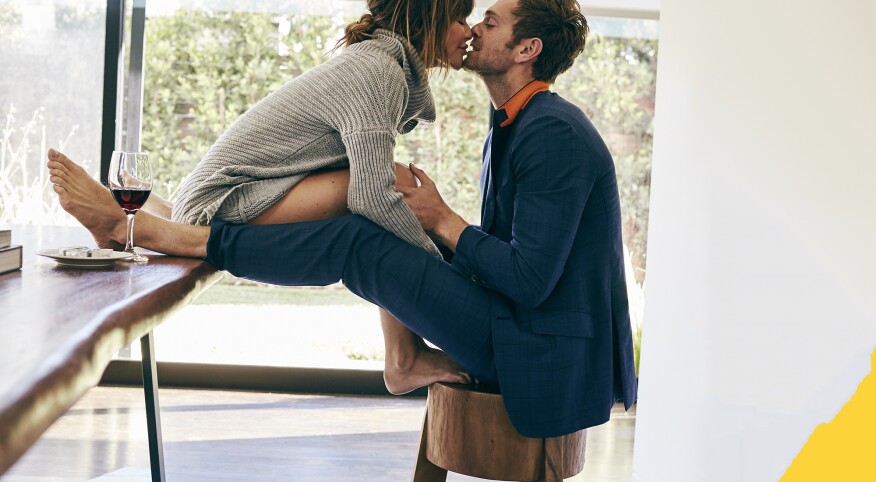 Contrary to popular opinion, sex after 40 is fabulous. Sure, you may have to deal with some dryness — and your hormones are all over the place — but a recent study finds that women become more satisfied with their sex lives as they age. The trick is knowing how to make your sex life the best it can be post-40.

Use lube

Lube is the unsung hero of the bedroom, says Linda Baggett, a licensed psychologist in the Thrive Psychology group practice based in Los Angeles. So many women feel like they shouldn't have to use lube, and often men take it personally if their partner isn't wet enough on her own. "But this is not only ineffective, but also not based in reality," Baggett says. Many things can impact how lubricated a woman is, from hydration to medications to alcohol to the point in her cycle. And as you age, there is less natural lubrication. "None of these factors has anything to do with how aroused the woman is," Baggett says. Using a lubricant takes the unfounded pressure off, and makes sexual activity more pleasurable by reducing friction, pain and the risk of STIs. Baggett says to experiment to find which lubricant you like best, but to avoid using oil-based lubricants with condoms.

Be flexible with sex

Women are capable of sexual satisfaction throughout their lifespan, regardless of age or disability. What differentiates women who are sexually satisfied in their middle ages or in their golden years from those who are unsatisfied is generally how flexible they think about sex, Baggett says. If your measuring stick for assessing satisfaction is based on sex in your 20s — which is generally more energetic and more frequent — you may feel dissatisfied as you age.

"Sex will look different as you age and as physical limitations increase," she says. "There are also many benefits to sex from aging that are lesser known: Generally, that women care less about what others think and so are less encumbered by body image [and] catering to their partner, and are less inhibited."

Experiment

Your orgasms and your libido may change after age 40 due to hormones, and many women report that they need a little longer to get going. Take advantage of this time by looking into different ways to feel pleasure, trying sex toys, exploring fantasies and role-playing to see what your body may really enjoy, says Sarah Sloane, a sex educator.

Speak with your doctor

It's normal to need more warm-up and lubrication as your hormone levels change, but there are also therapies that can help if it's becoming a challenge, such as pelvic floor therapy or low-dose hormone therapy, Sloane says.

Use a bullet vibrator

If you're experiencing vaginal dryness or a low libido, try using a bullet vibrator during sex, says Mayla Green, a sex coach. "The pinpoint vibration directly on the clitoris is highly stimulating, which in turn, encourages the vagina to produce natural lubrication," Green says. "Additionally, the vibration relaxes the vaginal muscles so when penetration occurs, it's less painful."

Stay hydrated

This will keep your tissues lubricated, and it'll help you receive a good blood flow, says Sara Reardon, a pelvic health physical therapist and owner/founder of The Vagina Whisperer. It's especially important to drink more water after menopause. When a woman has a large reduction in estrogen, which typically happens during menopause, her vaginal tissues may become dry, thin and weak. "These tissue changes can lead to vaginal dryness, vaginal burning or itching, tearing, increased risk of infections, pain with intercourse and a change in urinary function," Reardon says.

Be comfortable in your own skin

It can be very difficult to enjoy sex if you are insecure about being naked, says Kayla Broek, a sex and relationship coach. As you get older — and things start to sag and new wrinkles appear — your confidence can dip. "If you're constantly wondering about how you look and what your partner feels about it instead of relaxing and living in the moment, sex isn't going to be a lot of fun for either of you," Broek says. Work to improve your self-image through a more healthy lifestyle, and speak with your partner about what they like about your body. "When you feel good about your body and know that your partner feels the same, the quality of sex you experience can improve dramatically," she says.