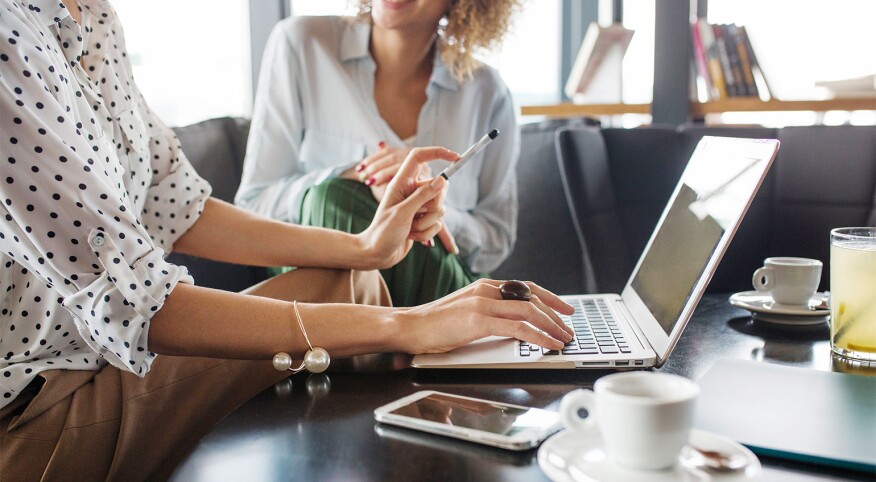 Starting a company with your BFF sounds like the best of both worlds, but "crossing the streams" can turn to financial disaster and leave you bereft right when you need maximum support. So, if you're going to pool your talents, do it right.

Wall Street is a small world, which means I've filled a lot of ventures over the years with friends and frenemies alike. Business comes and goes. Burn a relationship and it's forever.

That's why when I heard a girlfriend was thinking of turning her yarn habit into a real company, I got chills. Sure, we could build a knitting empire together — but did I really want to risk letting it tie us up in knots?

I said no. But there is a way to get to yes and keep your friendships from imploding. Keep in mind that Steve Jobs couldn't have made it without Steve Wozniak, and Bill Gates needed Paul Allen. A really big world-class organization needs two to succeed — so do all you can to make your working friendship into a successful money-making venture. Two is the key to making the billions.

1. Respect work/life priorities.

Colleagues turn into friends all the time, but when the pressure is on, the professional side of your relationship has to take priority unless you like this person enough to choose her over your job. She's your colleague first and your friend second.

But when someone you've already spent quality girl time with comes into your workplace, the rules get murky. Ideally you're both there to give the business 110 percent and back each other up whenever you can, knowing that you were friends first and you'll be friends to the end. In real life, it's not always so easy.

Avoid putting her in a position where she has to choose between you and her job. If it happens, respect her decision. The same goes for you. Maybe she'll always be your thick-and-thin friend. But if the business comes first, she's just a coworker you have a happy past with and like a lot.

2. Partners, not bosses.

Those of you with sisters know that trying to establish a fixed chain of command only generates friction. It's always best if friends go into business as something like equals, and not as employer and employee — when one of you signs a paycheck and the other one cashes it, you've probably on the way to killing the relationship.

As partners, you can watch each other's back, fend off competitors, pay the bills and have a great time. Otherwise, it's a safe bet that one or both of you will be miserable. You don't have to split the work and the rewards 50/50, but make sure equity and responsibility are structured to give everyone a fair deal.

This also applies if you have hiring power and your friend needs a job. Pity positions backfire. Instead, trade favors to get her hired somewhere else, start a weekend business and let her call the shots or do just about anything else to help her out. Do not surround yourself with friends who report to you. That's not a business, it's an entourage — and conflicts are inevitable.

3. There's always another job.

Real friends will ride the corporate roller coaster with you and come out laughing on the other side. Make sure they recognize that even if the wheels fall off the business, you'll work hard to make sure they land on their feet. Maybe you'll work together again some day, and everything will click.

Don't burn bridges. As with any relationship, there will be bruised feelings and time-out periods, but if things fall apart professionally, it's time to fall back on the friendship.