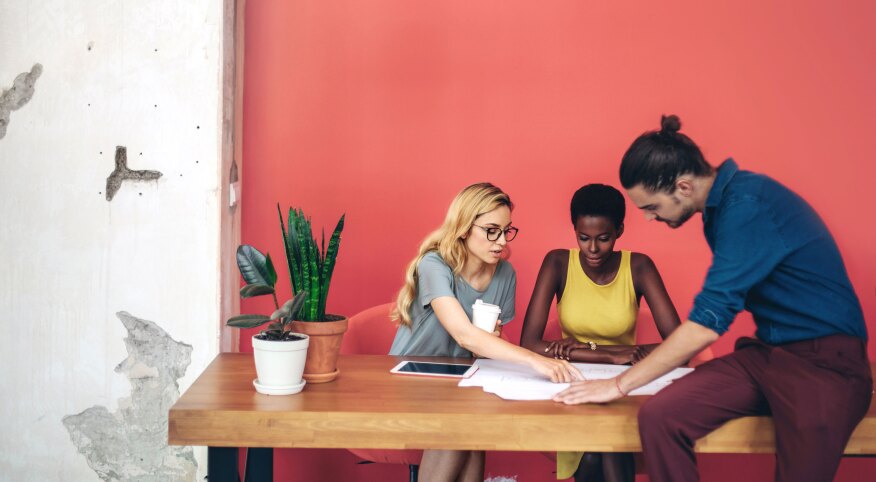 In my 20s, I thought I would age gracefully. That's an easy assumption to have when you've never plucked a gray hair and never been called a "cougar" when you're out with friends.

Then I turned 40, and my eyesight took a nosedive along with my ability to pretend that I was younger than I was. The fact that I was working as a writer at a youth culture-obsessed company in Los Angeles and masquerading as a millennial didn't help my situation — or my confidence.

I didn't lie about my age to land the job, like the main character in the show Younger. I just never corrected any of my 20-something coworkers when they said things that clearly showed they assumed I was closer to their age than their parents' age.

I'm sure they thought I was an "older" millennial (maybe in my 30s), and not 25 years old. Still, when they made comments that merited a response from me like, "Actually I'm 44 …" I kept my mouth firmly shut. I felt an intense pressure to stay quiet.

Occasionally I would attempt to hint at my age. During Monday morning meetings when everyone talked about the underground art opening they went to over the weekend or the secret 10-person dinner they attended that was created by a rapper/vegan chef in an abandoned train car, I would make a joke like, "Well, I took my kid to the zoo and went to bed by 8:30!" That was about as close as I got to fessing up, which, looking back, is pretty sad. What was I so afraid of?

"Women often congratulate ourselves if we can get away with looking younger," says Cecilia Dintino, assistant clinical professor of Psychology at Columbia University who, along with her longtime friend psychotherapist Hannah Murray Starobin, created Twisting the Plot, where they collect stories and hold workshops for women entering middle age who are grappling with issues of identity. "Doing so just reinforces the idea that getting older is negative."

My job required me to know about the latest music or fashion or cultural trends that 20-something guys cared about, something I did effortlessly when I was 20-something, but that I was finding increasingly stressful as a new mom in my 40s.

In between researching Soundcloud rappers or teenage tech geniuses for work, I would read about teething or diaper rash cures. I was wondering why my eyesight was deteriorating and whether or not I could wear "mom jeans" ironically, like my coworkers, or if the jeans would give me away.

Maggie (not her real name), a 46-year-old TV development executive, told me she started removing the years from the education section of her resume when she suspected that her age might be preventing her from getting interviews.

"I think I am being vague, but not really lying," she says. "I don't see a case where I would ever lie about my age, because I would always be anxious about being caught. But vague works."

But, as I learned, it can also make you feel like a fraud. By pretending to be younger, I was reinforcing negative stereotypes about women and age with my silence.

A first step in confronting the need to appear younger is to get familiar with your own internalized ageism bias, say Dintino and Starobin. By changing your mindset, you can own your age.

Angela Gutchess, associate professor of psychology at Brandeis University, says that we should practice "self-talk" that emphasizes the positives of getting older, instead of feeling ashamed.

"If you believe it, good things will follow," she says.

So maybe if I would have practiced self-talk and reminded myself that I'm a better writer or a better collaborator now than I was at 24, I would have felt more able to proudly tell everyone at my old job that I was in my 40s, without fearing their judgment. Maybe.

As an experiment, I decided to ask a now 26-year-old ex-colleague from that job how old she thought I was at the time, and if discovering my real age would have changed her perception of me.

"I guessed that you were maybe 35," she said. "If I had known, it wouldn't have really mattered on a personal level. It wouldn't have changed my opinion of you, though I think it would have affected how people in the company saw you and how they would have evaluated your abilities."

So, there you have it. I think deep down I knew that I would have been evaluated differently if I came clean about my age, but that doesn't mean it was the right thing to do. The pressure is real, especially for women, and leaving that job gave me the freedom and space to start to question my own internal ageism.

If I had stayed, I'd probably still be pretending. I have a long way to go, and I definitely still have my moments of being "vague." Embracing my age is not an easy step to take, which is something that would have shocked the pre-gray, 25-year-old me. But I'm working on it.