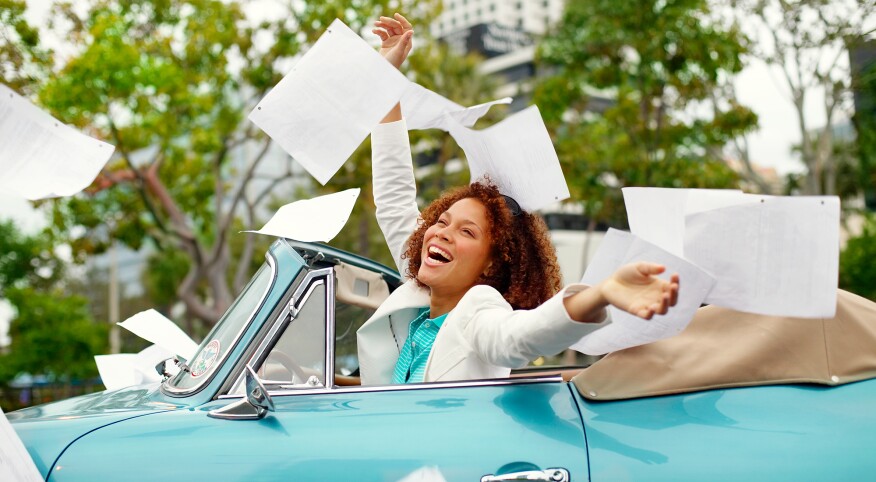 We're in the midst of the great resignation, and it appears that everyone and their mother is quitting their jobs in droves. The nation's "I quit" rate reached a 20-year high in November 2021, with workers citing everything from low pay (63 percent) to disrespect (57 percent) to lack of childcare (45 percent) as reasons for walking out, according to a March 2022 Pew Research Center study.

But before you make your retirement plans, you'll need to determine whether you actually have the financial means to leave your job. We spoke with financial planners and other experts to learn what you need to know before your great resignation.

Learn the six-month rule

The general rule of thumb is that you should have at least six months of living expenses saved before quitting your job, says Lucas "Luke" Solomon, a financial consultant who runs FX4Bix, a financial trend site in New York. "This will give you enough time to find another source of income or reduce your expenses if necessary," Solomon says. If you have debt payments or other regular expenses that exceed six months' worth of living expenses, he says, it might be wise to hold off on quitting your job until you've paid down some of that debt or increased your savings.

Retiring for life

If you plan on retiring for life, you need to have enough money to pay your bills, plus health insurance, says Jay Zigmont, founder of Live, Learn, Plan, a life and financial planning firm in Mississippi. "While you often hear of a 4 percent safe withdrawal rate (if you have $1 million, you can safely withdraw $40,000 per year), this is a rough guideline," Zigmont says. The real math looks at your expenses, debt, investments, insurance and more.

Insurance

When you're considering how much your insurance will cost, remember that your insurance should include home, auto, health and long-term care, Zigmont says. With health care insurance, be sure to account for the monthly premium and any out-of-pocket costs and deductibles.

Run the numbers

Determine if you can financially afford to quit your job by calculating how much money you'd need to survive for the length of time you plan to be jobless, Solomon says. You'll need to know your monthly expenses plus the number of months of living expenses you've saved plus unforeseen expenses.

Health insurance costs

Make sure you have a plan for health insurance, says Chris Foley, president of Abbot Benefits Group in Houston. He suggests these options:


Consolidated Omnibus Budget Reconciliation Act (COBRA) through your previous employer. This allows you to continue with the same coverage you had with your prior employer, though it's relatively expensive because your employer no longer pays for part of the premium. COBRA is normally limited to 18 months of coverage once you leave your job, Foley says.
An individual medical insurance policy. This may be less expensive than COBRA, and you may be eligible for a subsidy through Healthcare.gov. However, your options may be more limited on an individual policy. For example, Foley says, some states don't have PPO network options available on the individual plans, so you may be forced to find new doctors and hospitals.

A short-term medical policy. This is designed to cover a gap in coverage. "If you expect to have new coverage, perhaps through a new job within the next year, then a short-term policy is generally much less expensive, and may be a good fit," Foley says. Just be mindful of the fact that most short-term policies do not cover preexisting conditions and are not renewable, meaning you don't have the option to renew the policy once the term of coverage ends — at least not without going through the application process again.

Christian cost-sharing ministries. While these aren't a fit for everyone, there are Christian cost-sharing ministries such as Medi-Share, which collectively cover medical expenses for members once those expenses exceed a certain amount each year, Foley says. The advantage to these cost-sharing ministries is that they are generally much less expensive than traditional health insurance. The disadvantage is that they often have limitations on preexisting conditions, preventive care and possibly prescription drug coverage.
Other considerations


These are the work benefits, such as paid leave, travel benefits, life insurance and health insurance that save you money, says Francis Locknear, founder and CEO of The Cost Guys, a data-driven educational expense platform. "If they're gone, you may need to tighten your belt," Locknear says.


Use your employer-provided benefits
Before resigning, use those work benefits, says Emilia Flores, cofounder of UKBadCreditLoans. Some companies will pay out accrued vacation and sick days upon leaving the company, but others won't. If your company doesn't pay out accrued paid time off (PTO), make sure to use your vacation days while you can, Flores says. "Be aware that your employer may not grant your request to use any PTO after you've given your two weeks' notice," she says. "It's also best to take advantage of any other employee benefits that you'll be losing."