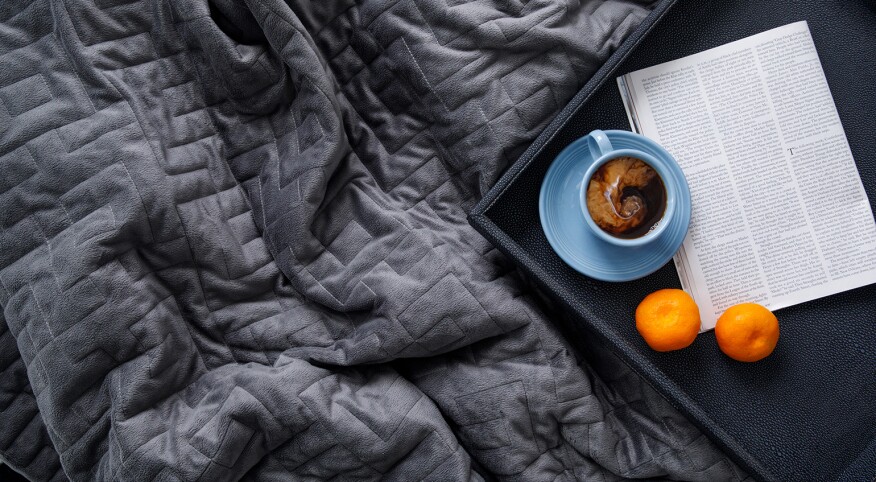 When's the last time you easily drifted off to sleep … and didn't actually open your eyes again until the next morning? For lots of women at this stage of life, there's so much to stress about — work, kids, your own parents, paying the bills — that it's nearly impossible for your brain to let go and shut down when the clock strikes bedtime.

But there's a product that promises to help if you often find your mind racing (or your thumb scrolling through a news feed) in the wee hours: a weighted blanket. That's right, a piece of bedding could be the key to upending your anxiety-driven insomnia.

The premise behind weighted blankets is that the extra pressure induces a sense of calm and security — the same kind of feeling you get after, say, a bear hug. Sleeping underneath one may remind you of lying under a giant beanbag chair, or a lead vest at the dentist's office.

Though the blankets have been used by therapists for decades to help people with autism or other disorders feel calmer and improve their ability to self-regulate, they've only just recently caught on with the general stressed-out population. So far there haven't been a lot of studies on weighted blankets, and most of them have been small.




One study of 32 healthy adults who used a weighted blanket found that the majority of them reported that it lowered their anxiety.

Anecdotally, the blankets inspire a lot of intense devotion. After promising their product could "naturally reduce stress and increase relaxation," designers of the weighted Gravity Blanket raised more than $4.7 million on Kickstarter last year. A writer for the New Yorker recently said that lying beneath one, "I slept so deeply that I woke up unnerved." That said, if you're the type of person who likes a lot of space to flop around in bed and thinks the idea of sleeping under a beanbag sounds suffocating, then a weighted blanket is probably not for you.

When purchasing a weighted blanket (which can be as heavy as 30 pounds!), know that one size does not fit all.

Guidelines state you should choose one that's equivalent to between 7 and 12 percent of your total body weight. Also, they can be dangerous for kids to use on their own, so make sure that your brood knows that heavy bedding is not fort-building material.

And remember, weighted blankets are not a miracle cure for serious anxiety or a replacement for professional help (for those who need it). They're just, well, blankets … really, really cozy ones.

So You Wanna Buy a Heavy Blanket?
Three to consider:

BlanQuil, $169
Available in 15 pounds or 20 pounds.

The Gravity Blanket, $250
Available in 15 pounds, 20 pounds and 25 pounds.

My Calm Blanket, $169 to $199
Available in 10 pounds, 15 pounds, 20 pounds and 25 pounds.

Photo courtesy BlanQuil