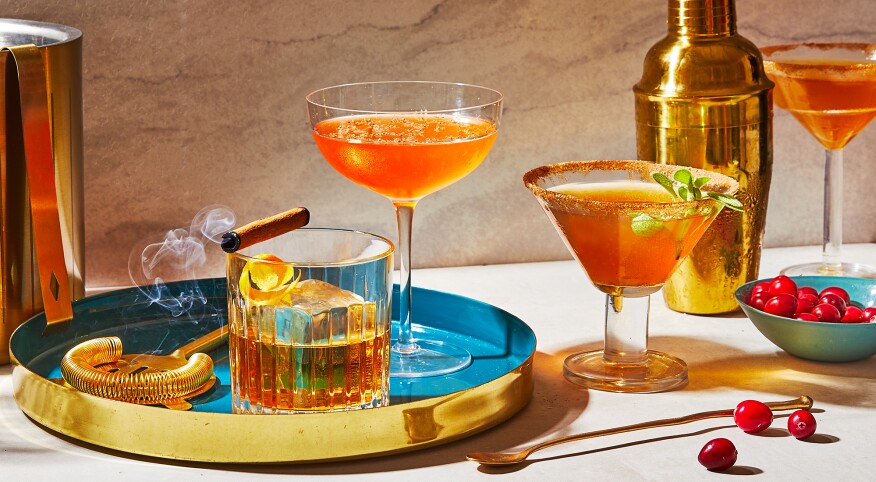 As you switch gears and swap your summer wardrobe for cozy sweaters, it's also appropriate to think about changing up your cocktail routine to sync with the crispness of autumn. Buh-bye for now, Long Island iced teas and frozen margaritas.

Instead, impress friends with these autumnal craft cocktails that embrace the spirit of the season. Cheers!

Smoke & Spice Old Fashioned

Social media sensation Jordan Hughes of @highproofpreacher is a cocktail and spirits influencer, a creative extraordinaire in the food and beverage industry who lends his sensational mixing talents to bars and restaurant groups across the country through his consulting practice.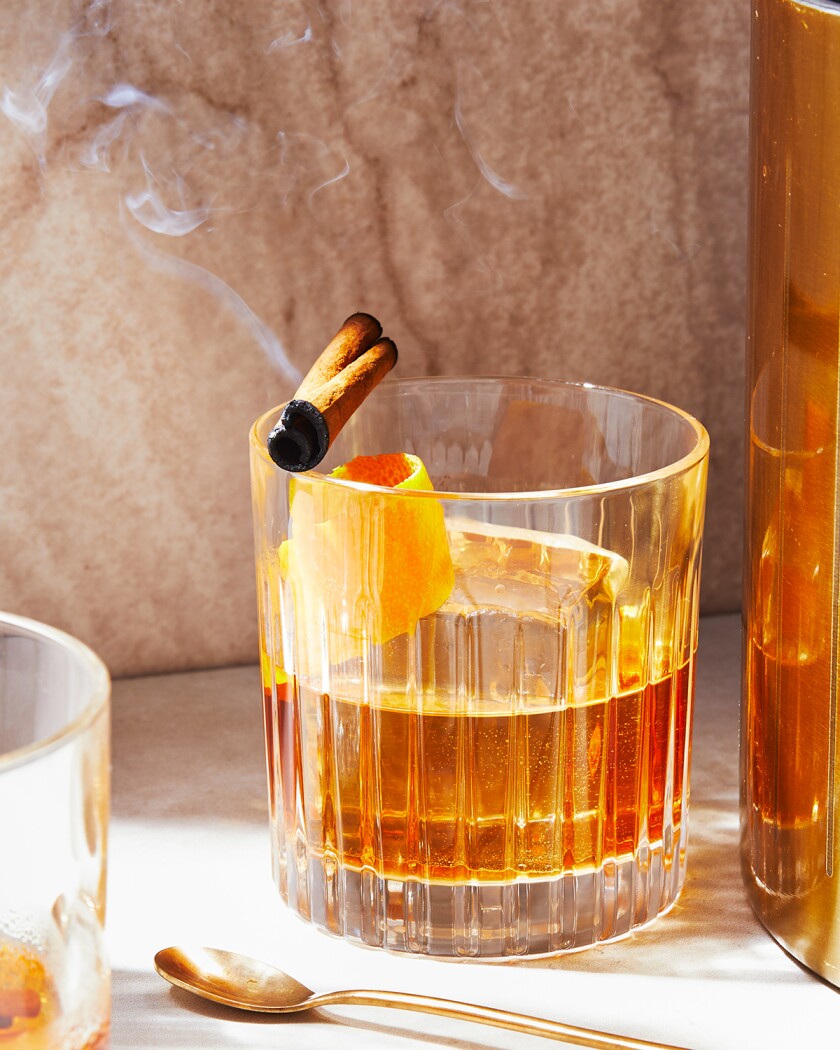 Hughes offers us an autumn-inspired twist on an old-fashioned. Instead of whiskey or brandy, this elixir is anchored by aged rum and "allspice dram" — a liqueur made with allspice, cinnamon, cloves and other spices evoking the season. Maple syrup adds both sweetness and balance, and a smoldering cinnamon stick provides a comforting aromatic as you sip.

When it comes to tips and tricks, Hughes recommends using large 2-inch square ice cubes in spirit-forward cocktails to keep drinks cool with minimal dilution. Also, having a jigger or shot glass is a must in your home bar to guarantee precise measurements. "Even a measurement as small as a quarter ounce too much or little of a certain ingredient can drastically change the flavor of your cocktail," says Hughes, author of Twist: Your Guide to Creating Inspired Craft Cocktails.

Ingredients

· 1 1/2 ounces aged rum (suggestions: Appleton Estate Signature or Santa Teresa Rum)

· 1/4 ounce St. Elizabeth Allspice Dram Liqueur

· 1 teaspoon Grade A maple syrup

· 4 dashes aromatic bitters

· Garnish: Orange peel and cinnamon stick

Instructions: Combine all ingredients in a mixing vessel. Add ice and stir 20 seconds to properly chill and mix ingredients. Strain into a short tumbler over fresh ice. Using a paring knife or citrus peeler, cut a long slice of orange peel. With skin facing over your cocktail, gently squeeze peel to release the citrus oils. To garnish, drop peel directly in the drink. Finally, hold one end of the cinnamon stick up to a match to make it smoke and smolder, releasing a burnt cinnamon aromatic that nicely complements the cocktail. Lay across the top of the glass and serve.

Adult Time Cider

Denise Petty is the brainchild behind the craft cocktails offered at Catoctin Creek, the renowned distillery in Loudoun County, Virginia, that distributes worldwide to countries including Germany, Holland, France, Spain, Italy, Finland and the U.K. Distiller Becky Harris, featured by Food and Wine as one of "6 Women in Whiskey to Watch," sits at the center of the family-owned rye whiskey operation she co-owns with husband Scott, who manages the business.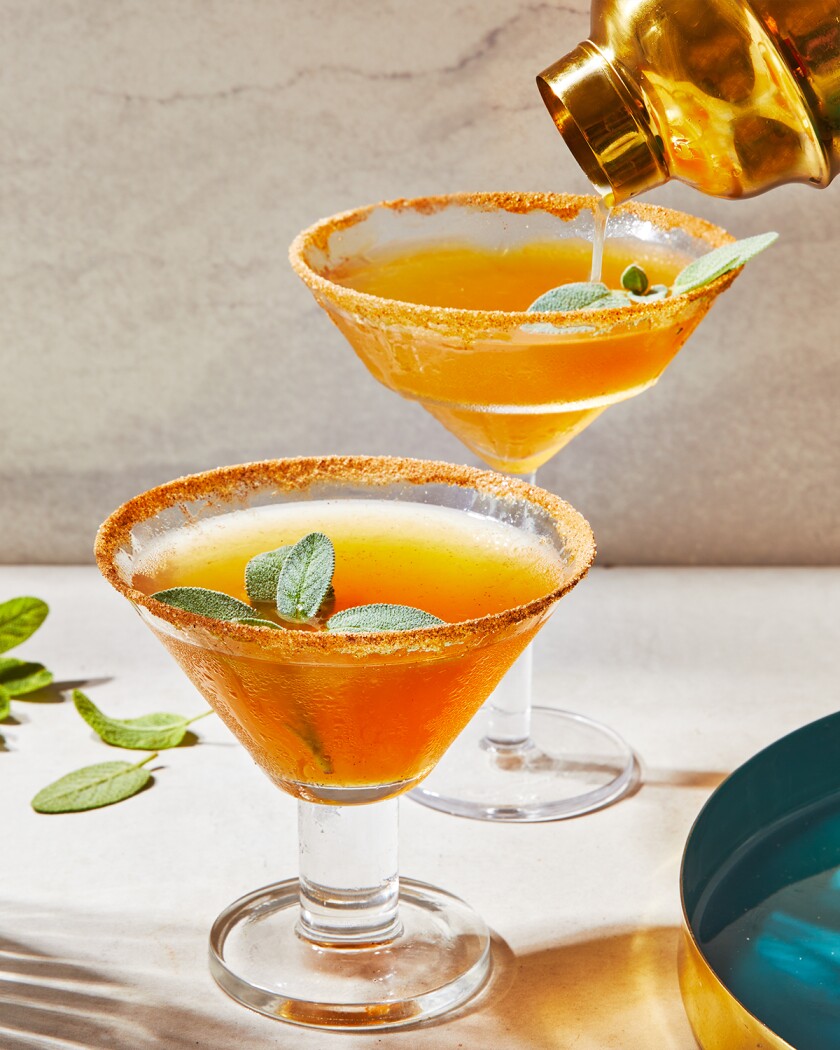 Petty presides over the tasting room, which offers tours, tastings and a rotation of cocktails flights of her own making. Known as Virginia's Rye Whiskey, Catoctin Creek has garnered a dizzying array of awards.

In this cocktail crafted for The Girlfriend, Petty says you'll encounter the essence of autumn— noting that all ingredients are locally sourced, a recommended approach for the home mixologist. For example, sage grows in abundance in the Appalachian fall weather and apples flourish in Loudoun County, making fresh cider plentiful. The area is also lush with syrup trees, she says, pointing out that lovers of a smokey-style cocktail should opt for hickory syrup, and those who prefer a sweeter drink will want to select maple.

Ingredients

· 2 ounces Catoctin Creek Roundstone Rye 80 Proof (or comparison available to you)

· 1/2 ounce high-grade hickory or maple syrup

· 1 ounce fresh apple cider

· 1/4 ounce fresh squeezed lemon juice

· Cinnamon sugar

· Garnish: 2 fresh sage leaves, one torn and one whole

Instructions: Take a chilled martini glass and "rim" with cinnamon sugar by dipping edges in a simple syrup, then the sugar; set aside. Combine all the other ingredients in a cocktail shaker. Shake vigorously with ice for 30 seconds; strain neat (no ice) into your waiting glass. To garnish: Lay sage leaf on top of drink, allowing it to float.

Cranberry Cocktail

At Residents Café and Bar, a cocktail lounge in Washington, D.C., you'll find Stefan Sokic managing the magic from behind the buzzy bar. As bar manager, Sokic is a recipe creator and here he invites us to welcome the season with a Cranberry Cocktail, an artful twist of tart and sweet fall flavors.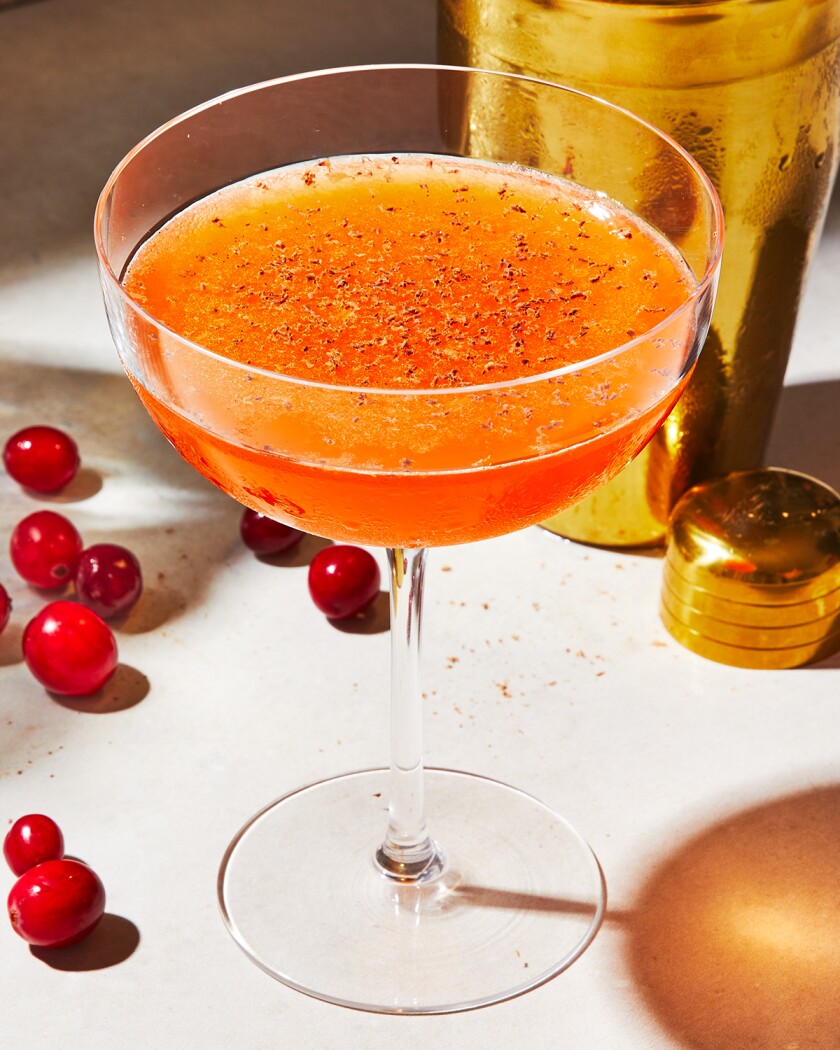 Inspired by his mom's cranberry pie — made with flour, butter and freshly made cranberry jam — Sokic captures the all the cozy feels of autumn in this gorgeous cocktail, perfectly hued to match colorful changing leaves. He credits the Italian liqueur Biscotti Faretti from the Trentino region for masterfully evoking the taste of pie with its buttery, biscuit flavor.

Ingredients

· 1/2 ounce fresh squeezed lime juice

· 1/2 ounce fresh squeezed orange juice

· 1 ounce cranberry syrup (recipe below)

· 1/2 ounce vanilla syrup (recipe below)

· 1 ounce dry gin (suggestion: Citadelle)

· 1/2 ounce cognac

· 1/4 ounce Aperol Italian apertif

· 1/4 ounce Faretti Biscotti liqueur

· Garnish: Dark chocolate

Instructions:

In a shaker, combine all ingredients. Shake vigorously for at least 10 seconds. Strain into a coupe glass. To garnish: Shave a little dark chocolate over the top of the cocktail.

Cranberry and vanilla syrup:

In large saucepan, combine 64 ounces of water with 1 vanilla bean (pierced to allow flavor to escape); bring to a boil. Add one bag fresh cranberries and allow to soften, submerging them with a spatula. When the skins begin cracking, scoop them out, saving the water. Allow cranberries to cool. Run them through a juicer and combine 2 parts cranberry juice with 1 part of the vanilla water. Strain to remove any skin. Add 1 part sugar to 3 parts cranberry juice. Store in refrigerator.

Using the leftover water, combine equal parts sugar and vanilla water to create vanilla syrup.


What's your favorite cocktail or mocktail when the weather gets cold? Let us know in the comments below.