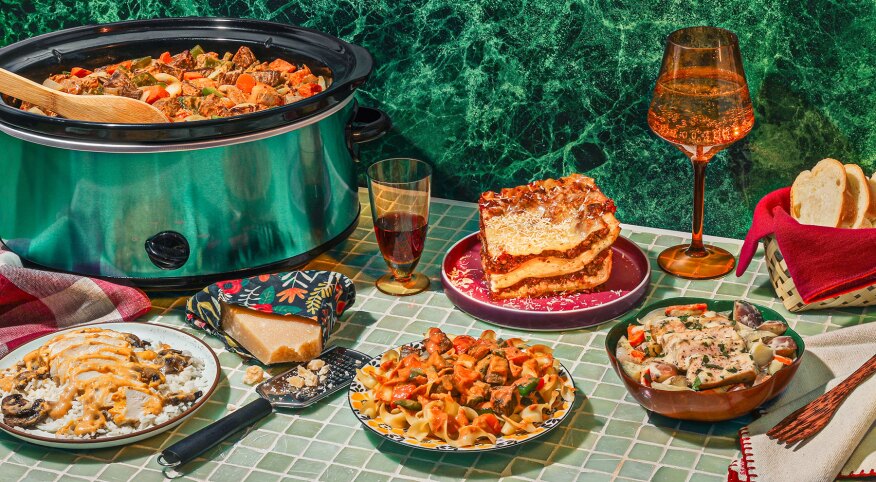 Dinner doesn't get much easier than throwing a few ingredients into a slow cooker, hitting the on switch, and letting the pot do its job. It's a fast and delicious way to get dinner on the table when you have a busy day at work or are carpooling the kids to after-school activities. When you walk through the front door, the kitchen will smell divine — as if you've been cooking all day. These yummy recipes can be put together quickly, and when served with a small side salad and rolls (or garlic bread), you'll have a complete meal!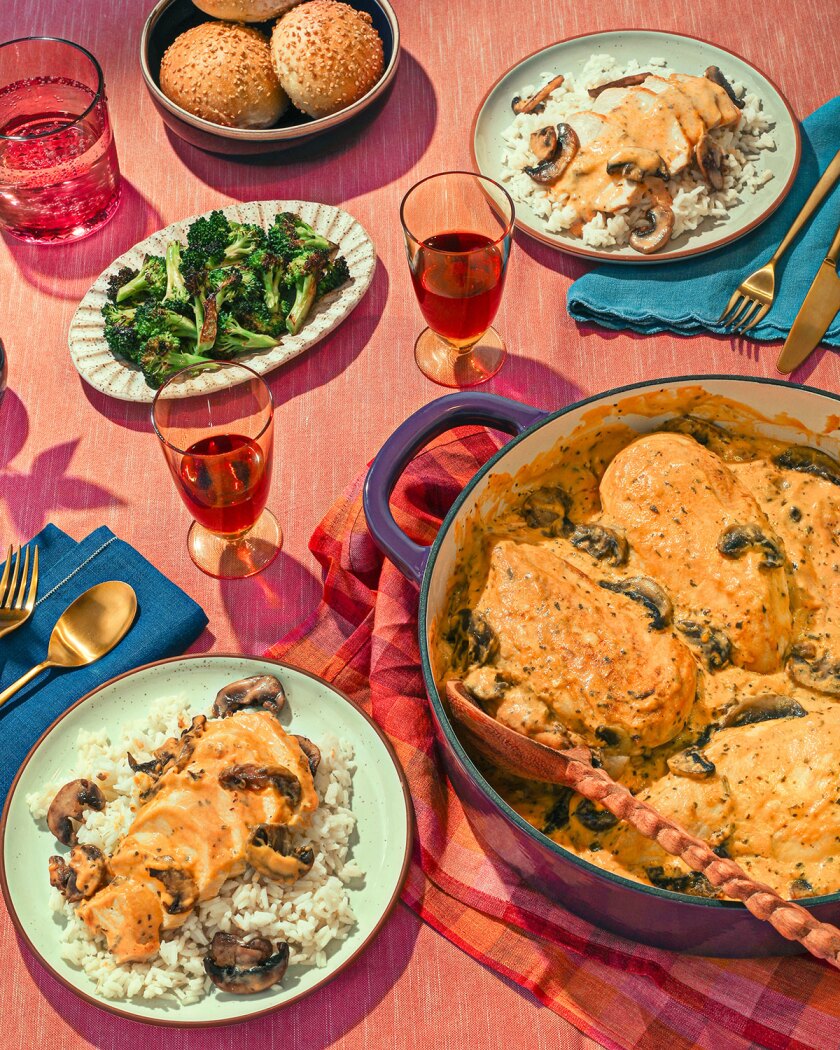 Creamy Mushroom Chicken

Serves 4

4 large skinless, boneless chicken breasts

1 pound sliced mushrooms

1/2 cup butter (1 stick)

2 (0.7-ounce) packets of dry Italian salad dressing mix

2 cans golden mushroom soup

3/4 to 1 cup dry white wine

1 (7 1/2- to 8-ounce) container of chive and onion cream cheese spread. Serve with cooked rice (enough for 4 people).

Melt butter in a saucepan. Whisk in the Italian seasoning, then add soup, wine, and cream cheese. Stir over medium heat until it melts and combines. Place chicken breasts in the bottom of a greased slow cooker, and top with mushrooms. Pour cream sauce over all. Cook on low for 4-5 hours until chicken is done. Serve chicken over rice (or you can use pasta). This recipe makes extra sauce, so use plenty over the rice.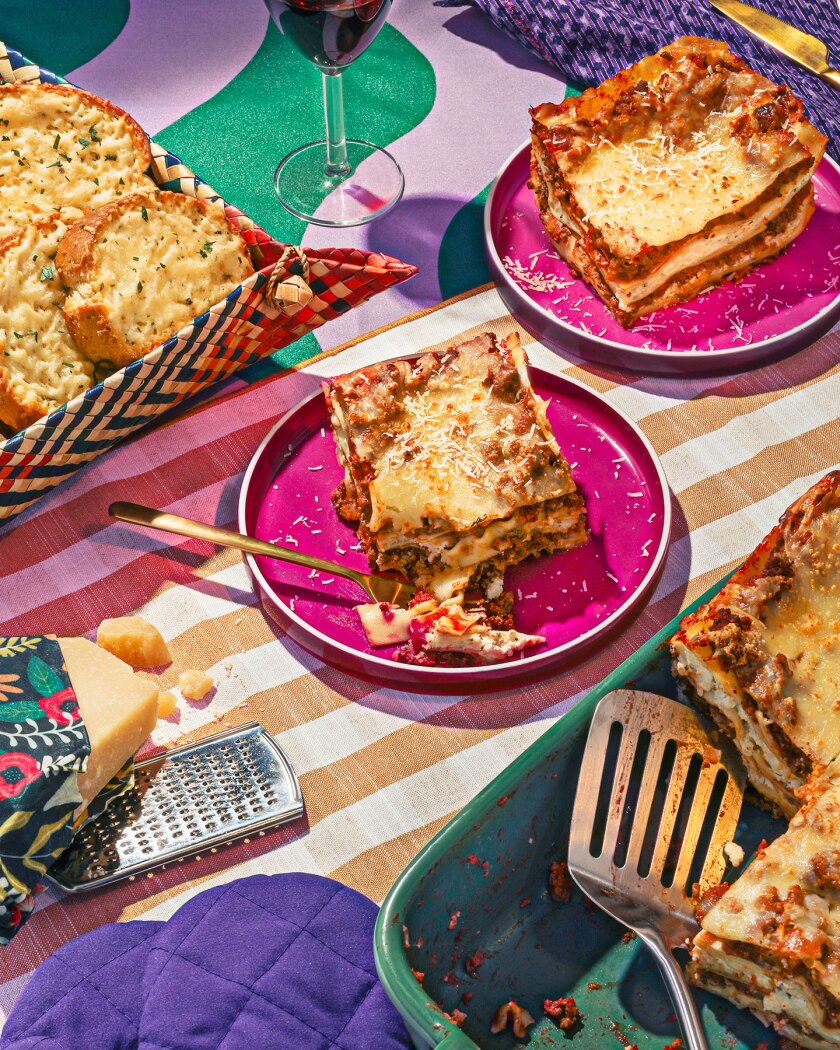 Lasagna

This dish can be made vegetarian by replacing the meat with 2 pounds of vegetables such as mushrooms, squash, zucchini and a little olive oil.

Serves 6

2 pounds ground beef

1 medium onion, finely diced

1 (28-ounce) can tomato sauce

1 (14.4-ounce) can diced tomatoes

1 (6-ounce) can tomato paste

3-4 cloves garlic, minced

A dash of salt, pepper, oregano, basil, red pepper flakes and sugar

1 egg

1 (15-ounce) container of ricotta cheese

2 cups cottage cheese

4 cups shredded mozzarella, (divided into 3 cups)

1 cup grated parmesan cheese

1 (5-ounce) package fresh baby spinach leaves chopped (optional)

1/4 cup fresh chopped parsley

8-12 ounces lasagna noodles, uncooked

Brown beef (or saute vegetables in olive oil if using the vegetarian recipe) and onions together in a skillet. Add tomato sauce, paste and diced tomatoes (with the liquid). Stir in the garlic and additional seasonings plus 1 cup of water to loosen it up. Set aside. In a separate bowl, combine the egg, ricotta, cottage cheese, 2 cups of shredded mozzarella, grated parmesan, spinach and parsley. Spray the slow cooker with cooking spray, then spread a thin layer of the meat sauce over the bottom. Arrange 1/3 of the noodles over the sauce, breaking some of them into pieces to fill the gaps. Spread 1/3 of the ricotta mixture over the noodles (smooth it over evenly). Repeat the layers again, starting with sauce, then noodles, then ricotta. Finish with a last layer of noodles, and remaining meat sauce over the top. Cook on low for 3 1/2 to 4 hours or until noodles are tender. Add a little more water if it looks like it's getting too dry during the cooking process. Once the noodles are done, turn off the crockpot, sprinkle the remaining mozzarella cheese over the top and replace the lid. Let it sit for 10 minutes or until cheese has melted.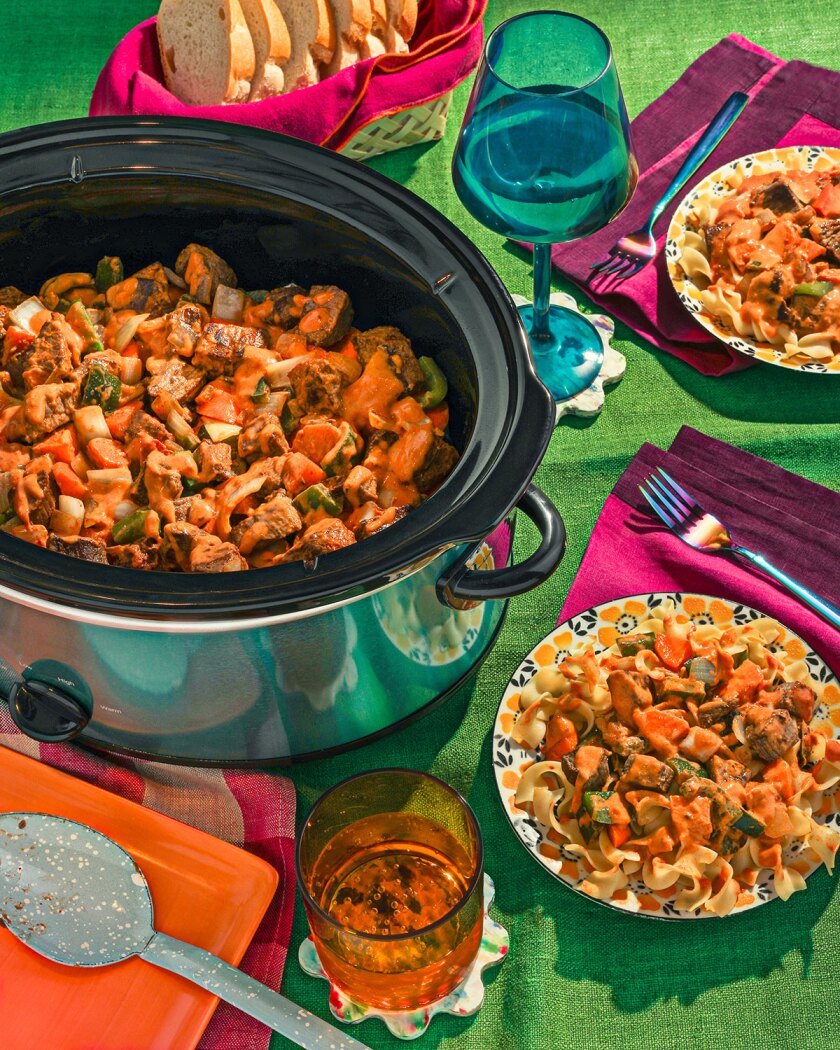 Hungarian Goulash

Serves 4-6

1 1/2 medium onions, chopped

1 medium carrot, chopped

1 medium green bell pepper, chopped

1 1/2 pounds beef stew meat, cut into 1-inch cubes

Salt and pepper to taste

1 tablespoon olive oil

3/4 cup beef broth

1/8 cup flour

1 tablespoon tomato paste

4 1/2 teaspoon paprika

1/2 teaspoon caraway seeds

1 clove garlic, minced

Dash of sugar

6 cups uncooked egg noodles

1 cup sour cream

Place chopped vegetables in a greased slow cooker. In a skillet, add oil, stew meat, salt and pepper. Cook until lightly browned on the outside, then transfer to the slow cooker. Return skillet to stove and add beef broth, stirring to loosen browned bits from the meat. In a small bowl, combine flour, tomato paste and all seasonings, including sugar (plus extra salt and pepper if needed). It will make a thick paste. Stir this mixture into the beef broth and cook for 2 minutes until thickened. Pour over meat in crockpot and cook on low for 6-8 hours or high for 3 to 4 hours until meat is thoroughly cooked. Thirty minutes before the meat is done cooking, prepare noodles according to package directions. Stir sour cream into crockpot until warm and well blended. Serve goulash mixture over cooked and drained egg noodles.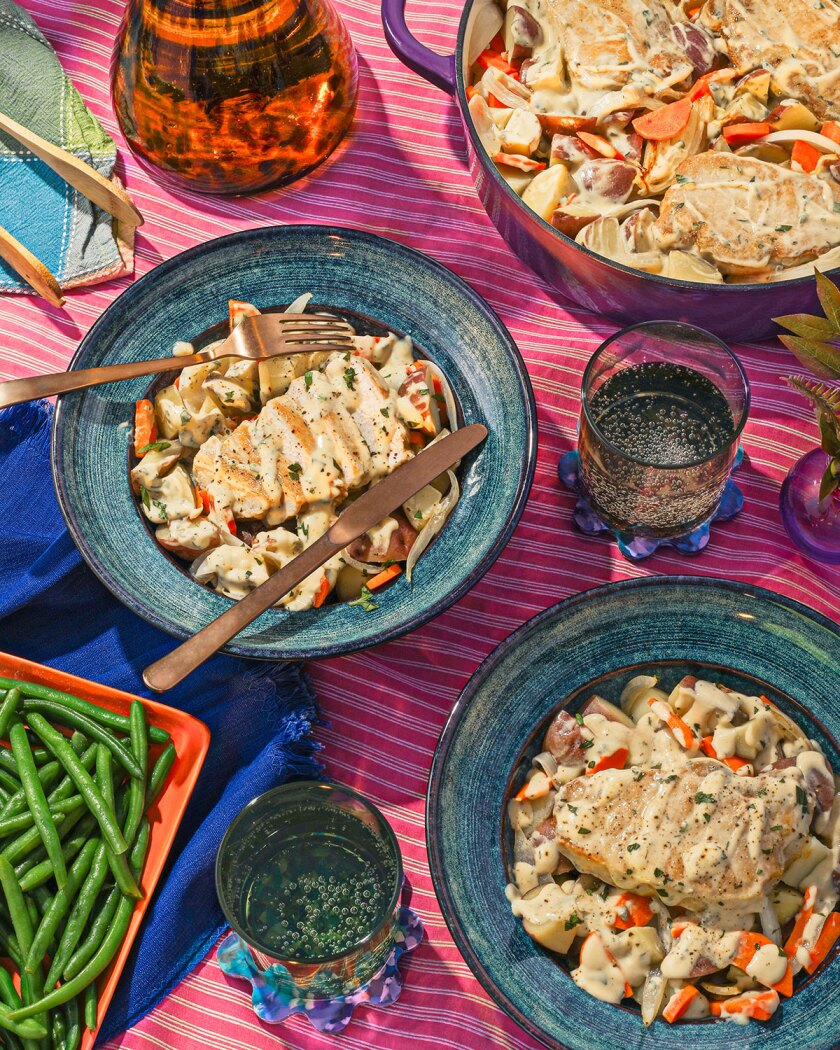 Dijon Pork Chops With Potatoes

Serves 4-6

6 boneless pork chops, about 1 1/2-inches thick

2 tablespoons olive oil

1 can cream of mushroom soup

1/4 cup chicken broth

1/4 cup Dijon mustard

1/2 cup white wine (optional)

1-2 cloves garlic, minced

1 teaspoon dried thyme

1 teaspoon fresh parsley chopped

Salt and pepper to taste

6 medium red potatoes, cut into chunks

2 carrots, sliced

1 medium onion thinly sliced

In a skillet, heat the oil and brown the pork chops on each side. While they're browning, mix together soup, broth, mustard, wine, garlic and seasonings in a large bowl. Add potato chunks, carrots and onion slices until well coated. Pour into a greased crockpot, then top with browned pork chops. Cook on low for 4-6 hours or on high for 3-4 hours until meat is thoroughly cooked.

What's your favorite dish to make in a slow cooker? Let us know in the comments below.