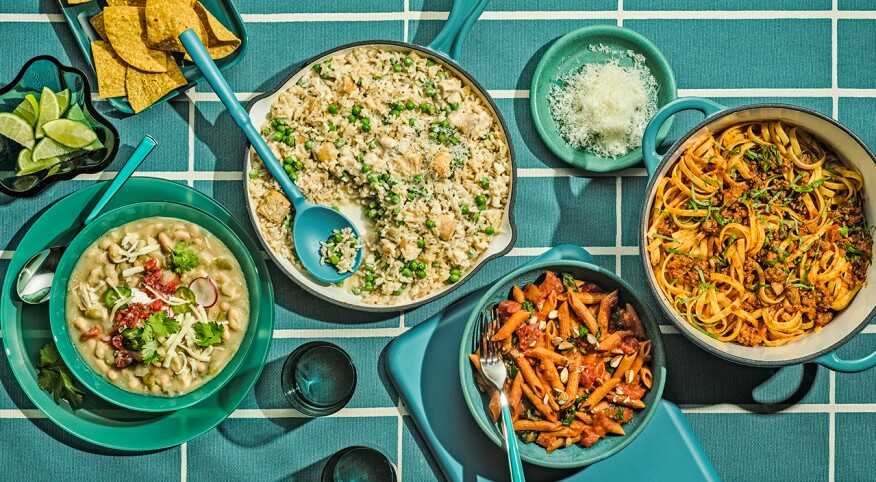 Nothing can dull the satisfaction of creating a meal from scratch more than a pile of dirty pots and serving dishes. So how about just saying no to that pile by creating one-pot or one-skillet meals that not only taste great but leave you with so much less to clean up afterward? Yes, we've discovered the cooking and cleaning unicorn, and we're here to share it with you.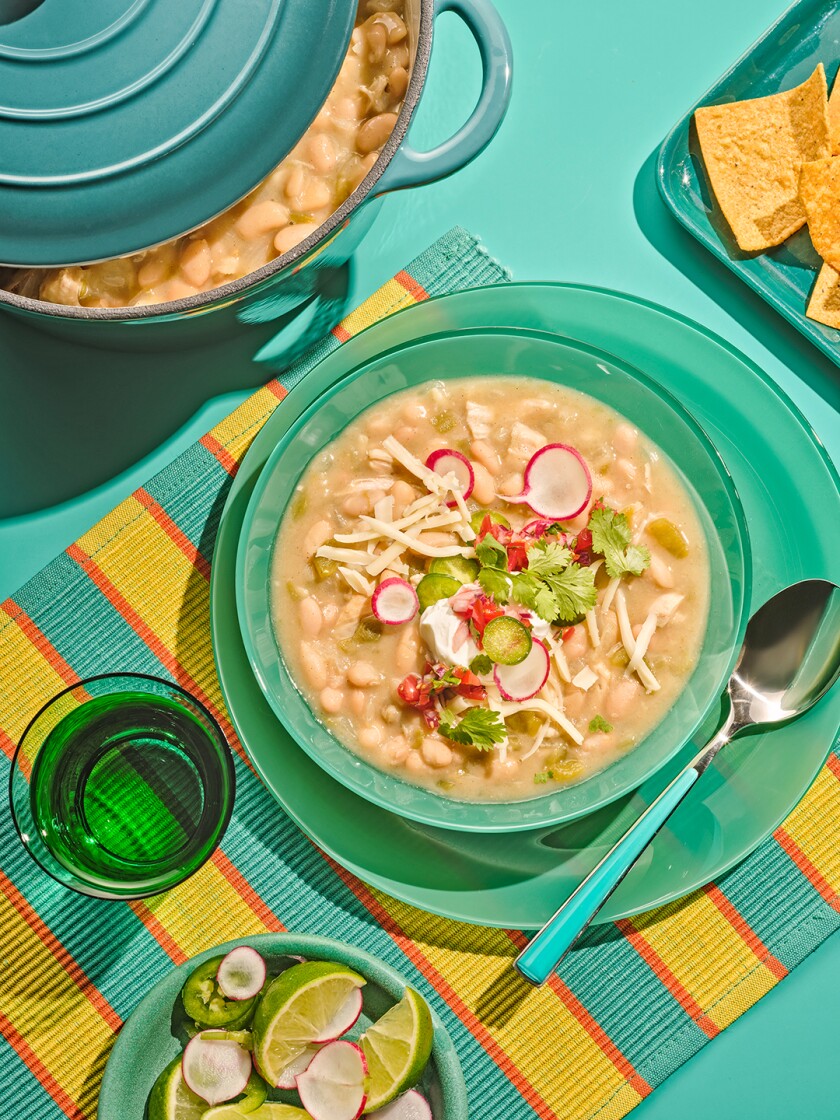 Easy White-Chicken Chili

"This recipe has been one of my family's favorites for many years," says Annie McDaniel, chef of Miss Annie's Home + Kitchen in Helena, Alabama.

Serves 6 to 8

Ingredients

1 medium onion, finely chopped

1 tablespoon olive oil

1 4-ounce can chopped green chiles, drained

3 tablespoons all-purpose flour

2 teaspoons cumin

2 15.8-ounce cans great northern or navy beans

14.5 ounces chicken broth

1½ cups finely chopped chicken breast

Optional: shredded Monterey Jack cheese, sour cream and salsa, for garnish

In a large skillet, cook the onion in oil for 4 minutes or until it's transparent. Add chiles, flour and cumin; cook, stirring, for 1 minute. Add the beans and chicken broth; bring to a boil. Reduce the heat; simmer for 10 minutes or until thickened. Add the chicken; cook until hot. Garnish with cheese, sour cream and salsa, if desired.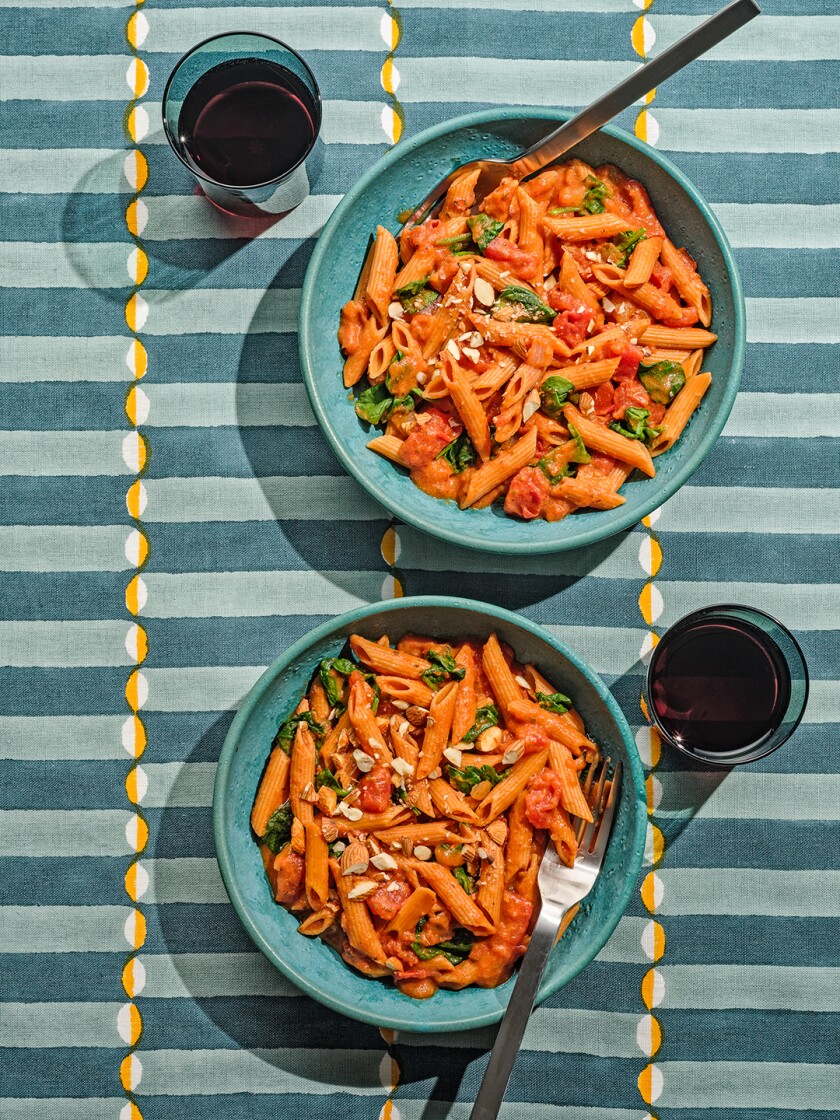 Red Lentil Pasta

"This pasta recipe is rich and creamy, and almost completely plant based," says Elizabeth Thomson, a food blogger, recipe developer and cookbook author.

Serves 4

Ingredients

2 tablespoons butter or olive oil

1 small onion, diced

3 cloves garlic, minced

½ teaspoon crushed red pepper flakes

½ teaspoon dried oregano

8.8 ounces red lentil pasta

2 cups vegetable broth

1 cup marinara sauce

15-ounce can diced fire-roasted tomatoes

1 cup baby spinach

½ cup cream cheese

2 tablespoons finely chopped almonds

In a large pot, melt the butter, cooking it over medium heat for 30 seconds. Add the onion; cook for 6 to 7 minutes, until it has softened. Add the garlic, red pepper flakes and oregano; continue to cook for 1 minute. Add the red lentil pasta, vegetable broth, marinara sauce and fire-roasted tomatoes. Cover with a lid and bring to a boil. Reduce the heat to a simmer; simmer for 7 to 8 minutes, or until the pasta is al dente. Stir in the spinach and let it sit for 1 minute, to allow it to wilt. Stir in the cream cheese. Top with chopped almonds.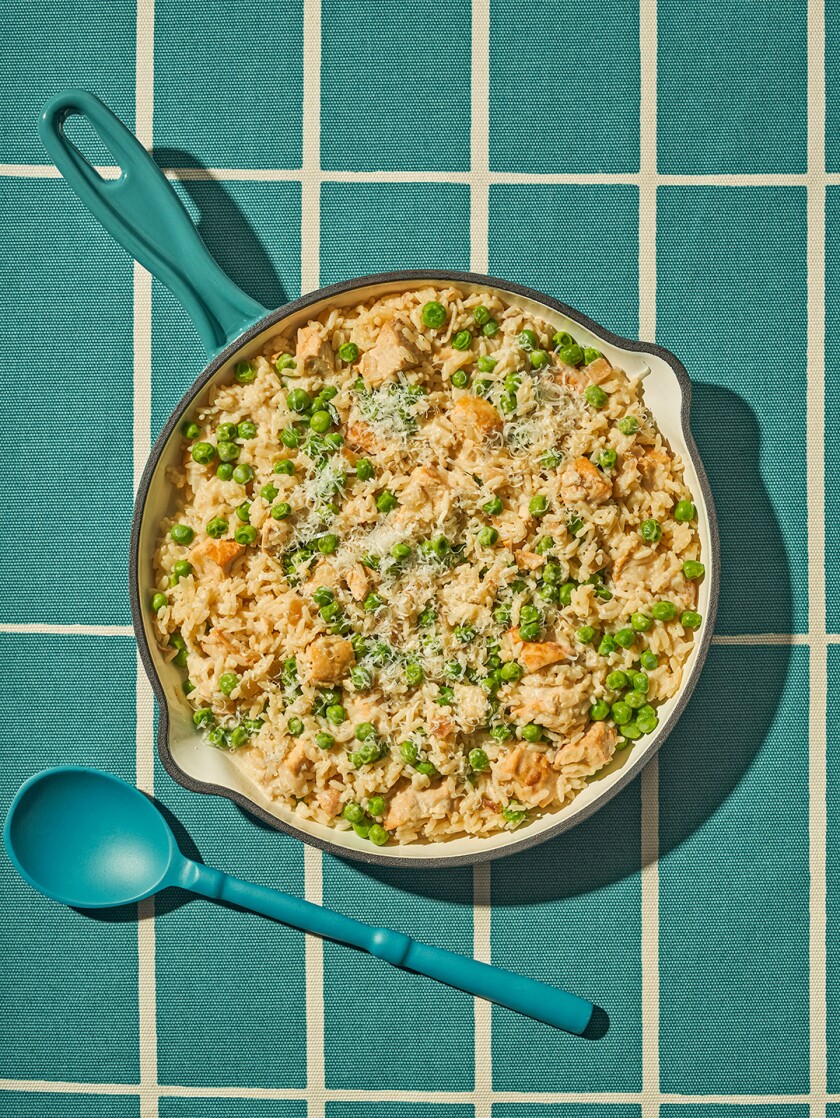 Creamy Chicken-Pea Skillet

"We love this recipe because it takes less than 30 minutes to make and requires minimal ingredients, many of which you may have in your pantry already," says Marcie Groller, co-creator of Platein28, a website offering families simple 28-minute recipes. "Our chicken, peas and rice skillet dish can be made in just a few steps and with one pan."

Serves 6

Ingredients

3 tablespoons butter

1 onion, chopped

1 pound chicken breast, cut into bite-size pieces

2 to 3 cloves garlic, minced

1 tablespoon paprika

1 teaspoon salt

½ teaspoon black pepper

2 cups chicken broth

1 cup quick-cooking rice

1 cup frozen peas

½ cup milk

½ cup shredded Parmesan cheese

In a large skillet, melt the butter over medium heat. Stir in the chopped onion; cook for 2 to 3 minutes. Add the chopped chicken, garlic and seasonings. Stir and cook until the chicken is golden and no longer pink on the inside. Add the chicken broth and rice, stirring together until the mixture comes to a boil. Cover, reduce heat and simmer for 15 to 20 minutes or until the rice is fully cooked. Stir in the milk, peas and cheese. Cook for another 1 to 2 minutes.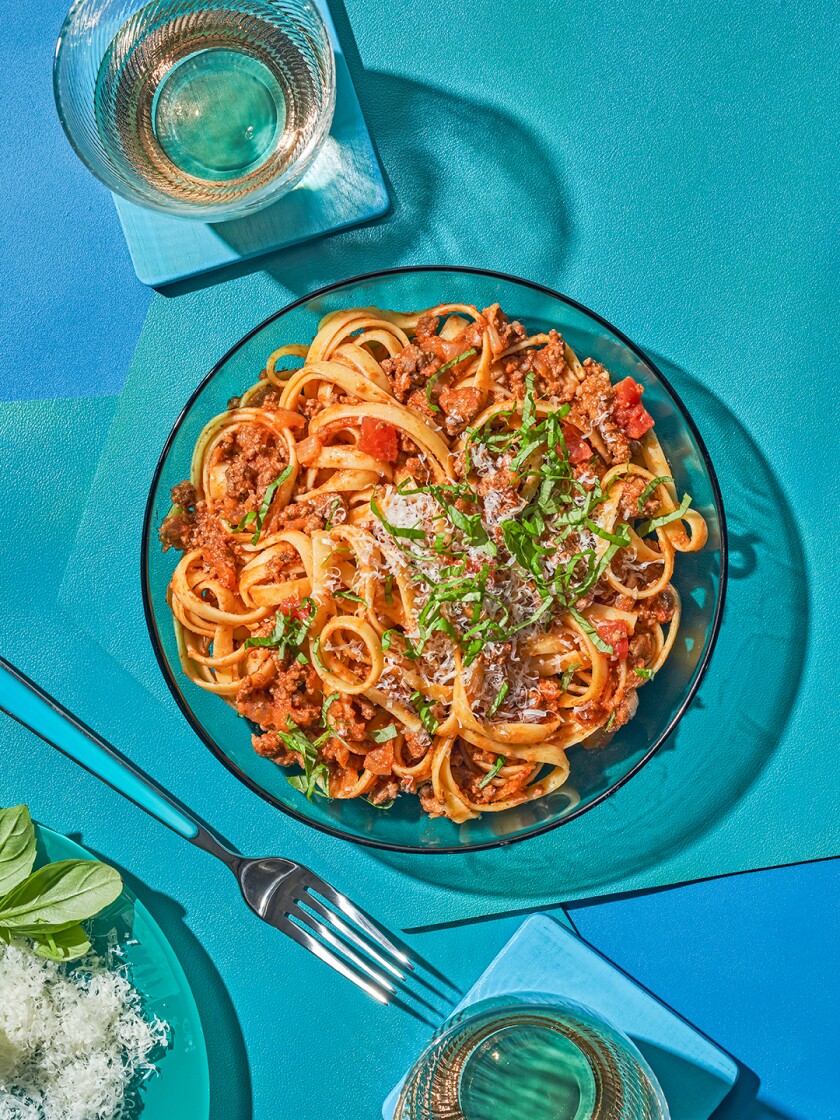 Busy-Day Pasta

"This is incredibly easy to make, and it's perfect for busy people on the go, as it's quick to prepare, it's filling, and it can be made in advance and reheated," says chef Arnav Jasbir, of the website The Food XP.

Serves 2

Ingredients

1 pound ground beef

1 onion, chopped

4 cloves garlic, minced

2 cups marinara sauce

2 cups water

1 teaspoon dried basil

1 teaspoon dried oregano

½ teaspoon salt

¼ teaspoon black pepper

8 ounces dried pasta

Grated Parmesan cheese, for serving

In a large pot, cook the ground beef on medium heat until it has browned, for about 5 minutes. Drain excess fat. Add the onion and garlic, and cook until softened, for about 3 minutes. Add the marinara sauce, water, basil, oregano, salt and pepper; stir to combine. Bring the mixture to a boil, then add the pasta. Stir to make sure it's fully submerged. Reduce heat to a simmer; cover the pot. Cook until the pasta is tender, for about 10 to 12 minutes. Serve with grated Parmesan cheese.

What's your favorite one-pot meal to make on a busy night? Let us know in the comments below.