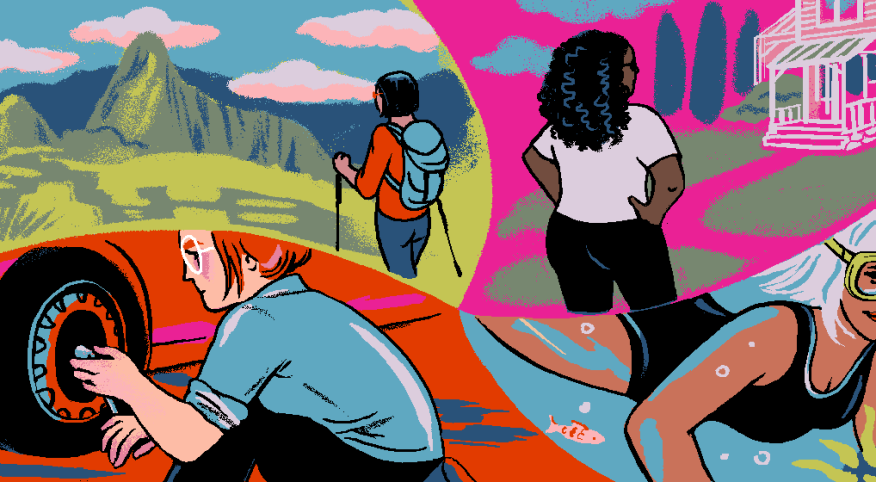 The isolation of the pandemic has given us time to reevaluate our priorities, perhaps be grateful for things we took for granted and fantasize about what we'd like to experience once we are free to do so again.

Here are 40 suggestions for things to do and see that will enrich your life and empower you. Culled from the Girlfriend Facebook responses and this writer's personal experience, the list is in no particular order — except to enjoy.

1. Live on your own — for a short or long time.

2. See yourself as beautiful.

3. Fall deeply in love.

4. Skinny dip.

5. Be a mentor to another woman who needs guidance through your life experience.

6. Travel to a foreign country alone — the level of interaction with people is deeper and more expansive than if you are with a friend, lover or family.

7. Understand and control your own finances.

8. Buy yourself a nice piece of jewelry.

9. Support/volunteer for a cause you are passionate about.

10. Support yourself.

11. Buy your own home.

12. Be the one to walk away from a bad relationship.

13. Bungee jump or skydive — the ultimate letting go.

14. Climb Machu Picchu.

15. Nurture a child — give birth, adopt, be a relative, godparent, teacher.

16. Spend a week at a spiritual/wellness retreat with a spa located in a remote location.

17. Take a challenging job.

18. Walk the streets of an ancient city.

19. Snorkel in a sea with lots of colorful fish.

20. Take a road trip alone — encounters are more intense (as is singing in the car and stopping whenever you want).

21. Learn a foreign language.

22. Dance on Bourbon Street in New Orleans — you won't be the only one.

23. Feed and talk to homeless people in a shelter — have your assumptions blown away, feel good about making someone's day better.

24. See the Northern Lights.

25. Make music — there's power in creating sound and hearing it multiply when you do it with others.

26. Change your own tire — be macho and less dependent.

27. Eat sea urchin to experience one of food's most sensual textures.

28. Create a piece of art.

29. Mambo in heels, and feel your hips in a new, sexy way.

30. Take a class in something you know nothing about but want to learn.

31. Watch an opera, dance performance, theater — from the orchestra fourth row center.

32. Hold a newborn who will be part of your life.

33. Have a nice meal in a foreign country (nothing like going to the source of a great dish).

34. Ride a horse.

35. Go to the Galapagos — swim with giant tortoises, see ancient and nearly extinct birds and iguanas.

36. Ride a surfboard or paddleboard — and walk on water.

37. Sing karaoke.

38. Help a stranger in distress.

39. Talk and listen to older women, especially family.

40. Learn you, know you, love you.